"Seven Days of Proven Confidence-Boosting
Strategies Guaranteed To Drastically Build
Self-Confidence, Improve Sports Performance,
and Stop Players' Self-Doubt Instantly!"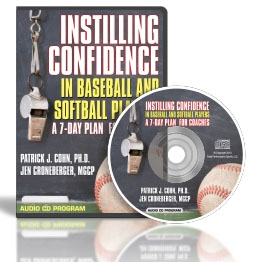 How would  your team perform if they stepped onto the diamond with complete conviction in their ability, unwavering confidence, and an intimidating presence?
You can learn how to teach your team to have unshakable self-confidence (practice and drilling are not the only methods to develop confidence). It's not hard or impossible to achieve. I help athletes reach their goals everyday and you too can learn the same strategies I teach to my students who pay me well over $1400 per day for personal one-on-one coaching.
"Instilling Confidence in Baseball and Softball Players" program consists of one 72-minute audio CD that includes 7 days of confidence-fueling exercises.
You'll also receive a simple-to-follow 74-page coaches' manual that guides you through the 7 team session you'll conduct.
We've also included the top confidence-building exercises on athletes' worksheets. You'll copy these for your team members, which help your players understand and apply what they'll learn in the team sessions.
Each Session Includes 8 Sections…
Warm up–An introduction to prepare you for the daily tasks and lessons to follow.
Session Objective–The outcome you want to achieve with your players.
Mental Game Roadblock–A specific roadblock to confidence you want to solve during that session.
Locker Room Talk–Quotes about confidence from pro athletes and other famous people.
Mental Training Lesson–We explain the daily lesson you should teach the members of your team and highlight what to expect and offer examples.
Worksheet Exercises–The daily confidence exercise you'll share with your players and ask them to complete.
Action Plan for Coaches–A summary of the steps to take and the specific outcomes you want to achieve each day.
Team Discussion Questions–Questions you can ask your team to help spark a team discussion about the daily lesson.
Read more about Instilling Confidence in Baseball and Softball Players at Peaksports.com
*************************************************************************************
Improve your performance with baseball mental game CDs for players and coaches. "The Confident Athlete" CD and workbook series is a ground-breaking mental training system to teach you how to think like a champion and have ultimate self-confidence every time you step on the diamond or practice field.
Ideal for any baseball player or coach, you'll learn how to master your mental game in just 14 days!
Dr. Cohn has produced five sports psychology CD and workbook programs in The Confident Athlete Series including:
The Confident Athlete CD program
The Focused Athlete CD program
The Composed Athlete CD program
The Fearless Athlete CD program
The Relaxed Athlete CD program
Read more about The Confident Athlete series at Peak Performance Sports>>