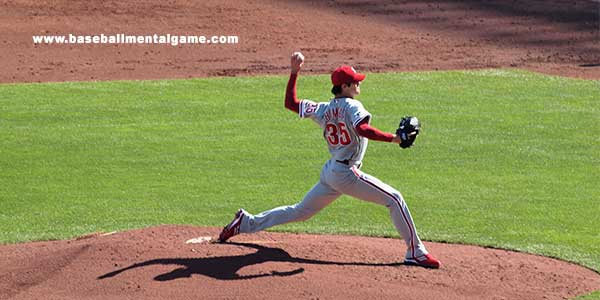 Approaching Adversity with a Positive Mindset
Getting benched and becoming a starter… Ups and downs… Streaks and slumps… All these variables affect ball players differently.
Let's face it, no ball player wants to go through demotion, slump and other adversity during the course of the season.
When faced with being demoted, it is hard to believe that another opportunity may present itself…
When in the middle of a slump, it is difficult to remain confident in your abilities and keep plugging away… When you are faced with injury or team conflict, it may seem practically impossible to enjoy the sport or see an end to the adversity you are facing.
Even if you are faced with challenges, how you react to these challenges will determine how quickly you will be able to turn things around. Your "mindset" determines how you react to challenge.
When you have a negative mindset, slumps become evidence that you cannot hit. A positive mindset may look at percentages and see that a hit is just around the corner
Or view at-bats as successful because of good contact, swing at good pitches or helping the team by advancing runners on the base path.
With a negative mindset, you perceive a demotion as evidence that you lack talent.
With a positive mindset, you may see a demotion as an indication that you are more suited for a different position or that you need to improve certain skills to take your game to the next level.
With a negative mindset, an injury may seem like the end of your career.
With a positive mindset, you can become more motivated or see the injury as an opportunity to strengthen a part of your body that will help you lengthen your career.
It is how you look at things and the positive steps you take that will determine the outcome when faced with adversity.
A positive mindset is helping right-handed pitcher Aaron Brooks transition to his new team, the Baltimore Orioles, after being waived by the Oakland A's in the middle of the 2019 season.
Brooks has played parts of six seasons with 34 games played, a 5-8 record and a 6.49 ERA. Even though the Orioles are Brooks' third team, his mindset is focused on the opportunity in front of him. It would be easy for Brooks to start thinking he is not major league material but Brooks sees opportunity with his new team.
BROOKS: "Excited. Always excited for a new opportunity. Coming over to help any team as much as I can to get wins… Always a learning experience for myself and always trying to get better. So, trying to stay on top of my game and learn as much as possible. I love any opportunity I can get. It was fun pitching here [Baltimore] earlier this year. I do enjoy being over here on the other side of the field now. Excited to get it going."
Adversity doesn't mean the end… Sometimes, adversity can be turned into a beginning or an opportunity to rest and improve along the way.
Reacting to Adversity with a Positive Mindset:
You must change your reaction to develop a positive mindset.
When you experience adversity (striking out with a runner in scoring position or making an error that allowed a run), look at the problem from another perspective.
Start by writing down two things positive that could come that experience.
For example, you have have a quality at-bat without getting a hit. You might go deep into the count and make the pitcher work hard for the out.
You might do think well in the batter's box, make good swings, and swing at good pitches, but it doesn't always transfer into a base hit!
Reframe the situation to make it work for you and to help you keep your confidence despite adversity.
---
Get The Mental Edge For Baseball and Softball Players!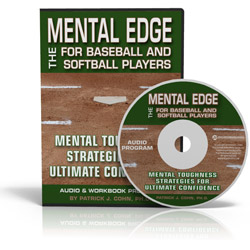 Do you (or your athletes) lack full confidence in your skills when you step on the field as if your game disappears at game time?
Do you lose composure easily after you make your first error of time game?
Do you feel embarrassed after striking out and carry this with you for longer than one inning?
If you answered yes to any of these questions, check out The Mental Edge For Baseball And Softball Players!
Boost your (or your athletes mental) toughness! Learn 8 mental toughness lessons to help ball players improve confidence, focus and composure.
The Mental Edge For Baseball And Softball Players: Mental Toughness Strategies For Ultimate Confidence
Download your copy TODAY and start boosting your mental toughness!

What are baseball mental game customers saying?
"The mental game lessons really helped me focus on the process of my performance and not the outcome. I now realize the difference between confidence and trust, in that confidence comes before competition. Your coaching is really going to help me improve my mental game this fall."
~Trey Mancini, Collegiate Baseball Player
"With your help, I have been able to deal with stress and pressure of the game of baseball more efficiently. I have learned what it means to focus on the process to help me keep my focus and disregard negative thoughts and energies. This process focus will keep me from getting my head in the way of my performance, from working against myself. Thanks for your help. I look forward to speaking with you again."
~Keith Donnell, College Baseball Player
"I currently play NCAA Division 1 Baseball, and even my coaches have noticed a change in the way that I approach the game; my attitude and confidence at the plate. Thank you for helping in my continuing goal to mental toughness."
~Tylor Prudhomme, College Baseball Player