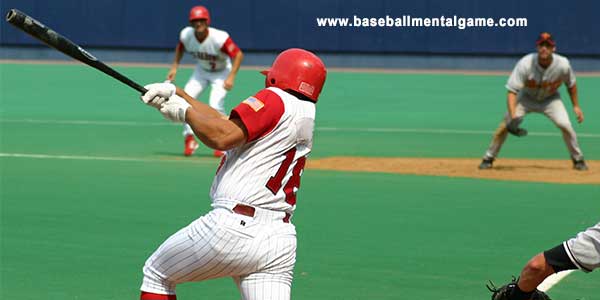 Focus on the Process
It's all about focusing on the process….
This may be one of the most over-used terms in sports, but it is the most important concept when it comes to performing to the best of your abilities.
Baseball players can become consumed by stats. "I need this many RBIs by this date," "This slump is hurting my batting average" or "I'm falling off pace with my strikeouts per game."
Trying to stay on track with the stats can create a number of obstacles to peak performance.
One trap that baseball players fall into when they are over-focused on statistics or results is that they press. Pressing is a term that describes when you try too hard (ex. swing the bat harder) or try to do too much (ex. try to hit a home run).
Pressing is caused by putting too much pressure upon yourself to reach certain performance standards, usually for every game.
That increased pressure can cause you to try to: throw pitches extra hard affecting your accuracy, change your approach at the plate causing you to swing at pitches out of the zone, or make unnecessary risks on the base paths eliminating scoring chances for your team.
Rather than pressing, the way to produce is to focus on the process or have a consistent approach. When you stay consistent in your approach, focus in the moment and trust in what you are doing, the results will come.
The key to focusing on the process is to let go of results and be consistent in what you do.
Staying focused on the process can be difficult at times as Milwaukee Brewer outfielder Christian Yelich can attest to.
Yelich was one homerun away from breaking the record for most homeruns for a Brewer prior to the All-Star break. On June 21st, Yelich hit his MLB-leading 29th home run, one shy of the record. Eleven days later, Yelich broke the Brewer's record by hitting his 30th home run of the season before the break.
Yelich talked about the difficulty of focusing on the process when others were continually asking him about the record.
YELICH: "It's cool. It's hard to put it out of your mind. You're constantly reminded about it by the fans and the media. It's nice to get it out of the way."
Yelich alluded to the fact that you have control over the process but not necessarily the results.
YELICH: "It was one of those weird ones. It wasn't the best pitch to swing at, but that's baseball. Sometimes, you do everything right and don't get rewarded. Sometimes, you do everything wrong and hit a home run."
As you can see, focusing on the process is a critical element of peak performance. After all, the process is the one thing you can control.
So, it really is all about the process!
Immersing Yourself in the Process:
One way of immersing yourself in the process is to perform consistent prepitch routines.
For a hitter, it may be adjusting your batting gloves, tapping home plate, taking four half swings, load hands, etc.
A consistent routine will put the focus on what you are doing rather than what you want to happen.
You probably already have a physical routine your do before each pitch or at-bat. Start by defining your routines and the mental game parts of each routine.
When you find yourself out of your normal routine, time to refocus back to your routine.
---
Get The Mental Edge For Baseball and Softball Players!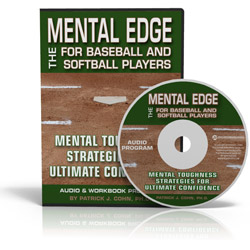 Do you (or your athletes) lack full confidence in your skills when you step on the field as if your game disappears at game time?
Do you lose composure easily after you make your first error of time game?
Do you feel embarrassed after striking out and carry this with you for longer than one inning?
If you answered yes to any of these questions, check out The Mental Edge For Baseball And Softball Players!
Boost your (or your athletes mental) toughness! Learn 8 mental toughness lessons to help ball players improve confidence, focus and composure.
The Mental Edge For Baseball And Softball Players: Mental Toughness Strategies For Ultimate Confidence
Download your copy TODAY and start boosting your mental toughness!

What are baseball mental game customers saying?
"Thank you so much for talking with our team. You are a great influence. The confidence material really helped me, and I will be working on that as long as I play and after. I can now step out there and just relax and play."
~Melissa Riesberg, Clarke College Softball
"I wanted to say that your program is one of the contributing factors that has helped Michelle improve her hitting. Last week she had the most relaxed, confident games at bat ever! The mental exercises have started to make things click. The mental program is something she can practice in other facets of life. I am pleased that we decided to invest in your program: the results are showing."
~Jim Ellis, Michelle's father
"I want to thank you for your attention with my son Keith, Jr. You helped him to focus his attention on the sequential steps necessary to make the most of his at-bats. Keith went on to have one of his best baseball seasons ever. He led his team in batting average, stolen bases, RBI, and runs scored. He ended the summer with serious interest from several Division I colleges and eventually signed a letter of intent to play for Pennsylvania State University. He received a partial baseball scholarship and is now on the roster. Thanks again for your help."
~Keith M. Donnell Sr.