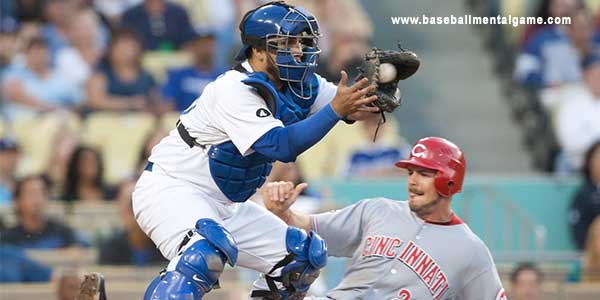 What Message Do You Send to Your Teammates Through Your Words and Actions?
What you say and do affects the overall mindset of your softball or baseball team. If you say to your teammates, "We are going to get crushed today," those words are implanted in your teammates' minds.
Your teammates will notice when you walk around the dugout with low energy. Negativity is contagious and influences the mindset of a team.
However, positivity is also contagious. When you tell your teammates, "We got this. Let's show everyone we are the team to beat," those words seep into your teammate's minds. The words you say may become the message your teammates spread to other team members.
How you act on the field matters too. Many teammates will follow suit when you are confident and loose during pre-game. Positivity breeds positivity.
Even though you are just one player, how you approach a game impacts the team's overall mindset, especially when you are a leader or captain on your team.
In our Softball and Baseball Mental Toughness Survey, a coach asked:
"How can I get my team to play together and approach each game with a positive mentality?"
Messaging is everything. Inconsistent verbal and nonverbal communication will divide a team. When some players are negative, the whole team is not pulling together in the same direction.
For example, if 2-3 starters are not optimistic about the team's chances to win, that affects the whole starting lineup. On the flip side, 2-3 players can foster a positive mindset and provide a boost of confidence for their nervous teammates.
All members of a team shape a team's mindset.
Consistent positive messaging gives a team a significant advantage in games, even when playing against teams with a better record.
In the 2022 National League wild card series, the Philadelphia Phillies beat the St. Louis Cardinals 2 games to zero to advance to the National League Division Series.
Before Game 2, Phillies outfielder Bryce Harper repeated a simple message to his teammates in the clubhouse, "We're not losing." Harper was setting the tone for the game through his positive messaging.
Phillies catcher J.T. Realmuto summed up the team's mindset in a post-game interview.
REALMUTO: "I can promise you that not one person in that clubhouse is surprised at what we're doing. This is where we expected to be to start the season, and we're here, and we're not done yet nobody's excited to play the Phillies right now. We're in a good spot."
A team's mindset dictates team play. You can either contribute to a positive team mindset or become a distraction to the team's overall performance. The choice is yours to make.
To be a positive influence on your teammates and the overall mindset of the team, always keep in mind three key points:
Know that your attitude matters or your approach to the game.
Know that your actions matter, including what you do in practice or games.
Know that your words matter or the things you say to yourself, your teammates, or any passing comments regarding your team.
---
Related Sports Psychology Articles
*Subscribe to The Sports Psychology Podcast on iTunes
*Subscribe to The Sports Psychology Podcast on Spotify
---
Get the Mental Edge – With Mental Toughness Coaching
Mental toughness coaching helps serious athletes like you uncover the beliefs and attitudes that keep you from performing to your potential. You'll learn mental game strategies to perform confidently in competition and how to overcome performance barriers.
You can improve your mental game with Mental Game Coaches, Dr. Patrick Cohn and Jaclyn Ellis, M.S. You can opt for one-on-one sessions with Dr. Cohn in Orlando, Florida, or you can stay where you are and get coaching from anywhere in the world via telephone, Skype, Zoom, or FaceTime.
One-on-one mental coaching is the fastest and most effective method to improve your mental game, boost your performance, and make lasting changes. We have a variety of mental coaching programs to choose from. Please call us at 888-742-7225 with your questions.