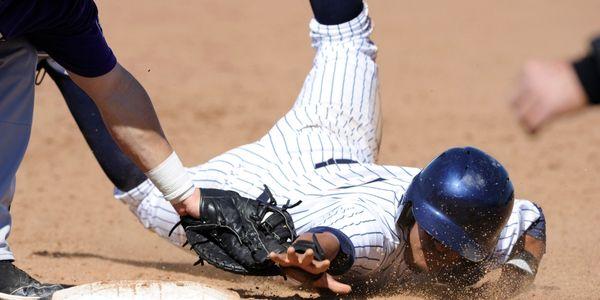 Improve Confidence and Stop Chocking Under Pressure
What does the term "confidence" mean to you? That seems like a silly question, but still, strong confidence is often misunderstood.
For example, would you say the following statements indicate strong confidence?
"I have a feeling I'm going to have a great game."
"I feel I might get a hit today."
"I don't think I will make any errors."
"I think I might win today."
Many players see these as statements of confidence. Yet, in reality, those statements are based on hope: "I hope I have a good game." "I hope I get a hit." "I hope I don't make any errors."
Hopes are finicky. When you get your hopes up thinking you might have a good game, your hopes will come crashing down if you start the game poorly.
In addition, hopes don't require any work, conscious effort, or training.
Confidence, on the other hand, is the belief that YOU can produce in specific situations because YOU physically and mentally trained yourself to do so.
Recently, a collegiate baseball player contacted us with the following question:
"How can I improve my confidence and not choke under pressure?"
The first question to ask yourself is, "What do I do to build my confidence?"
Your answer needs to be more than, "I go to practice five days a week." You already have attended practice five days a week and still, admit your confidence is shaky.
Do you put in extra work in the batting cages?
Do you give your total effort in practice?
Do you work on the finer aspects of your mechanics?
Do you engage in mental skills training?
Do you pay attention to your self-talk?
Have you learned to block out distractions?
You have to do something to build confidence. When you put in the work, you feel more prepared for games. And when you feel prepared, you build steadfast confidence in your ability to perform under pressure.
In Game 2 of the National League Division Series, Atlanta Braves pitcher Kyle Wright pitched six shutout innings, allowing two hits with six strikeouts as the Braves beat the Philadelphia Phillies, 3-0.
Wright understands high confidence is a mental skill that requires conscious work, and your level of effort leads to peak performance.
WRIGHT: "I had success in the postseason last year, but to do it as a starter, that was pretty cool to me. I think I've worked on a lot of things this year. Really just goes back to confidence. I feel I had the confidence to pitch at this stage.
[The Phillies have] a really good lineup, and I knew that. But I knew if I executed then I was going to give myself a chance. And I really believe that."
Confidence precedes achievement. Therefore, performing at your peak requires you to consciously build confidence by focusing on physical work, mental training, and comprehensive preparation.
This tip may sound simple, and it is.
If you want to build championship-level confidence, do something. Work on your skills diligently. Use every opportunity to build confidence.
You don't necessarily have to prepare more, but prepare better. And be sure to focus on your talents and abilities when you compete–not your shortcomings.
---
Related Sports Psychology Articles
*Subscribe to The Sports Psychology Podcast on iTunes
*Subscribe to The Sports Psychology Podcast on Spotify
---
Get the Mental Edge – With Mental Toughness Coaching
Mental toughness coaching helps serious athletes like you uncover the beliefs and attitudes that keep you from performing to your potential. You'll learn mental game strategies to perform confidently in competition and how to overcome performance barriers.
You can improve your mental game with Mental Game Coaches, Dr. Patrick Cohn and Jaclyn Ellis, M.S. You can opt for one-on-one sessions with Dr. Cohn in Orlando, Florida, or you can stay where you are and get coaching from anywhere in the world via telephone, Skype, Zoom, or FaceTime.
One-on-one mental coaching is the fastest and most effective method to improve your mental game, boost your performance, and make lasting changes. We have a variety of mental coaching programs to choose from. Please call us at 888-742-7225 with your questions.