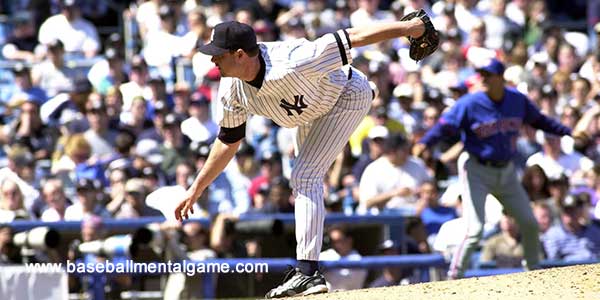 How to Perform with Confidence Under Pressure
If you were to rate your confidence from 1-10, what number would you give yourself?
Many ballplayers report being in the middle range (5-7). When faced with a challenging game situation, such as runners in scoring position, playing in tie games, starting a playoff game, confidence drops lower.
Imagine how well you would play if your confidence level increased. Imagine how clutch you would be late in a game when the game is on the line.
Confidence is a product of experience, training, and how you view the situation you are facing. You can view critical game situations as a chance to fail or an opportunity to succeed.
For instance, you are called to pitch in the ninth inning with a runner in scoring position and a one-run lead. You can view the situation from fear (giving up the tying run) or a challenge (having an opportunity to close out the game).
Or you are inserted in the lineup as a defensive replacement at first base. You can fear making a couple of errors or see it as an opportunity to highlight your defensive skills.
In our Softball and Baseball Mental Toughness Survey, we receive frequent questions regarding confidence and pressure, such as the following, "How can I play confidently late in a game when the game is undecided?"
Confidence under pressure requires you to manage your thoughts and emotions.
Many negative thoughts can enter your mind and influence play, such as:
"It's all up to me. What if I mess up?"
"I always choke under pressure."
"I'm going to fail."
Thoughts of failing create anxiety, tightness, fear, and an inability to focus. These circumstances become fertile soil for under performance and choking in big moments.
The 2021 New York Yankees have struggled through two COVID-19 outbreaks and several injuries. The Yankees were forced to call up several players from the Scranton Railriders, their minor league affiliate.
The call-ups have received a lot of playing time as the Yankees desperately try to secure a playoff spot.
The players that were called up to the big-league squad have infused confidence and enthusiasm into the club. These players viewed this major league opportunity as a chance to show their stuff and have significantly contributed to the team.
Yankee's call-up Ryan LaMarre hit a pinch-hit single in the 10th inning to beat the Phillies to help the Yankees win a fourth straight game. In his post-game interview, LaMarre talked about the focus on having fun and not about pressure.
LaMARRE: "The Rail Birds, [as LaMarre calls them], are here, and we're having fun."
Yankees manager Aaron Boone commented on the confidence of the young players as the team is battling for much-needed victories.
BOONE: "The guys certainly feel good that they're playing well and playing with confidence and relishing different situations that come up in the game and going out there and executing when it matters."
When you dread challenging game situations, you will lack the confidence to be your best. To succeed, you should approach the situation with a nothing to lose attitude.
Each situation or opportunity is a chance to shine. Instead of thinking, "What if I fail?" think, "What if I succeed?"
This little shift in perspective changes how you approach tough situations, keeps your confidence high, and assists you in looking forward to opportunities to succeed.
Stable Confidence During the Game:
Approach situations as an opportunity to show your stuff. Don't focus on what might happen. Instead, think of the best-case scenario and play the game.
Confidence is a long-term project. You've played the game for years and have been growing your confidence for that time. Don't allow game situations or one bad game to drag down years of confidence building.
Players are at their best when the game is fun, challenging, and exciting.
---
Get the Mental Edge – With Mental Toughness Coaching
Mental toughness coaching helps serious athletes like you to uncover the beliefs and attitudes that keep you from performing to your potential. You'll learn mental game strategies to perform confidently in competition and how to overcome performance barriers.
You can improve your mental game with Mental Game Coaches, Dr. Patrick Cohn and Jaclyn Ellis, M.S. You can opt for one-on-one sessions with Dr. Cohn in Orlando, Florida, or you can stay where you are and get coaching from anywhere in the world via telephone, Skype, or video-conferencing.
All sports psychology coaching programs include:
One-on-one mental coaching is the fastest and most effective method to improve your mental game, boost your performance, and make lasting changes. We have a variety of mental coaching programs to choose from. Please call us at 888-742-7225 with your questions.