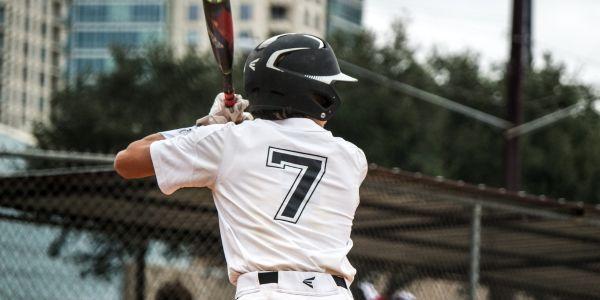 What thoughts go through your mind during crunch time?
When the game is on the line, and you are at the plate or on the mound, do you feel excited about the challenge or overwhelmed by the circumstances?
Many baseball and softball players feel that performing in the clutch is reserved for a few players as if a "clutch" gene exists.
This faulty perception prevents players from producing when they are in the spotlight with the game on the line.
Performing in the clutch is more than having physical talent or the 'right' genetics. Producing in crunch time requires a mentality that is learnable, and that mentality is shaped by your thoughts.
Thoughts, emotions, and actions are three root contributors to crunch time performance. Your thoughts will either set you up for success or failure when under pressure.
So, by changing your thought process, you can change how you perform during crunch time.
Let's use the following scenario to demonstrate the impact of thoughts, emotions, and actions…
It's the bottom of the ninth, and your team is trailing by two runs. You step up to the plate with two outs. You think, "I need to get a hit. This is the biggest game of the year. I can't strike out. I can't let down my team."
You feel uncomfortable and anxious in the batter's box. The first pitch is a fastball down the heart of the plate. Your body has so much tension, causing you to swing late. Being down in the 0-1 in the count, you have more worrisome thoughts that distract you.
You can feel your heart pounding and your back and shoulder muscles tighten. You freeze on the next two pitches and strike out to end the game.
As you can notice, your unproductive thoughts affected your emotions, creating fear and anxiety. In response to your emotions, your physiology changed (increased muscle tension), impacting your actions/ performance (freezing in the batter's box).
Let's turn the thought process around. You step into the batter's box, aware of the game situation. Only this time, you are not focusing on unproductive thoughts.
Instead, you immerse yourself in the moment. In that moment, it's just the pitcher, the ball, and you. Your heart rate is slightly elevated, but overall, you feel calm, focused, and poised at the plate. On the first pitch, you clearly see the ball and quickly react, driving the ball into the outfield.
In this instance, your mind helped keep your emotions in check, improved your focus, and readied your body for action.
Coming through in the clutch is a mental process that starts with your thinking or, more specifically, the thoughts you choose to focus on.
As the 2023 MLB regular season was winding down, the Seattle Mariners were fighting for a playoff spot. In a game against the Texas Rangers, Seattle was trailing 2-1 in the ninth inning.
With the bases loaded, two outs, and down by one run, Seattle shortstop J.P. Crawford stepped into the box and drove in two runs to win the game and keep the Mariners' playoff hopes alive.
After the game, Crawford was asked about his thoughts during his critical at-bat.
CRAWFORD: "All that was going through my head was just, 'Get it done.'"
What goes on in your head sets the stage for how well or mentally tough you will play.
Therefore, having your thoughts work for you rather than against you is crucial for being a clutch player.
Start by clearing your mind of external distractions, such as the dugout, fans, friends, and parents.
Make sure you are focused on execution–one pitch at a time– instead of outcome during crunch time. Get locked in to doing your job.
Avoid defining crucial situations as "important" as it's the same task you have been doing all season.
---
Related Sports Psychology Articles
*Subscribe to The Sports Psychology Podcast on iTunes
*Subscribe to The Sports Psychology Podcast on Spotify
---
Get the Mental Edge – With Mental Toughness Coaching
Mental toughness coaching helps serious athletes like you uncover the beliefs and attitudes that keep you from performing to your potential. You'll learn mental game strategies to perform confidently in competition and how to overcome performance barriers.
You can improve your mental game with Mental Game Coaches, Dr. Patrick Cohn and Jaclyn Ellis, M.S. You can opt for one-on-one sessions with Dr. Cohn in Orlando, Florida, or you can stay where you are and get coaching from anywhere in the world via telephone, Skype, Zoom, or FaceTime.
One-on-one mental coaching is the fastest and most effective method to improve your mental game, boost your performance, and make lasting changes. We have a variety of mental coaching programs to choose from. Please call us at 888-742-7225 with your questions.