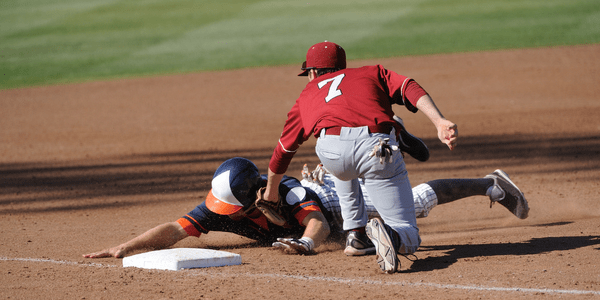 You can have the best game plan in the world, but things don't always go as planned.
Getting into a rhythm early in a game is critical for pitchers. Some days though, things may be a little off. The umpire's strike zone may be small.
The temperature can be slightly cold. The feel of the ball may be different. In some games, you just don't feel right. In those instances, it may take a few batters to get into the flow of the game.
However, starting slowly may be costly early in the game. Giving up a few hits or runs in the early innings may make it more difficult to find your groove.
For example, when you start slowly, you start thinking, "If I don't start getting hitters out, I'm going to lose this game for my team." You feel a little more anxious and tense on the mound.
You grip the ball a little tighter and try to overpower hitters instead of locating your pitches in the strike zone. You try to force yourself into a groove instead of relaxing and letting the game come to you.
Finding your groove is not a physical adjustment but a mental fine-tuning.
Getting into the flow on the mound is based on three mental aspects:
Think less – Having long internal conversations complicate mechanics. The key is to step out of your head and immerse yourself in the game. To be succinct, just throw the ball instead of thinking about how you should throw the ball.
Focus on the present pitch – Pitchers sometimes fall into the trap of outcome thinking: "If I walk in another run, I will be yanked from the game." "I'm going to lose another game for my team." The only thing that matters is the present.
Release physical and mental tension – Forcing yourself to throw strikes never works. Fluid mechanics and accuracy result from minimizing distractions and releasing mental and physical tension.
In Game 5 of the 2022 World Series, the Houston Astros and the Philadelphia Phillies were tied two games apiece. In the first inning, Phillies pitcher Noah Syndergaard gave up a double to the leadoff hitter and a single to the next hitter for the game's first run.
Syndergaard maintained his poise and settled into his game, retiring the next eight hitters.
SYNDERGAARD: "They capitalized on two mistakes [in the first inning]. I wish I could just have those pitches back… It took me a little bit to find my groove. It felt like in the second inning, I hit my stride, and in the third inning, my tempo picked up."
After a slow start, the only way to find your groove is to let go of what happened or what might happen and mentally stay in the present…
Focusing on your prepitch routine will help you settle your thoughts and find your tempo.
Getting into a physical rhythm will help clear your mind and immerse you in the game.
Look for signs the momentum is in your favor.
---
Related Sports Psychology Articles
*Subscribe to The Sports Psychology Podcast on iTunes
*Subscribe to The Sports Psychology Podcast on Spotify
---
Get the Mental Edge – With Mental Toughness Coaching
Mental toughness coaching helps serious athletes like you uncover the beliefs and attitudes that keep you from performing to your potential. You'll learn mental game strategies to perform confidently in competition and how to overcome performance barriers.
You can improve your mental game with Mental Game Coaches, Dr. Patrick Cohn and Jaclyn Ellis, M.S. You can opt for one-on-one sessions with Dr. Cohn in Orlando, Florida, or you can stay where you are and get coaching from anywhere in the world via telephone, Skype, Zoom, or FaceTime.
One-on-one mental coaching is the fastest and most effective method to improve your mental game, boost your performance, and make lasting changes. We have a variety of mental coaching programs to choose from. Please call us at 888-742-7225 with your questions.
.