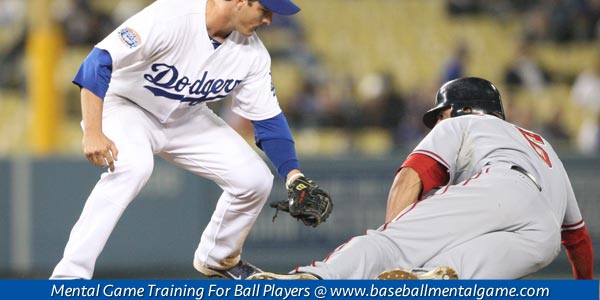 Mental Strategies for Managing Your Emotion
How many times do your emotions hurt your performance on the mound or in the batter's box during a game?

Emotions are a part of the human experience. In other words, you cannot separate yourself from your emotions. Every experience and thought will generate some type of emotion.
When you experience something with high personal significance, you will experience greater emotional intensity.
For example, if you strike out in a preseason game, you will experience a different emotion or less intensity than if you struck out in a playoff game.
No matter the circumstances, managing your emotions is crucial for peak performance.
In our Softball and Baseball Mental Toughness Survey, Pete L., a college pitcher, sent us the following question:
"I want to be able to overcome mistakes and stay focused after bad pitches. When I give up a big hit, I get angry and pitch worse as the game goes on. How can I stay in the game mentally when I'm on the mound?"
The issue is managing your emotions and re-focusing on the mound.
When you are pitching well, you are going with the flow. You are not too high nor too low. You are maintaining an even keel. This emotional range is where you play your best.
After a couple of walks or base hits, your emotions start to boil over, and your thoughts become negative. You lose your focus. Finding the strike zone becomes harder and harder.
f you can intentionally bring yourself back into your optimal emotional range, you will maintain your focus and mentally recover on the mound.
Houston Astros starting pitcher Framber Valdez has diligently worked on managing his game-time emotions.
In Game 5 of the 2021 American League Championship Series, Valdez worked his way through the fifth inning, after giving up a leadoff hit, to eventually lead his team to victory over the Boston Red Sox.
Valdez credited his mindfulness practice for helping him control his emotions. Valdez follows a specific routine between innings where he closes his eyes and meditates to regulate his emotions.
VALDEZ: "That's something that every time that I've used it, it's worked for me 100 percent. My emotions don't get out of hand. I don't get in an altered state at all, and I feel totally focused on what I need to do. That's something I have been working on a lot and something that really centers me and allows me to be calm out there."
Just as having control of your pitches is essential, it is even more critical to be in charge of your emotions.
Learning mental strategies to manage emotions will take your game to a whole new level.
Being in Charge of your Emotions
Follow these three rules to maintain an even keel throughout a game.
1. Have a sound emotional management strategy, such as breathing, in place that you can proactively apply throughout a game.
2. Have a set place you can use this strategy (dugout, pitcher's mound, batter's box).
3. Have a set time to apply this strategy (between innings, before a pitch).
Related Sports Psychology Articles
*Subscribe to The Sports Psychology Podcast on iTunes
*Subscribe to The Sports Psychology Podcast on Spotify
---
Get the Mental Edge – With Mental Toughness Coaching
Mental toughness coaching helps serious athletes like you to uncover the beliefs and attitudes that keep you from performing to your potential. You'll learn mental game strategies to perform confidently in competition and how to overcome performance barriers.
You can improve your mental game with Mental Game Coaches, Dr. Patrick Cohn and Jaclyn Ellis, M.S. You can opt for one-on-one sessions with Dr. Cohn in Orlando, Florida, or you can stay where you are and get coaching from anywhere in the world via telephone, Skype, or video-conferencing.
All sports psychology coaching programs include:
One-on-one mental coaching is the fastest and most effective method to improve your mental game, boost your performance, and make lasting changes. We have a variety of mental coaching programs to choose from. Please call us at 888-742-7225 with your questions.