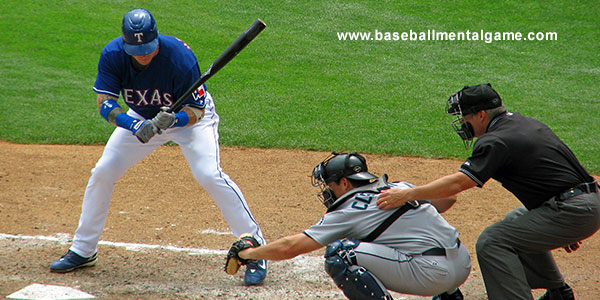 How to Achieve your Potential
A lot of baseball players have come to ask, "How can I achieve my potential as a player?"
Athletes hear the term "potential" all the time… "He has a lot of potential."
"His potential is unlimited."
Ball players hear about "having a lot of potential," but often feel they fall short when they compete. After the season, these athletes are left thinking, "Maybe I'm not good enough" or "Why can't I play better during the season?"
"I practice five days a week. I spend extra time in the batting cage. I work with a conditioning coach. Why am I not seeing any results?"
Potential is more than just a physical thing. You are more than just a body that throws a ball, swings a bat or runs the bases. You are a physical and mental being.
The body and mind are intertwined. You cannot separate those two aspects of your being. Each part of the mind and body affect each other in everything you do.
Have you ever stepped into the batter's box, nervous as can be because you haven't had a base hit in the past few games?
That nervousness affects: your reaction time at the plate, your mechanics as you swing the bat, your thoughts, your ability to focus, your level of confidence at the plate, etc.
Have you ever been distracted on the base path and were caught in a run down because you were hesitant? That lapse in focus affected your decision-making and ability to potentially get yourself in scoring position.
Have you ever lost your ability to locate your pitches after throwing a couple of wild pitches despite pitching several no-hit innings?
If you are not working your mental game, you will fall far short of your potential.
Top Phillies pitching prospect Spencer Howard has been described as having a lot of upside. In fact, Howard is considered "untouchable" by the Phillies and the team refused to entertain any trade talks that involved Howard.
Howard's potential has him in the mix for a position in the starting rotation in 2020.
In college, Howard was redshirted his freshman year at Cal Poly because, as he said, "I was not good enough to play."
Eventually, Howard became a starter at Cal Poly and was the Philadelphia's second-round draft pick in 2017.
In 2018, Howard averaged 11.8 strikeouts per nine innings at the Single A level.
Due to his fast rate of improvement, Howard was promoted to Double A in 2019 and, in his Double A debut against the New Hampshire Fisher Cats, Howard struck out 10 of the 20 batters he faced.
Brad Bergeson, Lakewood's pitching coach, commented on Howard's high level of potential.
BERGESON: "Howard's a power guy with four plus pitches and at times they're all wipeout. All of them. Fastball, curveball, slider, changeup. He's got an unbelievable arsenal. The sky is the limit. It's a special arm."
How did Howard go from red-shirted freshman to college starter to a second-round draft pick… to the top pitching prospect for the Phillies?
The answer is that Howard set aside time to work on the mental aspects of the game, starting in college.
HOWARD: "Instead of throwing a pitch and reacting emotionally, I can just look at it as 'Ok I threw that pitch. What can I do- analyze it, then flush it, and get to the next one.'"
There is more to mental training than laying on the couch and visualizing (although visualization is a great mental skill to advance your game).
You can combine mental training with your physical training.
For example, performing a consistent at-bat routine during batting practice is a sound strategy to quiet your mind and mentally prepare to focus on the next pitch.
Taking a couple of deep breaths before throwing a pitch during practice is a great strategy to relax your body and immerse yourself in the next pitch.
Using a cue word, such as "Re-Focus", after committing an error in fielding practice can help you release the last play and prevent you from ruminating over the mistake.
These mental strategies, when practiced over and over, become second nature during games.
Integrating mental training into regular practice helps you reach more of your potential.
Integrating Mental Training with your Practices:
Commit to just one area of your mental game to improve. Trying to improve every aspect of your mental game at once does not help in the development of sound mental skills.
If focusing at the plate is an area that you want to improve, think about your routine should be on-deck in in the batter's box.
Make sure you practice your at-bat routine during BP? What will you pay attention to so that you can improve your routine? Timing the pitcher? Trusting your swing?
Reaching your potential requires a holistic approach to the game.
---
Get The Mental Edge For Baseball and Softball Players!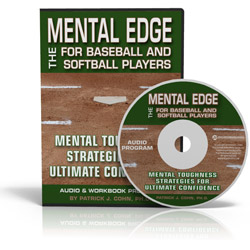 Do you (or your athletes) lack full confidence in your skills when you step on the field as if your game disappears at game time?
Do you lose composure easily after you make your first error of time game?
Do you feel embarrassed after striking out and carry this with you for longer than one inning?
If you answered yes to any of these questions, check out The Mental Edge For Baseball And Softball Players!
Boost your (or your athletes mental) toughness! Learn 8 mental toughness lessons to help ball players improve confidence, focus and composure.
The Mental Edge For Baseball And Softball Players: Mental Toughness Strategies For Ultimate Confidence
Download your copy TODAY and start boosting your mental toughness!

What are baseball mental game customers saying?
"The mental aspects definitely separates the great performers from the unsuccessful ones. Dr. Cohn's programs can help athletes improve the mental aspect and take performances to a higher and more consistent level."*
~Rick Hall, Baseball Coach, Daytona Beach C.C.
"As a college softball coach I experience great pleasure in helping youth league coaches develop their young players. As reversal of that process, I, as the student, look to experts like yourself to give me the "mechanics" of sports psychology so that I may better impart my knowledge to the players and coaches. Your contribution spreads like wildfire and helps hundreds of youngsters as well as us "oldies." Thanks for your contribution–it means a lot."*
~Tom Moore, College Softball Coach
Disclaimer
*Testimonials found on this site are examples of what we have done for other clients, and what some of our clients have said about us. However, we cannot guarantee the results in any case. Your results may vary and every situation is different. No compensation was provided for these testimonials.