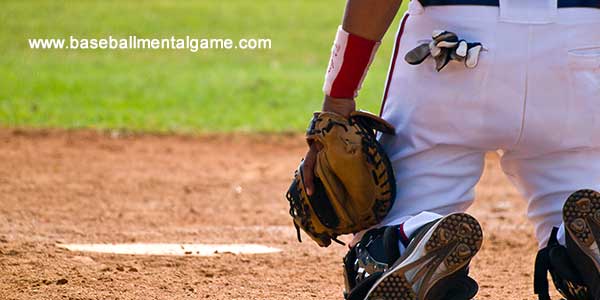 Adjust your Mindset to Improve your Hitting Average
Do you quickly get down on yourself after an unexpectedly slow start to the season or a string of bad games?
Do you have a "poor-me" attitude and feel bad games only happen to you?
Slumps are challenging enough. However, you can make it worse when you throw in too many changes and negative reactions.
For example, in our Softball and Baseball Mental Toughness Survey, a collegiate shortstop asked the following:
"Every year, I get off to a slow start. The whole team plays well, and I'm the only one not contributing. I'm afraid I am going to be benched. Is there anything I can do mentally?"
Let's examine your situation. First, look at your description of your problem.
Terms such as "every year" and "I'm the only one" indicate that you buy into an over generalization and it's only about your game. This type of mindset not only can cause a slump but also can keep you stuck.
In general, all athletes look for evidence to support their beliefs. When you see yourself as a "slow starter" to each season, you will look to prove yourself right.
You will remember past seasons when you didn't hit well in the first few games of the year. Your beliefs are powerful and significantly impact your performance in the present.
In addition, when you have a "poor-me" mentality, you feel powerless to change your circumstances.
When you change your mindset, you see the situation differently. Instead of feeling like you are the only one who slumps early in the season, you need to understand that slumps happen to all ballplayers.
This mindset will change how you react to the issue. Instead of giving in to your circumstances, you will work to find a solution.
For example, San Francisco Giants' catcher Joey Bart has struggled through a roller coaster 2022 season.
Bart, a former first-round draft pick, struggled through the early part of the season, leading to a Triple-A demotion. Bart felt a little lost in the early part of the season.
BART: "Honestly, I have no idea. Baseball just kind of took advantage of me. I was in a great spot coming out of spring training, and things kind of didn't really go my way. Toward the beginning of this season, I wasn't in the best place all around for my game, so we just needed to figure out what we could fix and how I can get better."
Since being called up from the Giants, Bart has played significantly better.

BART: "That's the good thing about this game. You're going to be faced with challenges year in and year out. You're going to have to figure out a way to get through them if you want to stick around in this league."
To better handle a slow start to the season, look for solutions and work through your slump. When you shift your mindset, you become a problem-solver rather than a problem-finder.
When your production is not up to speed early in the season, there are three truths you must accept:
TRUTH #1 Slow starts happen.
TRUTH #2 All players go through times when they under perform.
TRUTH #3 Your reactions to your circumstances will determine the length of your slump.
Keep in mind that batting average is a season-long goal and you should not stress out over a few early game. You can catch fire anytime during the season.
---
Related Sports Psychology Articles
*Subscribe to The Sports Psychology Podcast on iTunes
*Subscribe to The Sports Psychology Podcast on Spotify
---
Get the Mental Edge – With Mental Toughness Coaching
Mental toughness coaching helps serious athletes like you uncover the beliefs and attitudes that keep you from performing to your potential. You'll learn mental game strategies to perform confidently in competition and how to overcome performance barriers.
You can improve your mental game with Mental Game Coaches, Dr. Patrick Cohn and Jaclyn Ellis, M.S. You can opt for one-on-one sessions with Dr. Cohn in Orlando, Florida, or you can stay where you are and get coaching from anywhere in the world via telephone, Skype, Zoom, or FaceTime.
One-on-one mental coaching is the fastest and most effective method to improve your mental game, boost your performance, and make lasting changes. We have a variety of mental coaching programs to choose from. Please call us at 888-742-7225 with your questions.