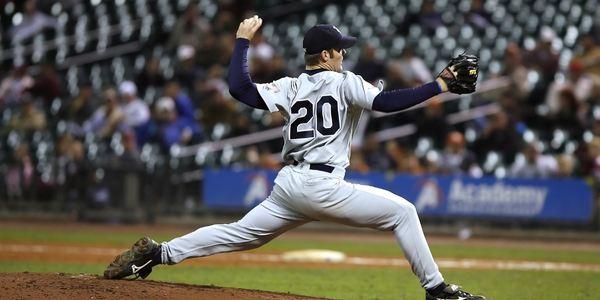 How do you handle the ups and downs of a baseball or softball season?
Baseball and softball seasons are long, and there will be peaks and valleys.
You will experience mini-slumps and hitting streaks, throwing scoreless innings and periods where it is difficult to get a hitter out. Ups and downs are a constant and true for every player.
Ultimately, the goal is to extend your streaks and minimize your slumps. How you view the tough times will determine how long those slumps last.
For example, if you go 0-for-8 in two consecutive games and get down on yourself, you will start thinking, "I can't even make good contact with pitches. Something must be wrong."
You may start tinkering with your mechanics, tighten up in the batter's box and start pressing at the plate.
Reacting this way can lead to a couple of 0-4 games and lengthen slumps and frustrate players.
If you remain patient and think, "It's just two games. I'm swinging the bat well. The hits will come," you will get back on track quicker. You will be relaxed at the plate and have a clearer focus on the pitcher's release point and flight of the ball.
You will feel a sense of control in the batter's box and be selective at the plate. This calm, relaxed approach leads to better contact with the ball and productive at-bats.
As you can see, your reactions to your circumstances matter most. Managing your thoughts and emotions is an essential mental skill for players of all ages and every level.
Chicago Cubs rookie outfielder Owen Caissie is finding his comfort zone at the plate after a slow start to the 2023 season. Caissie's patience, trust in his skills, and comfort level have helped to raise his batting average from .207 to .278.
Caissie's perspective of the game and mental approach to hitting has been the keys to getting back on track.
CAISSIE: "Honestly, just not getting down [on] myself. There's always going to be another AB. There's always going to be another game tomorrow."
When you let go of past mistakes, errors, or games and focus forward, you minimize the negative influence of bad games.
Always keep in mind there will be another opportunity, another chance to succeed, another AB.
You should still learn from past games and improve upon mistakes. To bounce back, you should avoid certain problem areas.
First, refrain from overthinking or over analyzing during the game. The time for evaluating performance is after the game.
In addition, you should avoid ruminating about past poor performances. Past performances should stay in the past. Reliving past bad games lowers confidence and contributes to lackluster future games.
Remember, there is always another at-bat, inning, or game where you can improve your production, contribute to the team's success and perform at your peak.
Focus on the big picture. Baseball is a game of averages. If you think about long-term results, you will be patient, maintain your confidence, continue to grind and find your groove.
Look at the production at the end of the season and work the process each game.
---
Related Sports Psychology Articles
*Subscribe to The Sports Psychology Podcast on iTunes
*Subscribe to The Sports Psychology Podcast on Spotify
---
Get the Mental Edge – With Mental Toughness Coaching
Mental toughness coaching helps serious athletes like you uncover the beliefs and attitudes that keep you from performing to your potential. You'll learn mental game strategies to perform confidently in competition and how to overcome performance barriers.
You can improve your mental game with Mental Game Coaches, Dr. Patrick Cohn and Jaclyn Ellis, M.S. You can opt for one-on-one sessions with Dr. Cohn in Orlando, Florida, or you can stay where you are and get coaching from anywhere in the world via telephone, Skype, Zoom, or FaceTime.
One-on-one mental coaching is the fastest and most effective method to improve your mental game, boost your performance, and make lasting changes. We have a variety of mental coaching programs to choose from. Please call us at 888-742-7225 with your questions.
.