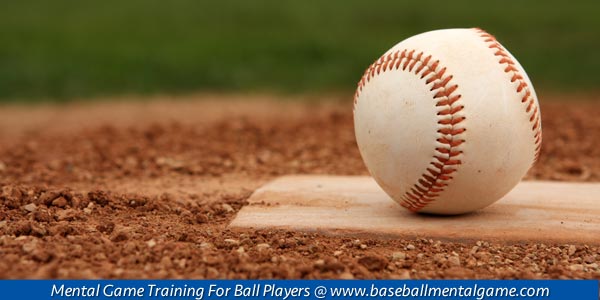 McHugh's Mindset For Preseason Preparation
How often do you need to take some time to get into the rhythm of a game?
Or maybe it takes you several games to adapt to what you learned in preseason to the regular season.
Many times ball players feel the need to ease into a game or the season.
The mindset of some athletes is that they need to be comfortable or get into the flow of game action in order to play optimally.
But what if your slow start has a carryover effect further into the game or a string of games into the season? What if you can't find that rhythm?
Trying to find your rhythm in a game can cause you to waste several at-bats or pitch a few bad innings to give up an early lead.
The slow start forces you to play catch-up the rest of the game.
A slow start to the season can lead to losing streak and a blow to your team's confidence.
This slow start may even affect team morale making it more difficult to play your best baseball.
You should never use a few at-bats or a string of games as warm-up. This defensive approach to the game could be the catalyst for a slump.
You have an alternative to easing into a game or season…
Be ready for the first pitch or be in attack-mode the first game of the season.
Firing on all cylinders requires a great deal of pre-game preparation and a certain mindset.
Houston Astros pitcher Collin McHugh has changed his approach to the 2016 season.
Last year, it took until the second half of the season for McHugh to produce his best work.
McHugh was a 19-game winner but wants to be firing on all cylinders by the start of the season.
McHugh is focused on preparing thoroughly during spring training and honing his change-up so he can play his best from his very first start.
McHugh's has the mindset of starting fast right out of the gate and being a strong first-half pitcher.
MCHUGH: "Get better now. Get better early. Honestly, spring training… you have to be able and willing to work on stuff because if you come out of the gate just a little flat, it can drop on you quick. I've seen it. I've seen a month get away from you and you can't get it back, no matter how good you get down the stretch."
McHugh has a proactive mindset going into the season. If you do everything in your power to prepare, you will ride the wave of confidence from the first pitch.
Imagine the advantage you gain over all those other players who feel the need to ease into the season… And your "start strong mindset" will give you momentum through a nine inning game or the start of the season.
Tip for Developing the "Start Strong" Mindset
Look back at games where you played your best after a few at-bats or pitches. What were the things that you needed to get into that flow of the game?
Most likely, it was that you needed that game-like feel. Work on getting your intensity at the optimal level.
Instead of approaching pregame as a time to relax and chill, create some mental game-like scenarios towards the end of your warm up routine so you are ready to play your best from the very first pitch.
Check Out My Video Of The Week: Sports Psychology Case Study – Superstitions And Rituals
---
Coaches, Help Your Ball Players Improve Their Confidence!
In this seven-day program, baseball and softball coaches learn proven strategies to build their teams' self-confidence, improve sports performance, and stop self-doubt instantly! Learn more about the program here:
Instilling Confidence In Baseball And Softball Players
---

Get The Mental Edge For Baseball and Softball Players!
Do you (or your athletes) lack full confidence in your skills when you step on the field as if your game disappears at game time?
Do you lose composure easily after you make your first error of time game?
Do you feel embarrassed after striking out and carry this with you for longer than one inning?
If you answered yes to any of these questions, check out The Mental Edge For Baseball And Softball Players!
Boost your (or your athletes mental) toughness! Learn 8 mental toughness lessons to help ball players improve confidence, focus and composure.
The Mental Edge For Baseball And Softball Players: Mental Toughness Strategies For Ultimate Confidence
Download your copy today!

What are mental game customers saying?
"Dr. Cohn has put together a program that has enabled myself and our players to approach the mental game in a systematic way that is easy to use and apply. Our awareness level has greatly increased."
~Marty Hunter, Head Baseball Coach George Fox University
---
Get Our Weekly Mental Game Tips!
Learn 6 Costly Mental Game Mistakes Baseball
And Softball Players Make While Batting
Get instant access to a Mental Game of Baseball and Softball FREE report. Discover if you are making one or more of these "costly" mental game errors at the plate!
You'll discover:
How your mind can be your best or worst asset during batting.
If you are using your mind effectively to get a hit.
A critical mental error that can erase your confidence at the plate!
How to prepare your mind using an at-bat routine.
I'll also notify you when we have other baseball or softball mental game tips to boost your performance! Please enter your first name, primary email, and role in baseball/softball below to instantly receive your 100% FREE mental game report:
© 2016 Peak Performance Sports, LLC | 888-742-7225 | Baseball and Softball Confidence
Mental Game of Baseball Success Stories
"With your help, I have been able to deal with stress and pressure of the game of baseball more efficiently. I have learned what it means to focus on the process to help me keep my focus and disregard negative thoughts and energies. This process focus will keep me from getting my head in the way of my performance, from working against myself. Thanks for your help. I look forward to speaking with you again."
~Keith Donnell, College Baseball Player.
"I currently play NCAA Division 1 Baseball, and even my coaches have noticed a change in the way that I approach the game; my attitude and confidence at the plate. Thank you for helping in my continuing goal to mental toughness."
~Tylor Prudhomme, College Baseball Player
---
Boost Your Self-Confidence And Focus With Expert Mental Game Coaching!
Master mental game coach Dr. Patrick Cohn can help you overcome your mental game issues with personal coaching.
You can work with Dr. Patrick Cohn himself in Orlando, Florida or via Skype, FaceTime, or telephone. Call us toll free at 888-742-7225 or contact us for more information about the different coaching programs we offer!
What are our mental coaching students, parents and coaches saying?
"Thank you very much for taking the time to speak with our team. It was greatly appreciated and really helped a lot. I found myself implementing your teachings in our first practice right after you left. I really enjoyed the way you implemented already known ideas, but gave us a different way of viewing it. Thank you."
~Amber Prosser, Clark College Softball