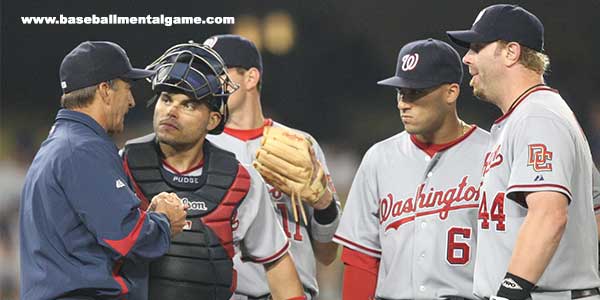 How to Be Mentally Tough
Adversity is inevitable in baseball and life. Adversity doesn't discriminate; it strikes every athlete, every team and in every season.
There are many different forms of adversity:
Injuries
Reduced playing time
Conflict with teammates
Losing streaks
Slow starts
Competition mistakes
Clashes with coaches
Pressure from outside sources
Bad Games
And many more
In addition to adversity, there are multiple responses to adversity.
Adversity can create anxiety or resolve.
Adversity can decimate or motivate.
Adversity can bury you or cause you to dig in.
Adversity can make you quit or cause you to work harder.
Adversity can hurt confidence or cause you to learn.
It is important to understand that adversity happens to every baseball player.
How it affects a baseball player or a team depends on your attitude towards and your response to the adverse circumstances.
So, you don't get beaten by adversity unless you respond negatively to that adversity.
Some baseball players see themselves as unlucky or not able to catch a break. These athletes tend to give up a bit whether it is going through the motions in training or giving a little less effort in competitions.
Some baseball players are challenged by adversity and look for ways overcome their circumstances.
This type of baseball player knows the adversity they are experiencing will help them grow as an athlete, build mental toughness and, eventually, enhance their chance for success in the future.
In fact, championship-level baseball players often credit the mental toughness built through adversity for their success.
For example, the 2019 World Series Champion Washington Nationals credit their ability to overcome adversity all season long as the major reason for their success.
The Nationals beat the Houston Astros in the deciding Game 7 by a score of 6-2 after heading into the seventh inning trailing by 2-0.
The Nationals won the first two games and then lost the next three being outscored 19-3. Instead of allowing their adverse circumstances crush them, the Nationals drew on mental toughness and won the last two games to become World Champions.
Washington right fielder Adam Eaton pointed to early season struggles that helped the Nationals develop the mental toughness needed to overcome adversity throughout the playoffs.
EATON: "We stunk, thinking back to the start of the season. But for us, it's like you fail early, you come together as a group, you struggle as a group to be able to succeed later. You learn from the mistakes."
"All of a sudden we start to accelerate and then when our backs are against the wall, it's like, 'Well, we've done this before.' We stunk in April and May and everyone counted us out. We're used to this, this is nothing new."
Washington catcher Kurt Suzuki echoed Eaton's sentiments about how mental toughness helped the team continue to fight when trailing 3-2 in the World Series.
SUZUKI: "It's not a mystery that we just kept fighting to the end and now look at us, we're raising the trophy and we're world champs. It feels like we had to come back in every game that we won, especially the elimination games. It just says a lot about this team and the character."
You can benefit from adversity. When you stay resolute to reach your goals and keep working through adversity, you can triumph.
World Championship-Level Mental Toughness:
In order to use adversity as a springboard to success, you want to respond with the mindset of a champion to adversity.
What are 10 times you faced adversity? How did you benefit from adversity? What did you learn about yourself?
Learning from adversity doesn't need to be immediate or major. The benefit can be as simple as re-igniting your passion for baseball or committing to develop a stronger mental game.
You always have the choice of how to respond to things that happen to you in baseball. Choosing your attitude every day is an important part of bouncing back from adversity.
---
Get The Mental Edge For Baseball and Softball Players!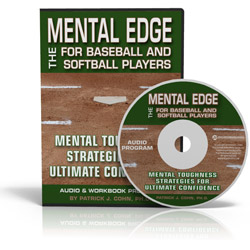 Do you (or your athletes) lack full confidence in your skills when you step on the field as if your game disappears at game time?
Do you lose composure easily after you make your first error of time game?
Do you feel embarrassed after striking out and carry this with you for longer than one inning?
If you answered yes to any of these questions, check out The Mental Edge For Baseball And Softball Players!
Boost your (or your athletes mental) toughness! Learn 8 mental toughness lessons to help ball players improve confidence, focus and composure.
The Mental Edge For Baseball And Softball Players: Mental Toughness Strategies For Ultimate Confidence
Download your copy TODAY and start boosting your mental toughness!

What are baseball mental game customers saying?
"Dr. Cohn, I've been tearing it up lately!!! Every single thing you taught me works perfectly in every situation I've been in. I've been so into every game and focusing on the process and not the outcomes and everything falls right into place . In the playoffs I'm 5-7 with 2 run home runs and 5 RBIs. I feel great at the plate and focusing is a breeze now. I just wanted to thank you for everything and keep you posted with how everything was going."
~Jalen Phillips, College Baseball Player
"With your help, I have been able to deal with stress and pressure of the game of baseball more efficiently. I have learned to help me keep my focus and disregard negative thoughts and energies. This process focus will keep me from getting my head in the way of my performance, from working against myself. Thanks for your help. I look forward to speaking with you again."
~Keith Donnell, college baseball player
"Thank you very much for taking the time to speak with our team. It was greatly appreciated and really helped a lot. I found myself implementing your teachings in our first practice right after you left. I really enjoyed the way you implemented already known ideas, but gave us a different way of viewing it. Thank you."
~Amber Prosser, Clark College Softball
---
Boost Your Self-Confidence And Focus With Expert Mental Game Coaching!
Master mental game coach Dr. Patrick Cohn can help you overcome your mental game issues with personal coaching.
You can work with Dr. Patrick Cohn himself in Orlando, Florida or via Skype, FaceTime, or telephone. Call us toll free at 888-742-7225 or contact us for more information about the different coaching programs we offer!
What are our mental coaching students saying?
"As a college softball coach I experience great pleasure in helping youth league coaches develop their young players. As reversal of that process, I, as the student, look to experts like yourself to give me the "mechanics" of sports psychology so that I may better impart my knowledge to the players and coaches. Your contribution spreads like wildfire and helps hundreds of youngsters as well as us "oldies." Thanks for your contribution–it means a lot."
~Tom Moore, College Softball Coach
"A quick note to let you know how effective your programs worked for my son who is 17 and plays varsity baseball in VA. In late 2009, I ordered the Relaxed Athlete program for my son because I saw he was pressing too hard at the plate and had disappointing results for the 2009 season. Thanks to your programs, my son now has a completely new approach to the game of baseball (and school) and it's more fun for him now. He made all-district player at his position and hit .443 this season. A complete 180 degree turn around from last year."
~Mark M., sports parent
"Dr. Cohn has put together a program that has enabled myself and our players to approach the mental game in a systematic way that is easy to use and apply. Our awareness level has greatly increased."
~Marty Hunter, Head Baseball Coach George Fox University
Disclaimer
*Testimonials found on this site are examples of what we have done for other clients, and what some of our clients have said about us. However, we cannot guarantee the results in any case. Your results may vary and every situation is different. No compensation was provided for these testimonials.