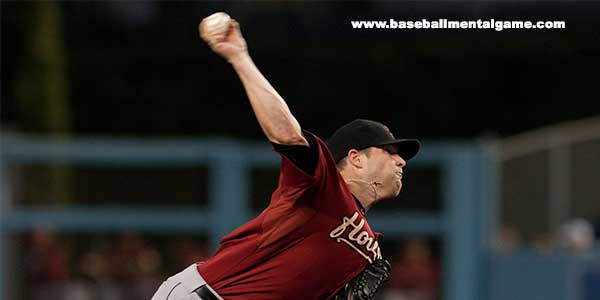 How to Control your Self-Talk
Athletes can talk themselves out of a lot of things. The biggest obstacle for ball players is not the opposition, but the content of their self-talk.
You could have all the talent in the world but if you doubt your ability to play at a level close to your potential, you will never accomplish much in your sport.
Negative self-talk is that little internal voice that screams, "No you can't," no matter if you have succeeded at a similar task in the past or find yourself in a relatively new circumstance.
Negative self-talk can talk you out of getting on base when facing a dominant opposing pitcher…
"I can't get a hit off him. I can never catch up to his fastball."
Negative self-talk can talk you out of throwing out a runner from the outfield.
"I don't have the arm strength or accuracy to make a strong throw to home plate."
Negative self-talk can talk you out of trusting your pitches with runners on base.
"This team always lights me up. I can't get any out today."
Negative self-talk can talk you out of playing to your potential when your number is called.
"I don't belong at this level. I'm not that good."
Negative thoughts may seep into your mind but you don't need to buy into those thoughts or allow those thoughts dominate your thinking.
Not once did Houston Astros rookie starter Jose Urquidy try to talk himself out of pulling off his best pitching performance in Game 4 of the World Series against the Washington Nationals.
After all, if Urquidy wanted to find reasons to fail, it wouldn't be that difficult.
For example:
Urquidy hadn't pitched above Class A prior to the start of this season
Urquidy was not even considered one of Houston's top 30 prospects entering the season
Urquidy was sent back to Triple-A four starts after making his Major-League debut
In one of his last Triple-A starts, Urquidy allowed 14 hits, 11 runs and three home runs in 4 and 2/3 innings.
Urquidy pitched only 41 innings at the Major League level prior to this year's playoffs
These previous facts could have caused Urquidy to question his ability to pitch effectively in the World Series.
Instead, Urquidy turned in one of his best performances in his career throwing five shutout innings with no walks and only two hits to help the Astros win 8-1 and tie the Series at two games each.
After the game, Urquidy said he didn't allow the moment get too big even though he was aware of the magnitude of the game.
URQUIDY: "Yes, I was a little nervous, a little bit. But after the first inning… I felt very more relaxed to play. … A couple of moments I was thinking… 'Oh, my God, I'm (in the) World Series pitching. It's awesome.'"
Urquidy was nervous prior to the start of the game just as every other player on the field but he didn't allow negativity to permeate his thought process.
If you notice, Urquidy said "Oh my God, I'm in the World Series pitching" and not, "Oh my God, I'm pitching in the World Series. What if I mess up? I'm going to be the reason we lose."
The takeaway is that you are in control of your self-talk. You can choose what thoughts to take hold of and which thoughts you pass over. Your self-talk is up to you!
Overcoming Negative Self-Talk for Ball Players:
What normally triggers your negative self-talk? Mistakes? What others do or say? Getting beat?
Examine past games where negative thoughts affected your game. What situations preceded those thoughts?
Let's assume making mistakes have the greatest impact on your self-talk.
What might you say to yourself after a mistake? For example: "That was awful, I hate walking batters."
What can you say to yourself when you engage in negative self-talk? "It happens to the best pitchers. You're good. Move on"
---
Get The Mental Edge For Baseball and Softball Players!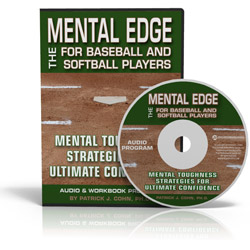 Do you (or your athletes) lack full confidence in your skills when you step on the field as if your game disappears at game time?
Do you lose composure easily after you make your first error of time game?
Do you feel embarrassed after striking out and carry this with you for longer than one inning?
If you answered yes to any of these questions, check out The Mental Edge For Baseball And Softball Players!
Boost your (or your athletes mental) toughness! Learn 8 mental toughness lessons to help ball players improve confidence, focus and composure.
The Mental Edge For Baseball And Softball Players: Mental Toughness Strategies For Ultimate Confidence
Download your copy TODAY and start boosting your mental toughness!

What are baseball mental game customers saying?
"Dr. Cohn, I've been tearing it up lately!!! Every single thing you taught me works perfectly in every situation I've been in. I've been so into every game and focusing on the process and not the outcomes and everything falls right into place . In the playoffs I'm 5-7 with 2 run home runs and 5 RBIs. I feel great at the plate and focusing is a breeze now. I just wanted to thank you for everything and keep you posted with how everything was going."
~Jalen Phillips, College Baseball Player
"With your help, I have been able to deal with stress and pressure of the game of baseball more efficiently. I have learned to help me keep my focus and disregard negative thoughts and energies. This process focus will keep me from getting my head in the way of my performance, from working against myself. Thanks for your help. I look forward to speaking with you again."
~Keith Donnell, college baseball player
"Thank you very much for taking the time to speak with our team. It was greatly appreciated and really helped a lot. I found myself implementing your teachings in our first practice right after you left. I really enjoyed the way you implemented already known ideas, but gave us a different way of viewing it. Thank you."
~Amber Prosser, Clark College Softball
---
Boost Your Self-Confidence And Focus With Expert Mental Game Coaching!
Master mental game coach Dr. Patrick Cohn can help you overcome your mental game issues with personal coaching.
You can work with Dr. Patrick Cohn himself in Orlando, Florida or via Skype, FaceTime, or telephone. Call us toll free at 888-742-7225 or contact us for more information about the different coaching programs we offer!
What are our mental coaching students saying?
"As a college softball coach I experience great pleasure in helping youth league coaches develop their young players. As reversal of that process, I, as the student, look to experts like yourself to give me the "mechanics" of sports psychology so that I may better impart my knowledge to the players and coaches. Your contribution spreads like wildfire and helps hundreds of youngsters as well as us "oldies." Thanks for your contribution–it means a lot."
~Tom Moore, College Softball Coach
"A quick note to let you know how effective your programs worked for my son who is 17 and plays varsity baseball in VA. In late 2009, I ordered the Relaxed Athlete program for my son because I saw he was pressing too hard at the plate and had disappointing results for the 2009 season. Thanks to your programs, my son now has a completely new approach to the game of baseball (and school) and it's more fun for him now. He made all-district player at his position and hit .443 this season. A complete 180 degree turn around from last year."
~Mark M., sports parent
"Dr. Cohn has put together a program that has enabled myself and our players to approach the mental game in a systematic way that is easy to use and apply. Our awareness level has greatly increased."
~Marty Hunter, Head Baseball Coach George Fox University
Disclaimer
*Testimonials found on this site are examples of what we have done for other clients, and what some of our clients have said about us. However, we cannot guarantee the results in any case. Your results may vary and every situation is different. No compensation was provided for these testimonials.