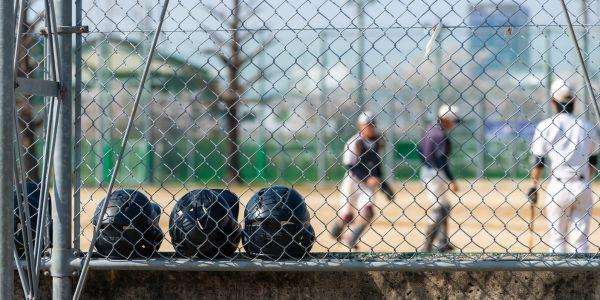 Do you feel like a failure because you are not living up to your potential as a baseball player?
Knowing you have the skills and have been highly productive in the past yet falling well short of your capabilities has caused many players to quit playing sports altogether.
Being patient and persistent is difficult when you consistently fall short of your potential.
A coach responded to our Softball and Baseball Mental Toughness Survey with the following question:
How can I help my players not to be frustrated when they fall short of their goals? How can I help them accept that there will be times when they struggle, but somehow they must maintain confidence in their abilities?
Slumps can hurt an athlete's confidence. Slumping athletes have thoughts such as, "I probably will not get a hit today" or "I can't even make solid contact on pitches."
This negative self-talk may cause players to get fooled on pitches more easily, press in the batter's box, or freeze at the plate.
However, on a larger scale, failing to reach your goals can affect a player's self-belief. When you lose self-belief, you have thoughts such as, "I am not talented," "I am not as good as my teammates," or "I think I should quit."
A lack of belief affects practice efforts, motivation, and athletic self-worth.
The question is, "How can you build self-belief?"
Giving up on your goals should not be an option. After finishing their careers, some athletes have profound regrets such as, "If only I stuck it out a little longer," or "If only I followed my coach's advice and worked with the hitting coach more frequently."
When you finish competing, you don't want to have any regrets about your career. Therefore, one way to build self-belief is to become a solution-seeker, not a problem-finder.
Problem-finders are constantly worried about results. Solution seekers focus on the process, improvement, and taking positive action.
When you take positive action, you build self-belief, leading to more positive actions, and the cycle continues.
Scott Kingery was drafted, in 2015, by the Philadelphia Phillies in the second round. Kingery had a solid start to his career. However, Kingery has been stuck in the minors since 2020 due to a lack of production.
Kingery has remained patient and persistent and refuses to give up on himself or his major league career.
KINGERY: "I still think my game [approach] hasn't changed too much. I like to pride myself on defense. I can play at a high level at multiple positions. The goal at the plate is being consistent, getting on base, and creating havoc on the base paths."
Kingery's solution-based mindset has played off. Kingery had a strong 2023 Spring Training in which he hit .340. At Triple-A, Kingery has continued his forward momentum.
In the first 68 games, Kingery had a .278 batting average, 44 runs scored, nine home runs, and is 18-for-18 in stolen bases.
Understanding the problem is necessary, but solutions-seekers move on to the next steps, looking for answers and taking action.
You don't want to spend your time after your athletic career wondering what could have been. So, after each game, ask yourself, "What three things can I do to improve my game?"
This question gets you into the habit of finding solutions, improving performance, and building self-belief.
---
Related Sports Psychology Articles
*Subscribe to The Sports Psychology Podcast on iTunes
*Subscribe to The Sports Psychology Podcast on Spotify
---
Get the Mental Edge – With Mental Toughness Coaching
Mental toughness coaching helps serious athletes like you uncover the beliefs and attitudes that keep you from performing to your potential. You'll learn mental game strategies to perform confidently in competition and how to overcome performance barriers.
You can improve your mental game with Mental Game Coaches, Dr. Patrick Cohn and Jaclyn Ellis, M.S. You can opt for one-on-one sessions with Dr. Cohn in Orlando, Florida, or you can stay where you are and get coaching from anywhere in the world via telephone, Skype, Zoom, or FaceTime.
One-on-one mental coaching is the fastest and most effective method to improve your mental game, boost your performance, and make lasting changes. We have a variety of mental coaching programs to choose from. Please call us at 888-742-7225 with your questions.