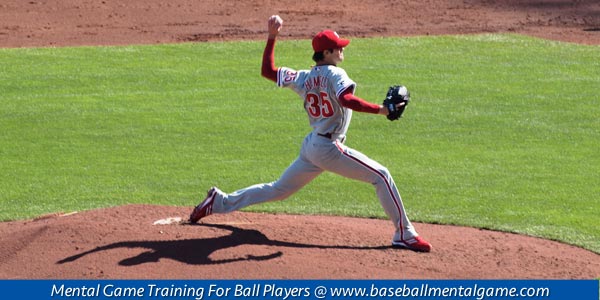 Developing The Mental Toughness of a Champion
Mental Toughness for baseball players is a vital component to grow as an athlete and achieve a high level of success as a ball player.
Mental toughness in baseball is often the difference between success and failure.
Your level of mental toughness determines how you respond to injury, slumps, tough competitions, pressure situations and how you approach your game.
Mental toughness in baseball can be developed through diligent practice and is composed of several elements:
Flexibility (find new ways to overcome adversity)
Action-oriented (view challenges as opportunities to reach new levels of performance)
Inner strength (reach deep down inside in order to respond positively to pressure situations)
Courage (seek to overcome obstacle the right way through hard work and determination)
Resiliency (remain optimistic and confident in the face of adversity)
Laser-like focus (stay focused under pressure on what they need to do in that moment)
Justin Verlander, pitcher for the Detroit Tigers, is considered by many one of the best pitchers in MLB and one of the mentally toughest players in the league.
Verlander has achieved many awards and accolades since entering the league in 2005: Rookie of the Year, five-time All Star selection, Cy Young award (2011) and league MVP (2011).
Verlander had his second worst season (13-12) since being selected as the best rookie in the league and almost as many losses in his two previous seasons combined (41-13).
How would Verlander respond pitching the deciding game of the ALDS against the Oakland A's in Oakland?
With the season on the line, Verlander utilized his mental toughness and rose to the challenge and pitched a gem by carrying a no-hit bid into the seventh inning.  Verlander allowed only three baserunners (2 hits), struck out 10 hitters in eight innings to win the series, 3-0, and helping the Tigers advanced to the ALCS.
Verlander had nerves of steel, trusting his stuff and displayed his trademark mental toughness,
"I'm pitching the way I'm supposed to. I worked my butt off all year to try to get consistent and get myself where I needed to be. I feel like it finally paid off at the end of the year."
How can you develop the "Mental Toughness" of a champion?
Be committed to mastering the basics and find new ways to improve your abilities.
Don't allow challenges beat you.  Use challenges to springboard you to greater heights.
Embrace pressure situations and learn to harness your emotions to benefit performance.
Outwork your opposition and be diligent in your preparation.
Stay positive and trust your abilities.
Focus on the present play.  You are most effective and powerful when you play in the present moment.
Outstanding athletic talent and physical prowess will only take you so far in baseball.
Mental toughness is the key to unlock your full potential.
---

Get The Mental Edge For Baseball and Softball Players!
Do you (or your athletes) lack full confidence in your skills when you step on the field as if your game disappears at game time?
Do you lose composure easily after you make your first error of time game?
Do you feel embarrassed after striking out and carry this with you for longer than one inning?
If you answered yes to any of these questions, check out The Mental Edge For Baseball And Softball Players!
Boost your (or your athletes mental) toughness! Learn 8 mental toughness lessons to help ball players improve confidence, focus and composure.
The Mental Edge For Baseball And Softball Players: Mental Toughness Strategies For Ultimate Confidence
Download your copy today!

What are mental game customers saying?
"With your help, I have been able to deal with stress and pressure of the game of baseball more efficiently. I have learned what it means to focus on the process to help me keep my focus and disregard negative thoughts and energies. This process focus will keep me from getting my head in the way of my performance, from working against myself. Thanks for your help. I look forward to speaking with you again."
~Keith Donnell, College Baseball Player
---
Get Our Weekly Mental Game Tips!
Learn 6 Costly Mental Game Mistakes Baseball
And Softball Players Make While Batting
Get instant access to a Mental Game of Baseball and Softball FREE report. Discover if you are making one or more of these "costly" mental game errors at the plate!
You'll discover:
How your mind can be your best or worst asset during batting.
If you are using your mind effectively to get a hit.
A critical mental error that can erase your confidence at the plate!
How to prepare your mind using an at-bat routine.
I'll also notify you when we have other baseball or softball mental game tips to boost your performance! Please enter your first name, primary email, and role in baseball/softball below to instantly receive your 100% FREE mental game report:
© 2016 Peak Performance Sports, LLC | 888-742-7225 | Baseball and Softball Confidence
Mental Game of Baseball Success Stories
"I currently play NCAA Division 1 Baseball, and even my coaches have noticed a change in the way that I approach the game; my attitude and confidence at the plate. Thank you for helping in my continuing goal to mental toughness."
~Tylor Prudhomme, College Baseball Player
"Thank you very much for taking the time to speak with our team. It was greatly appreciated and really helped a lot. I found myself implementing your teachings in our first practice right after you left. I really enjoyed the way you implemented already known ideas, but gave us a different way of viewing it. Thank you."
~Amber Prosser, Clark College Softball
---
Boost Your Self-Confidence And Focus With Expert Mental Game Coaching!
Master mental game coach Dr. Patrick Cohn can help you overcome your mental game issues with personal coaching.
You can work with Dr. Patrick Cohn himself in Orlando, Florida or via Skype, FaceTime, or telephone. Call us toll free at 888-742-7225 or contact us for more information about the different coaching programs we offer!
What are our mental coaching students, parents and coaches saying?
"Dr. Cohn has put together a program that has enabled myself and our players to approach the mental game in a systematic way that is easy to use and apply. Our awareness level has greatly increased."
~Marty Hunter, Head Baseball Coach George Fox University