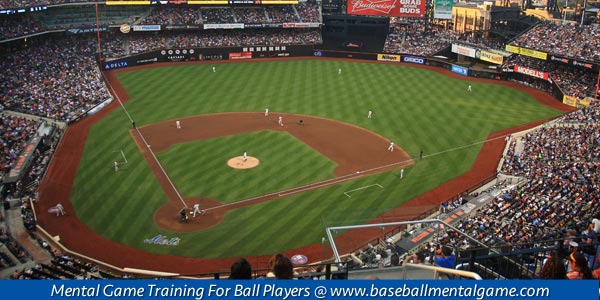 How J.A. Happ Took Control of his Season
Emotions can be friend or foe on the baseball field. Powerful emotions can give your performance a boost or be a hindrance in baseball games.
Can you think of a negative event that stirs up intense negative emotions that hurt your play on the baseball field? How about a successful event that elicits positive emotions that enhance your play in the moment?
Strong emotions, both positive and negative, of a past event can be elicited by just being in the same or similar environment.
Even though you may not be consciously thinking about that event, still those intense emotions surface.
Here is an example of how negative emotions can impact your play…
You played a team on their home turf a year ago. While attempting to steal a base, you rolled your ankle and tore ligaments that sidelined you for the rest of the year.
You were frustrated, angry, sad over the event, especially as your team made the playoffs and you had to watch from the bench while your team succeeded WITHOUT YOU! It was a difficult rehab with several setbacks.
You were unsure you would be able to return to action the next season. You worked hard in rehab, pushing through all the discomfort of the exercises. You successfully strengthened your ankle and were ready to play on Day One of pre-season.
You were optimistic and happy to be back as you regained your starting role on the team. It felt amazing to be playing second base again. Mid-season, you faced the same team on their home field.
Without even thinking about the past painful event, those intense negative emotions came rushing back along with images of the injury that took place on that very field against that very team.
Just the memory of one stressful event coupled with strong, negative emotions is enough to set off a string of events that can lead to poor performance for the rest of the season.
One bad game can stir up such intense emotions that those emotions affect your very next game.
For example, New York Yankees starting pitcher J.A. Happ after a rough start to the 2020 coronavirus-shortened season. In Happ's first two starts, he pitched a total of seven innings and gave up eight earned runs including three home runs and eight walks.
Happ turned things around by keeping his emotions in check in his third start of the season against the Boston Red Sox, giving up only one run in 5 2/3 innings for the victory.
Even though Happ viewed the game as important, he was able to keep his emotions from overtaking him and maintain his focus on the mound.
HAPP: "Honestly, I felt like it was a big game for me. You always want to get back on track. I try not to think of consequences here or there."
Just like Happ, you can manage your game-time emotions with the help of mental training.
When you learn mental game and focusing strategies, you will be able to keep your emotions from taking over your performance.
Controlling Emotions Before They Take Over your Game
First, treat every game as a new opportunity for success. Don't carry past failures onto the diamond.
Relaxation strategies can help you relax physically during games, such as breathing, tightening and releasing, shaking it out.
However, you must maintain a neutral view of mishaps during the game so they don't become a "monkey on the back." The key is to play on without dwelling on the past.
---
Get The Mental Edge For Baseball and Softball Players!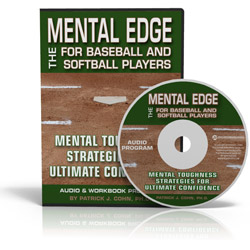 Do you (or your athletes) lack full confidence in your skills when you step on the field as if your game disappears at game time?
Do you lose composure easily after you make your first error of time game?
Do you feel embarrassed after striking out and carry this with you for longer than one inning?
If you answered yes to any of these questions, check out The Mental Edge For Baseball And Softball Players!
Boost your (or your athletes mental) toughness! Learn 8 mental toughness lessons to help ball players improve confidence, focus and composure.
The Mental Edge For Baseball And Softball Players: Mental Toughness Strategies For Ultimate Confidence
Download your copy TODAY and start boosting your mental toughness!

What are baseball mental game customers saying?
"Dr. Cohn, I've been tearing it up lately!!! Every single thing you taught me works perfectly in every situation I've been in. I've been so into every game and focusing on the process and not the outcomes and everything falls right into place . In the playoffs I'm 5-7 with 2 run home runs and 5 RBIs. I feel great at the plate and focusing is a breeze now. I just wanted to thank you for everything and keep you posted with how everything was going."
~Jalen Phillips, College Baseball Player
"With your help, I have been able to deal with stress and pressure of the game of baseball more efficiently. I have learned to help me keep my focus and disregard negative thoughts and energies. This process focus will keep me from getting my head in the way of my performance, from working against myself. Thanks for your help. I look forward to speaking with you again."
~Keith Donnell, college baseball player
"Thank you very much for taking the time to speak with our team. It was greatly appreciated and really helped a lot. I found myself implementing your teachings in our first practice right after you left. I really enjoyed the way you implemented already known ideas, but gave us a different way of viewing it. Thank you."
~Amber Prosser, Clark College Softball