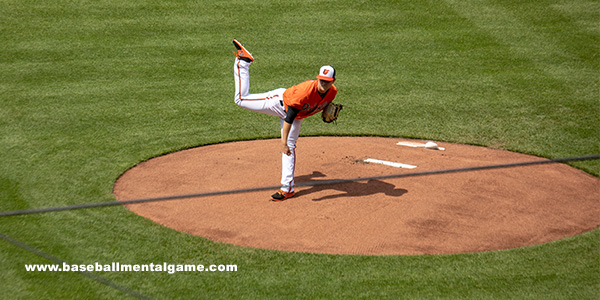 Use Your Mind to Improve Performance
Every young athlete has a dream of making it "big." Whether they are dreaming of making the varsity high school team, starting on their college team or making the pros, the dream is universal.
But what happens when your opportunity arises? Do you control your thoughts?
How will you perform when the lights are shining bright?
Every baseball player gets an opportunity to prove themselves at the next level. Maybe they are finally starting a game, or being called up to a more competitive team.
Not only does every player get an opportunity, every baseball player gets nervous or excited when the opportunity arises.
Maybe you can identify with this players thought process after he was called upon to start his first game at second base midway through the season…
"It's your big day, your chance to prove yourself. You've waited for this moment. You've worked for this moment. This is the opportunity to show your stuff on the big stage. But what if I flop? What if I never get another opportunity? What if I fail and wasted all that hard work?"
This thought process is similar to most players who are getting "their big chance." You may not have the exact same thoughts, but there will definitely be a hint of nervousness in your self-talk.
Getting your big chance is nerve-wracking and there may feel like a lot riding on your performance. If you want to make the most of your opportunity, you must learn to manage those nerves.
The truth is that the opportunity is not causing you to feel excessively nervous; it is your thoughts about the opportunity.
For example, the following thoughts are examples of thoughts that ratchet up your nervousness:
"I may never get another opportunity."
"I hope I don't screw up."
"Everybody is watching me."
"I worked so hard, I have to play great."
"What if I choke?"
"Coach will never put me in the lineup again if I mess up."
To play to the best of your abilities, you need to give yourself a reality check or counter and control these thoughts:
"Is it really true that I will never get another opportunity?"
"I'm ready to do well."
"Maybe my hard work has prepared me to play well."
"I worked hard to earn this opportunity."
Your thoughts will ultimately determine your level of play on the field, as Baltimore Oriole pitcher Hunter Harvey can attest.
In 2013, Harvey was 19 years old when he was drafted out of high school in the first round by the Baltimore Orioles.
Unfortunately, Harvey's opportunity in the big leagues has been delayed due to a number of injuries.
While in the minors, Harvey had several unfortunate injuries including; Tommy John surgery, a broken leg, rolled ankle and a freak shoulder injury while trying to get out of the way of a foul ball hit into the dugout.
After being called up from the minors, Harvey made his major league debut against the Boston Red Sox and earned his first major league win with a shutout eighth inning.
With 34 pitchers being used by Baltimore this season, Harvey felt added pressure. Harvey admitted he was nervous in his MLB debut.
HARVEY: "My heart was about to beat out of my chest. But it was really fun, and it was awesome."
What helped Harvey stay focused?
Well, you have to look back to when Harvey turned things around in the minor leagues.
After struggling in the minors, Harvey was switched from starter to reliever and his new role changed his mentality.
After his first game as a reliever, Harvey highlighted the mindset that helped him succeed when his opportunity came.
HARVEY: "My mind was so much freer tonight. Well as a starter, I'm trying to figure out how to go seven, eight innings. Now, I just go throw it. It's working."
The shift in Harvey's approach helped him focus on his pitching rather than the pressure of being called up to the major leagues.
Like Harvey, if you can change and control your thought process, you can manage your nerves and play to the best of your abilities under the spotlight.
Making the Most Your Opportunity:
Challenge your thoughts. Your thoughts can either help or hurt your confidence. When nervous thoughts come to mind, challenge the truth of those statements.
"Am I really nervous or just super excited?"
"I have what it takes to play at the next level."
"I'm ready to crush it and move to the next level."
Your self-talk is important. Take control of your thoughts so you can take charge of your play.
---
Get The Mental Edge For Baseball and Softball Players!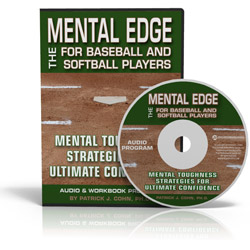 Do you (or your athletes) lack full confidence in your skills when you step on the field as if your game disappears at game time?
Do you lose composure easily after you make your first error of time game?
Do you feel embarrassed after striking out and carry this with you for longer than one inning?
If you answered yes to any of these questions, check out The Mental Edge For Baseball And Softball Players!
Boost your (or your athletes mental) toughness! Learn 8 mental toughness lessons to help ball players improve confidence, focus and composure.
The Mental Edge For Baseball And Softball Players: Mental Toughness Strategies For Ultimate Confidence
Download your copy TODAY and start boosting your mental toughness!

What are baseball mental game customers saying?
"Dr. Cohn, I've been tearing it up lately!!! Every single thing you taught me works perfectly in every situation I've been in. I've been so into every game and focusing on the process and not the outcomes and everything falls right into place . In the playoffs I'm 5-7 with 2 run home runs and 5 RBIs. I feel great at the plate and focusing is a breeze now. I just wanted to thank you for everything and keep you posted with how everything was going."
~Jalen Phillips, College Baseball Player
"With your help, I have been able to deal with stress and pressure of the game of baseball more efficiently. I have learned to help me keep my focus and disregard negative thoughts and energies. This process focus will keep me from getting my head in the way of my performance, from working against myself. Thanks for your help. I look forward to speaking with you again."
~Keith Donnell, college baseball player
"Thank you very much for taking the time to speak with our team. It was greatly appreciated and really helped a lot. I found myself implementing your teachings in our first practice right after you left. I really enjoyed the way you implemented already known ideas, but gave us a different way of viewing it. Thank you."
~Amber Prosser, Clark College Softball
---
Boost Your Self-Confidence And Focus With Expert Mental Game Coaching!
Master mental game coach Dr. Patrick Cohn can help you overcome your mental game issues with personal coaching.
You can work with Dr. Patrick Cohn himself in Orlando, Florida or via Skype, FaceTime, or telephone. Call us toll free at 888-742-7225 or contact us for more information about the different coaching programs we offer!
What are our mental coaching students saying?
"As a college softball coach I experience great pleasure in helping youth league coaches develop their young players. As reversal of that process, I, as the student, look to experts like yourself to give me the "mechanics" of sports psychology so that I may better impart my knowledge to the players and coaches. Your contribution spreads like wildfire and helps hundreds of youngsters as well as us "oldies." Thanks for your contribution–it means a lot."
~Tom Moore, College Softball Coach
"A quick note to let you know how effective your programs worked for my son who is 17 and plays varsity baseball in VA. In late 2009, I ordered the Relaxed Athlete program for my son because I saw he was pressing too hard at the plate and had disappointing results for the 2009 season. Thanks to your programs, my son now has a completely new approach to the game of baseball (and school) and it's more fun for him now. He made all-district player at his position and hit .443 this season. A complete 180 degree turn around from last year."
~Mark M., sports parent
"Dr. Cohn has put together a program that has enabled myself and our players to approach the mental game in a systematic way that is easy to use and apply. Our awareness level has greatly increased."
~Marty Hunter, Head Baseball Coach George Fox University
Disclaimer
*Testimonials found on this site are examples of what we have done for other clients, and what some of our clients have said about us. However, we cannot guarantee the results in any case. Your results may vary and every situation is different. No compensation was provided for these testimonials.