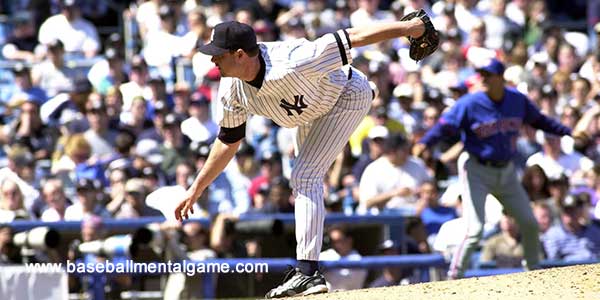 Are Nerves All Bad?
Would you be excited to play in an important, pressure-filled ball game or would you feel anxious as the game approaches?
What makes one player feel excited and another player feel anxious even though they are playing in the same game?
More importantly, how do those different feelings affect a player's performance on the field and chance for victory? Excitement or anxiety are the result of how you interpret the situation.
If you interpret the game as a threat or with fear, you tend to under-perform or make more mistakes on the field.
When you are anxious, your focus is on negative thoughts, "What if I mess up?" "What if I go hitless in the game?" "What if I can't throw the ball over the plate?" "What if I get benched for my lack of production?"
These feelings create mental and physical tension, preventing you from being fully focused on each pitch and the current game situation.
Conversely, if you interpret the game as a chance to show your skills or as a challenge to help your team pull out a victory, you will feel excited to take the field or be the difference maker with the game on the line.
When you are psyched up, you look forward to hitting with runners in scoring position in the latter part of the game…
Or being the relief pitcher that is called in to close out a tight game… Or the fielder who wants the ball to be hit to them to make the final out of the game. Those feelings of excitement energize you and give you the laser-focus to impact the game in a positive way.
A sense of excitement was the mentality of New York Yankees pitcher Gerrit Cole after signing a nine-year, $324 million free agent contract with the team. Wow, I'd be excited too!
Cole dreamed of playing for the New York Yankees from an early age and now he was pitching the 2020 season opener for the Yankees. With a record setting contract and the high expectations that usually accompany million-dollar contracts, you would think Cole would feel pressure pitching in New York.
On the contrary, Cole was selected to be the opening day pitcher, struck out five, walked one to lead the Yankees to a 4-1 victory over the Washington Nationals.
COLE: "I was so excited. I was walking through the clubhouse before, and I saw a bunch of guys in Yankees uniforms; I don't know, it just hit me that this was for real. I was definitely battling some adrenaline early. I had so much fun being a part of [the win]."
When you interpret pregame adrenaline rush as excitement, not anxiety, you can keep those nerves in check and use that excitement to fuel your play and enjoy the game of baseball
Using Nerves to your Advantage
Your anxiety starts with your thoughts. If you think you're anxious, you will most likely feel anxious starting the game.
Instead of telling yourself, "I am so nervous" when you feel that pregame adrenaline kick in, start telling yourself, "I'm so excited, I'm so prepared for this moment."
How you view the importance of the situations will also dictate how you will respond.
---
Get The Mental Edge For Baseball and Softball Players!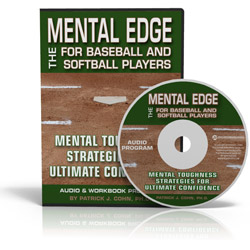 Do you (or your athletes) lack full confidence in your skills when you step on the field as if your game disappears at game time?
Do you lose composure easily after you make your first error of time game?
Do you feel embarrassed after striking out and carry this with you for longer than one inning?
If you answered yes to any of these questions, check out The Mental Edge For Baseball And Softball Players!
Boost your (or your athletes mental) toughness! Learn 8 mental toughness lessons to help ball players improve confidence, focus and composure.
The Mental Edge For Baseball And Softball Players: Mental Toughness Strategies For Ultimate Confidence
Download your copy TODAY and start boosting your mental toughness!

What are baseball mental game customers saying?
"Dr. Cohn, I've been tearing it up lately!!! Every single thing you taught me works perfectly in every situation I've been in. I've been so into every game and focusing on the process and not the outcomes and everything falls right into place . In the playoffs I'm 5-7 with 2 run home runs and 5 RBIs. I feel great at the plate and focusing is a breeze now. I just wanted to thank you for everything and keep you posted with how everything was going."
~Jalen Phillips, College Baseball Player
"With your help, I have been able to deal with stress and pressure of the game of baseball more efficiently. I have learned to help me keep my focus and disregard negative thoughts and energies. This process focus will keep me from getting my head in the way of my performance, from working against myself. Thanks for your help. I look forward to speaking with you again."
~Keith Donnell, college baseball player
"Thank you very much for taking the time to speak with our team. It was greatly appreciated and really helped a lot. I found myself implementing your teachings in our first practice right after you left. I really enjoyed the way you implemented already known ideas, but gave us a different way of viewing it. Thank you."
~Amber Prosser, Clark College Softball