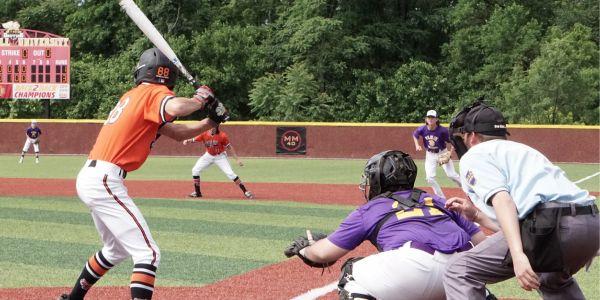 What does it mean when a coach says that you are pressing at the plate?
"Pressing" refers to putting unnecessary pressure on yourself to be productive, drive in runs, or move runners into scoring positions.
Pressing usually occurs when a player is slumping, feels the need to produce at critical moments in a game, or is focused on individual statistics.
Pressing causes a hitter to tighten up, throwing off his timing, mechanics, reaction time, and focus. Not only does pressing cause under performance, but it often lays the foundation for slumps and reduced confidence.
Imagine you are 0-for-10 with five strikeouts over a three-game span. You slowly see your batting average drop. You feel you HAVE to get a hit. You think, "If I continue to slump, I will probably be benched."
Your next game is against a rival team, and you are batting sixth in the lineup.
You strike out in your first plate appearance.
In your next at-bat, the bases are loaded with two outs. You feel your muscles tighten. You grip the bat tighter. The first pitch you take for a strike. You feel the pressure building. You think, "I need to drive in a run."
On the second pitch, you are fooled and take a weak swing at the ball. With two strikes, you fear you might strikeout again. The next pitch is right over the heart of the plate, but you freeze and take the pitch for a third-called strike.
When you press at the plate, you're trying too hard. Focusing becomes difficult because your mind is dominated by 'what if' thoughts.
You can't seem to relax at the plate, have trouble picking up the pitch early, react slowly, overanalyze your mechanics, and overthink the game situation.
When you are relaxed yet focused at the plate, your hitting mechanics are fluid, and the speed of the game slows down. You are no longer in "thinking mode," and your decision-making and reaction times are quicker. In essence, you are on autopilot.
New York Yankees infielder Gleyber Torres under performed in 2022, batting .257 in 140 games. Torres felt he was pressing at the plate and worked on relaxing in the batter's box during the offseason. Torres volunteered to play winter ball in Venezuela to focus better and feel more comfortable when batting.
Torres believes his offseason work helped him feel more confident and loose at the plate. Nine games into the 2023 season, Torres is red-hot, batting .357 with two homeruns and 6 RBIs. Torres reached base in 14 of 25 plate appearances this season.
TORRES: "It feels good. I feel really comfortable every at-bat. I feel like I've got really good patience at home plate right now. I'm not trying to do too much; just get the pitch I can do damage, and just try to have really good at-bats every time I go to home plate."
If pressing at the plate is caused by excessive pressure, then learning how to minimize pressure is crucial for successful plate appearances. It is best not to wait until problems happen.
When you learn to manage pressure, you can avoid the issue of pressing at the plate altogether.
One way of minimizing pressure at the plate is to put the pressure on the pitcher. Instead of thinking you must get a hit, think the pitcher has to throw unhittable pitches.
Also, avoid labeling your at bats. This means don't go into the at-bat with the label that you're 0 for 10.
---
Related Sports Psychology Articles
*Subscribe to The Sports Psychology Podcast on iTunes
*Subscribe to The Sports Psychology Podcast on Spotify
---
Get the Mental Edge – With Mental Toughness Coaching
Mental toughness coaching helps serious athletes like you uncover the beliefs and attitudes that keep you from performing to your potential. You'll learn mental game strategies to perform confidently in competition and how to overcome performance barriers.
You can improve your mental game with Mental Game Coaches, Dr. Patrick Cohn and Jaclyn Ellis, M.S. You can opt for one-on-one sessions with Dr. Cohn in Orlando, Florida, or you can stay where you are and get coaching from anywhere in the world via telephone, Skype, Zoom, or FaceTime.
One-on-one mental coaching is the fastest and most effective method to improve your mental game, boost your performance, and make lasting changes. We have a variety of mental coaching programs to choose from. Please call us at 888-742-7225 with your questions.