Focusing on Yourself to Improve Your Mental Game
Mike Trout, an outfielder for the Los Angeles Angels is the closest thing to a "perfect" ballplayer that any of us have ever seen.
In return for being the "perfect" ballplayer, Trout asks that he be allowed to be him, whatever that entails.
Baseball was not Trout's plan to get rich and become famous; he could care less about those two entities:
"Baseball was what Mike Trout was good at. And it was what made him happy. It fed his desire to compete and win and keep score. So, he kept doing it."
"The game of baseball is played in a "box." Trout was/is comfortable there. It is the reason he is good at it, the reason it makes him happy."
"I've never seen him walk into a clubhouse without a smile, presumably because there'd be a game that day. He leaves the clubhouse the same way, sure there will be a game the next day. If you think bigger than that, it is likely you are doing it all wrong."
Players, people, and even baseball itself has become greater than that. There are players worrying about their publicity more than their play, and fans are building them up in the same manner.
Mike Trout, who enters and leaves the clubhouse the same every day and who plays for the love of the game would rather take a kid out of the stands to play catch than be in front of a green screen for photos and a commercial shoot.
While the media coverage may be an incentive for some athletes in the Major Leagues, let's be honest.
Players being individuals, true to themselves, being exactly who they are and who they are meant to be is what sells the game. Player marketing, by the way, requires one thing… the player.
Expanding baseball players into "supermen" is what adds expectations and pressure to their performance, and also gives fans and the young ballplayers an unrealistic view of the game.
Superman is "perfect," right?
Baseball players, even the most skilled and famous are NOT perfect.
Everyone is human, which makes them completely imperfect.
Take Babe Ruth for example…
One the most well-known baseball players in history. Ruth was recognized primarily for his homeruns. He was also notorious for calling his shot, and then hitting the ball right there.
In his time, Babe was known as the King of Homeruns, with 714 career homeruns. Babe was also known for his strikeouts, with 1,330 alongside his career homeruns.
Babe was a "superman" of his time in baseball, though he was far from perfect, as his strikeout record showed. He played the game because he loved it and was always the same at the field.
Each time after Babe struck out, he would walk back to the dugout with a smile on his face.
One day, a teammate of his asked him why he always smiled, even after he struck out.
Babe said: "Every strikeout brings me closer to my next homerun."
Trout, much like Babe, is able to keep his composure, plays for the right reasons, and is the same player every day he walks into the clubhouse and out of the clubhouse.
Some would consider him the "perfect" ballplayer because of these factors. Trout knows baseball is a game and exactly why he plays.
He does not try to be some superman of baseball, a superhuman creature. He knows he has strengths and he knows he has weaknesses, and he knows his individuality is what sets him apart from others.
With baseball being America's past time for quite some time now, it has seemed to develop a "weakness" complex in recent years.
It has started to challenge rules, throw out techniques, and argue core elements of an old game.
Baseball has entered a new world, expecting everything to be exactly what it wants. Which is unrealistic; kind of like the superman thing.
"Baseball should just be itself. Be good at what it does and great at what it is. But first, it has to know what it is, like Mike Trout."
If you want to make an impact as a baseball player and a person, just be you, whatever that is.
Do not compare yourself to others or their skill, because then you are putting your game in their hands.
For more information on improving your mental game in baseball or softball, please check out our audio and workbook program, "The Mental Edge For Baseball and Softball Players":
---
Get The Mental Edge For Baseball and Softball Players!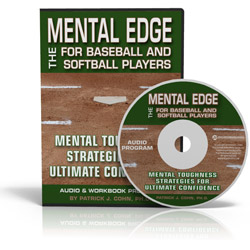 Do you (or your athletes) lack full confidence in your skills when you step on the field as if your game disappears at game time?
Do you lose composure easily after you make your first error of time game?
Do you feel embarrassed after striking out and carry this with you for longer than one inning?
If you answered yes to any of these questions, check out The Mental Edge For Baseball And Softball Players!
Boost your (or your athletes mental) toughness! Learn 8 mental toughness lessons to help ball players improve confidence, focus and composure.
The Mental Edge For Baseball And Softball Players: Mental Toughness Strategies For Ultimate Confidence
Download your copy TODAY and start boosting your mental toughness!

What are baseball mental game customers saying?
"The mental game lessons really helped me focus on the process of my performance and not the outcome. I now realize the difference between confidence and trust, in that confidence comes before competition. Your coaching is really going to help me improve my mental game this fall."
~Trey Mancini, Collegiate Baseball Player
"I want to thank you for the great work you are doing with Ty. He seems to be soaring with confidence right now. We are flying out to see him pitch next weekend. He threw well Friday night and is drawing a lot of interest from several Division 1 schools. I'll let you know how he looks."
~Randy Sullivan, Ty's Father
"With your help, I have been able to deal with stress and pressure of the game of baseball more efficiently. I have learned what it means to focus on the process to help me keep my focus and disregard negative thoughts and energies. Thanks for your help. I look forward to speaking with you again."
~Keith Donnell, College Baseball Player
"Dr. Cohn has put together a program that has enabled myself and our players to approach the mental game in a systematic way that is easy to use and apply. Our awareness level has greatly increased."
~Marty Hunter, Head Baseball Coach, George Fox University