How to Control Nerves by Improving Composure
Are there times where you're more nervous or anxious than others?
Maybe you're coming back from an injury or moving up a level. You might be stepping in to help out a team who is struggling. Or, you could finally be getting your opportunity to play.
Baseball players could be feeling a number of emotions in positions like these, along with other situations, such as a championship or world series kind of game.
You could be feeling:
Anxious
Nervous
Pressure to perform
Expectations from yourself and others
Lack of trust
Fragile confidence
Those are just a few challenges you may experience…
Tommy Milone pitched for the Washington Nationals on Thursday night against the Miami Marlins. The Nationals brought him up from Class AAA Syracuse to replace Strasburg.
Milone made his Major League debut with the Nationals in 2011 but got traded to the Oakland A's the following season. He then got dropped and has recently been playing with Class AAA Syracuse.
Almost seven years later he got asked up by the Nationals to replace Strasburg in a pinch. Milone arrived in Miami around 1 a.m. on Thursday, for the Thursday night game.
Even though Milone had 126 career starts and 146 appearances overall under his Major League belt, the jitters and nerves came anyway.
The Marlins jumped on Milone early in the first inning to gain a 3-0 lead over the Nationals.
Milone could have easily fallen into a trap of disappointment and frustration, though he was able to gain his composure.
The Marlins didn't score another run over the next four innings with Milone still on the mound, and the Nationals won 10-3 at Marlins Park.
Milone commented:
"It was just the first inning coming out for the first time. It was kind of just a little bit of anxiousness I guess, nervous, whatever you want to call it. I settled down after that and felt pretty good."
Pro baseball players get nervous and have jitters, just like Milone. It's okay and completely natural.
The first inning may be a challenge, as it was with Milone. What's most important though is your ability to let it go and gain your composure to continue.
In order to do this, you want to develop a strategy to let go of mistakes and play on with composure.
Take a few seconds to gather yourself, park your mistakes, and dial in on your very next task, or what is most important in that moment.
Milone's first inning performance might have continued through the next four innings if he wasn't able to let it go and continue to play in the present.
Mistakes, strikeouts, bad innings, they all happen in baseball, all the time.
You're most successful when you are able to let go and play one pitch at a time.
Learn more about how to improve composure with our audio and workbook program, "The Mental Edge For Baseball & Softball Players":
---
Get The Mental Edge For Baseball and Softball Players!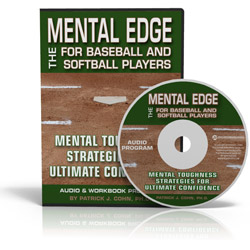 Do you (or your athletes) lack full confidence in your skills when you step on the field as if your game disappears at game time?
Do you lose composure easily after you make your first error of time game?
Do you feel embarrassed after striking out and carry this with you for longer than one inning?
If you answered yes to any of these questions, check out The Mental Edge For Baseball And Softball Players!
Boost your (or your athletes mental) toughness! Learn 8 mental toughness lessons to help ball players improve confidence, focus and composure.
The Mental Edge For Baseball And Softball Players: Mental Toughness Strategies For Ultimate Confidence
Download your copy TODAY and start boosting your mental toughness!

What are baseball mental game customers saying?
"The mental game lessons really helped me focus on the process of my performance and not the outcome. I now realize the difference between confidence and trust, in that confidence comes before competition. Your coaching is really going to help me improve my mental game this fall."
~Trey Mancini, Collegiate Baseball Player
"Thank you so much for talking with our team. You are a great influence. The confidence material really helped me, and I will be working on that as long as I play and after. I can now step out there and just relax and play."
~Melissa Riesberg, Clarke College Softball
"With your help, I have been able to deal with stress and pressure of the game of baseball more efficiently. I have learned what it means to focus on the process to help me keep my focus and disregard negative thoughts and energies. Thanks for your help. I look forward to speaking with you again."
~Keith Donnell, College Baseball Player
"Dr. Cohn has put together a program that has enabled myself and our players to approach the mental game in a systematic way that is easy to use and apply. Our awareness level has greatly increased."
~Marty Hunter, Head Baseball Coach, George Fox University