Letting Go of Unfavorable Calls
Do you get upset when you strike out?
Are you more upset when the umpire calls a strike 3 that you don't agree with?
Can you let that strikeout go before stepping to the plate for your next at-bat?
Striking out can be extremely frustrating for baseball players. Going down looking, especially when the ump makes a "bad call" can be even more upsetting.
It happens though, right? Even the professionals strike out looking.
For example, Juan Soto, the Washington Nationals young stud went down looking in his second at-bat against the Braves this past Wednesday.
The umpire had several questionable calls throughout the game, and Soto thought his third strike was one of them.
As Soto stepped to the plate for his next at-bat, he continued to question the home plate umpire about his previous call.
This probing led to Soto being ejected for the first time in his major league career.
Soto's third strike in his second at-bat could have been a strike, or it very well could have been out of the strike zone.
While umpires have a "zone" to judge, some calls are subjective. Some umpires call a tight strike zone and others have a wide one.
As a baseball player, you have no control over whether or not an umpire calls a strike that is in or out of the strike zone.
Therefore, it's not within your control and you have to let it go.
All you can do with two strikes is protect the plate and make a confident swing if it's close.
Also, you want to make sure you let go of your last at-bat before entering the box for your next at-bat.
You can't be completely focused if you are still worrying about a call or how you did previously at the plate.
Use the 10-second rule to help you let go of the past.
Count to 10 and be as frustrated as you want in those 10 seconds.
After those 10 seconds, throw out the mistake or bad at-bat so you are able to stay composed, refocus on the next one, and move on without a "monkey on your back."
To learn more about playing in the present, check out our audio and workbook program, "The Mental Edge For Baseball and Softball Players":
---
Get The Mental Edge For Baseball and Softball Players!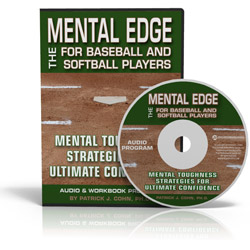 Do you (or your athletes) lack full confidence in your skills when you step on the field as if your game disappears at game time?
Do you lose composure easily after you make your first error of time game?
Do you feel embarrassed after striking out and carry this with you for longer than one inning?
If you answered yes to any of these questions, check out The Mental Edge For Baseball And Softball Players!
Boost your (or your athletes mental) toughness! Learn 8 mental toughness lessons to help ball players improve confidence, focus and composure.
The Mental Edge For Baseball And Softball Players: Mental Toughness Strategies For Ultimate Confidence
Download your copy TODAY and start boosting your mental toughness!

What are baseball mental game customers saying?
"The mental game lessons really helped me focus on the process of my performance and not the outcome. I now realize the difference between confidence and trust, in that confidence comes before competition. Your coaching is really going to help me improve my mental game this fall."
~Trey Mancini, Collegiate Baseball Player
"I want to thank you for the great work you are doing with Ty. He seems to be soaring with confidence right now. We are flying out to see him pitch next weekend. He threw well Friday night and is drawing a lot of interest from several Division 1 schools. I'll let you know how he looks."
~Randy Sullivan, Ty's Father
"With your help, I have been able to deal with stress and pressure of the game of baseball more efficiently. I have learned what it means to focus on the process to help me keep my focus and disregard negative thoughts and energies. Thanks for your help. I look forward to speaking with you again."
~Keith Donnell, College Baseball Player
"Dr. Cohn has put together a program that has enabled myself and our players to approach the mental game in a systematic way that is easy to use and apply. Our awareness level has greatly increased."
~Marty Hunter, Head Baseball Coach, George Fox University