Letting Go of Your Performance in Past Games
"Here we go AGAIN!!!"
Have you ever had that feeling during a baseball game that the past was about to repeat itself and not in a good way?
For instance, you whiffed the last two at-bats swinging at balls in the dirt and now you are facing the same pitcher with a runner in scoring position, "Here we go AGAIN!"
Or you walked the bases loaded and are having difficulty with your control and are now facing a hitter that has torched you in the past, "Here we go AGAIN!"
Or your team has blown the lead in the ninth inning the last two games and now you are clinging to a one-run lead in the bottom on the ninth, "Here we go AGAIN!"
This is a common problem among baseball players, but this mindset is based on a misconception.
This misconception implies, "What happened in the past will continue to happen in the present."
It is an over generalization to believe the past will repeat itself but many baseball players, in the moment, buy into the "here we go again…" mindset.
When you allow past outcomes to influence your mindset in the present, the pressure heightens, which creates anxiety and tension.
Playing anxious and tight ball is a recipe for athletic disaster and under-performance.
The San Francisco Giants could have easily defaulted to the "here we go again" mentality after a breakdown against the Texas Rangers…
The Giants started out the first game of a three-game series against the Rangers with a tough game, blowing a six-run lead to lose in extra-innings at home.
To add to the potential pressure, the Giants had lost 10 of the previous 13 at their ballpark.
The San Francisco Giants had to quickly re-focus in Game 2 of their series.
The Giants quickly jumped out to a 5-0 lead but gave up three runs in the eighth inning.
Despite similar circumstances, the Giants fought forward and San Francisco relief pitcher Mark Melancon closed out the game with the bases loaded to secure a 5-3 win over Rangers.
Hunter Pence, who had a pinch-hit home run in the seventh, talked about their "keep attacking" mindset rather than succumbing to the "here we go again" mindset.
PENCE: "It's very important to continue to send that message of relentless attack. Even where we are and as clouded as it may seem, you still never know. When there's still a chance in this game of baseball, things can get hot in an instant."
Knowing there is a chance is a great strategy to keep your head in the game and avoid the pitfall of "here we go again."
Keeping Your Head in the Game
Knowing you have a chance comes in many forms:
Knowing there is a chance to still win.
Knowing there is still a chance to bounce back the next game.
Knowing there is still a chance to hone your skills and improve your game.
Knowing you can learn from the past and adjust.
If you can adopt the "there's still a chance" mindset, you can focus on making things happen in the moment.
Let go of what's already happened, look for signs to build momentum, and get things moving in a positive direction.
For more strategies on focusing in the moment and letting go of mistakes, check out our audio and workbook program, "The Mental Edge For Ball Players:"
---
Get The Mental Edge For Baseball and Softball Players!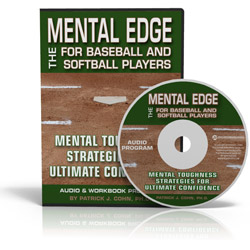 Do you (or your athletes) lack full confidence in your skills when you step on the field as if your game disappears at game time?
Do you lose composure easily after you make your first error of time game?
Do you feel embarrassed after striking out and carry this with you for longer than one inning?
If you answered yes to any of these questions, check out The Mental Edge For Baseball And Softball Players!
Boost your (or your athletes mental) toughness! Learn 8 mental toughness lessons to help ball players improve confidence, focus and composure.
The Mental Edge For Baseball And Softball Players: Mental Toughness Strategies For Ultimate Confidence
Download your copy TODAY and start boosting your mental toughness!

What are baseball mental game customers saying?
"The mental game lessons really helped me focus on the process of my performance and not the outcome. I now realize the difference between confidence and trust, in that confidence comes before competition. Your coaching is really going to help me improve my mental game this fall."
~Trey Mancini, Collegiate Baseball Player
"With your help, I have been able to deal with stress and pressure of the game of baseball more efficiently. I have learned what it means to focus on the process to help me keep my focus and disregard negative thoughts and energies. This process focus will keep me from getting my head in the way of my performance, from working against myself. Thanks for your help. I look forward to speaking with you again."
~Keith Donnell, College Baseball Player
"I currently play NCAA Division 1 Baseball, and even my coaches have noticed a change in the way that I approach the game; my attitude and confidence at the plate. Thank you for helping in my continuing goal to mental toughness."
~Tylor Prudhomme, College Baseball Player