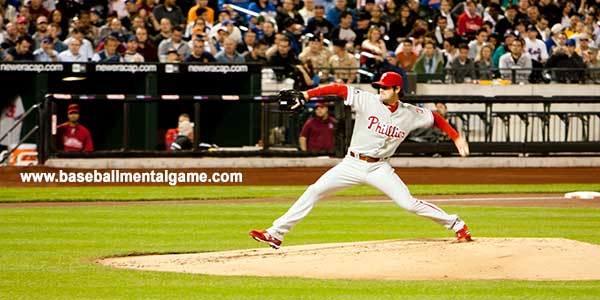 How to Remember the Past and Excel in Baseball
"What is the difference between remembering the past and reliving the past?"
One athlete recently asked this question about what to focus on:
"I've been told to focus on the present moment if I want to play to the best of my abilities. Sometimes, before a game, I get nervous about playing a rival team. I'm not sure I'm up to the task even though I've had some of my best games against this team."
He went on to say: "I've been told to recall these past games to build my confidence. But when I'm on the mound, after I've given up a few runs, my coach tells me to focus on the present and stop thinking about the past. This really confuses me about what I am exactly supposed to focus on, remembering past games or playing in the present."
This is a valid question. Memories have a strong impact on the present and can stir intense emotions, both positive and negative. Depending upon what you recall from the past will directly influence how you perform in the present.
Here's the difference between remembering the past and reliving the past. Remembering thinking about a successful play usually refers to recalling successful events.
Reliving the past has a negative connotation and usually refers to being stuck on a past mistake.
Remembering successes in the past can be boost confidence that you can succeed again and battle through current rough patches.
Remembering successful events boosts your confidence, minimizes anxiety and helps you focus by eliminating negative distractions.
On the flip side, reliving the past errors clutters your mind with negativity, generates intense negative emotions and blocks you from focusing in the moment.
Reliving the past chips away at your confidence as you try to avoid the past repeating itself.
The potential positive or negative impact of the past is what every baseball player needs to navigate through.
Take for example, Philadelphia Phillies' pitcher David Robertson…
Robertson is a 12-year veteran with a proven track record as a reliever.
Due to his dependability, the Phillies signed Robertson to a $23 million, two-year free agent contract. Unfortunately, in his first five appearances in 2019, Robertson has under-performed with a 9.82 ERA.
Robertson has been frustrated to the start of his 2019 season.
ROBERTSON: "I've been [stinking] out there, that's for sure. I throw it over the plate, it gets hit. Not throwing strikes, walking guys, putting guys on, giving them every chance to score runs. It's probably three of the worst outings I've ever put together. Fortunately, we won the last two games but I'm pretty hard on myself and if I keep going out there and pitching like crap, I'll have to figure something out."
The question remains will Robertson get caught up mentally replaying his slow start or will Robertson remember the past successes he has had in the past, such as his 2.54 ERA, 0.94 WHIP and 189 strikeouts in 138 innings over the last two seasons?
If he can do the latter, he will not only feel confident but, most likely, regain his form.
Using "The Past" to Boost Confidence:
When thinking about past performances, think about the plays that made you feel successful.
When is the last outing that you felt in control, focused, and winning the small battles?
Recall these moments of success and imagine yourself performing the same way in today's game.
I know for sure that this approach has to be way better than thinking about avoiding errors, giving up walks, and striking out–the same ones you made in the past!
---
Get The Mental Edge For Baseball and Softball Players!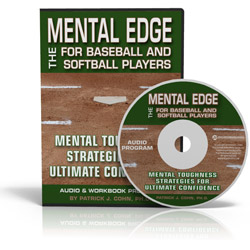 Do you (or your athletes) lack full confidence in your skills when you step on the field as if your game disappears at game time?
Do you lose composure easily after you make your first error of time game?
Do you feel embarrassed after striking out and carry this with you for longer than one inning?
If you answered yes to any of these questions, check out The Mental Edge For Baseball And Softball Players!
Boost your (or your athletes mental) toughness! Learn 8 mental toughness lessons to help ball players improve confidence, focus and composure.
The Mental Edge For Baseball And Softball Players: Mental Toughness Strategies For Ultimate Confidence
Download your copy TODAY and start boosting your mental toughness!

What are baseball mental game customers saying?
"Thank you so much for talking with our team. You are a great influence. The confidence material really helped me, and I will be working on that as long as I play and after. I can now step out there and just relax and play."
~Melissa Riesberg, Clarke College Softball
"I wanted to say that your program is one of the contributing factors that has helped Michelle improve her hitting. Last week she had the most relaxed, confident games at bat ever! The mental exercises have started to make things click. The mental program is something she can practice in other facets of life. I am pleased that we decided to invest in your program: the results are showing."
~Jim Ellis, Michelle's father
"I want to thank you for your attention with my son Keith, Jr. You helped him to focus his attention on the sequential steps necessary to make the most of his at-bats. Keith went on to have one of his best baseball seasons ever. He led his team in batting average, stolen bases, RBI, and runs scored. He ended the summer with serious interest from several Division I colleges and eventually signed a letter of intent to play for Pennsylvania State University. He received a partial baseball scholarship and is now on the roster. Thanks again for your help."
~Keith M. Donnell Sr.