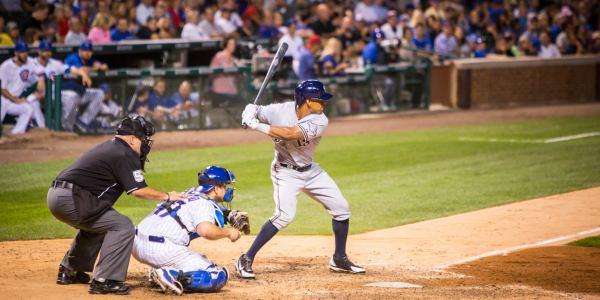 How has overthinking affected your performance in past baseball or softball games?
Many players overthink at the plate, on the mound, or in the field. These players experience excessive nervousness, fear of making mistakes, and freezing under pressure.
The frustrating part is that these players have performed at a high level in the past. At some level, they know they have the ability.
However, their thoughts interfere with performing in the moment.
A player who responded to our Softball and Baseball Mental Toughness Survey sent us the following question:
"I've played shortstop on the varsity team for the past two years. Now that I'm a junior, I've been making more fielding errors. I seem to be questioning myself when the ball is hit to me. How can I stop overthinking when I'm playing in the field?"
Second-guessing is the result of a lack of confidence and trust.
Instead of reacting to the ball, you fear what might happen if the ball is hit to you. All you can see in your mind is booting the ball or making a throwing error.
In the field, you feel the tightness in your body and can't seem to quiet your mind.
Easy plays become difficult, and difficult plays become impossible.
You try to talk yourself through each play, "Stay relaxed. Don't throw the ball in the dirt." The reality is that you are sending yourself conflicting messages. You are stuck between "Make the play" and "Don't commit an error."
In these situations, your fear usually wins out.
If you don't have trust, it doesn't matter how talented you are, how skilled you are, or how long you have been playing, you will have difficulty making even routine plays.
During the 2023 MLB season, the New York Yankees utility man Isiah Kiner-Falefa has struggled with his confidence. Kiner-Falefa has struggled to produce at the plate and has made uncharacteristic errors on the field.
In a game against the Texas Rangers, Isiah Kiner-Falefa made a 4th-inning fielding mistake in center field, misjudging a ball that led to a run scoring.
KINER-FALEFA: "I got caught in between a little bit. I hesitated just a tad. I made up for the ground, but I wasn't able to cover it because I was more worried about where [Yankees shortstop Anthony] Volpe was. But the game's on me today. I've got to keep that ball in front. I got caught in between trying to make the play and playing it safe. I've got to learn from it, go in and slide and call for it late or just let it drop in front of me."
You can sense the lack of trust Kiner-Falefa is battling on the field. Regaining trust helps you to play intuitively and react to game situations.
As with any skill, the mental skill of trust can be built, and it starts by taking control of your thoughts and images.
You can build trust in your game in several ways:
Practice without feeding yourself instruction. This strategy develops the habit of reacting to the ball.
Stay present instead of thinking about consequences or outcomes.
Know that your technique is good enough right now.
---
Related Sports Psychology Articles
*Subscribe to The Sports Psychology Podcast on iTunes
*Subscribe to The Sports Psychology Podcast on Spotify
---
Get the Mental Edge – With Mental Toughness Coaching
Mental toughness coaching helps serious athletes like you uncover the beliefs and attitudes that keep you from performing to your potential. You'll learn mental game strategies to perform confidently in competition and how to overcome performance barriers.
You can improve your mental game with Mental Game Coaches, Dr. Patrick Cohn and Jaclyn Ellis, M.S. You can opt for one-on-one sessions with Dr. Cohn in Orlando, Florida, or you can stay where you are and get coaching from anywhere in the world via telephone, Skype, Zoom, or FaceTime.
One-on-one mental coaching is the fastest and most effective method to improve your mental game, boost your performance, and make lasting changes. We have a variety of mental coaching programs to choose from. Please call us at 888-742-7225 with your questions.