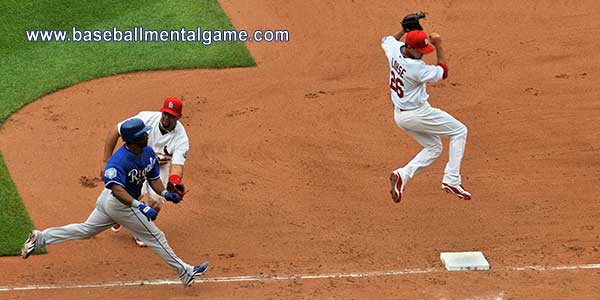 Focusing on Your Accomplishments not Comparisons
Have you or your athletes ever felt overwhelmed playing with older ball players?
Aging up, being a newcomer on a travel team or making your high school or college team as a freshman can be overwhelming.
Finding out where you fit in, battling for playing time and playing against tougher teams can be a hard task for many younger players.
To understand the difficulties for younger players, let's look at the example of Josh R…
Josh was a starter on his high school baseball team. Josh started every game for his high school team from his sophomore year forward and had a .402 batting average over the course of his high school career.
His team won the state championship two years in a row and Josh rose to the occasion each time winning the MVP both years.
Josh received a full scholarship to play for a Division I collegiate team and his college coach told Josh that he would definitely play a significant role on the team.
Unfortunately, Josh had a difficult time adjusting to playing at the collegiate level.
He felt pressure to succeed. He questioned if he was good enough and constantly compared himself to other players.
Josh saw his playing time steadily decrease over his freshman year and he could only muster a .189 batting average. Josh felt overwhelmed by the moment.
Did Josh's skills diminish? Absolutely not! Was Josh not talented enough to compete at this level? Again, no!
Josh saw many of his high school teammates experience success at the Division I level.
Josh's problem, like many young players, was not his physical skills, it was his mental toughness.
Young players who play against older players often lose confidence and focus on the physical size and skills of older players, leading them to feel overwhelmed rather than focusing on their own talents.
These players are making too many comparisons to others players. When you compare yourself to other players, most of the time you will lose confidence or feel intimidated.
San Diego Padres rookie shortstop Fernando Tatis Jr. is not putting pressure on himself, even though he is only 20 years-old and the average age of an MLB player is approximately 28 years-old.
In spring training, Tatis focused on his skill set instead of comparing himself to the more experienced players that were fighting for a roster spot.
By avoiding the comparison trap, Tatis not only made the team, but became the youngest player to record a multi-hit game on Opening Day in over 40 years, going 2-for-3 including a bunt single in the fifth inning.
Tatis was not fazed starting in his first MLB game at all. Instead Tatis focused on the work he had done that helped him advance to the major leagues.
Tatis commented on how he and his rookie teammates made it to the major league.
TATIS: "[The organization] believes in us, and also we've done the job. It was not gifted to us. We've been working hard, and it's paid off."
Padres first baseman Eric Hosmer commented on Tatis' performance in the home opener, especially his bunt single in the fifth inning.
TATIS: "That's super impressive, man. Dropping a bunt down in your second at-bat in the big leagues, that shows you where his head's at. He's trying to win a ballgame. He's not fazed. He's not over matched by the situation at all."
When you fall into the comparison trap, your mindset is not where is should be.
Comparing yourself to older, more successful players will cause you to question your skills, abilities and become overwhelmed.
A better mindset for competing with more experienced players is to focus on all the things you have done to get to the level you are currently… After all, you earned it!
How to Avoid Self-Intimidation:
First, think about all the work you have done to earn your current position in the game.
List the reasons why you have earned it starting with with: "I have earned this because…" Keep the list current and refer to it frequently. This will help you keep the focus on you and your game.
Put the blinders on: Stop looking around in awe of other players on your team. And avoid comparing your skills, size, or strength to other ball players.
---
Get The Mental Edge For Baseball and Softball Players!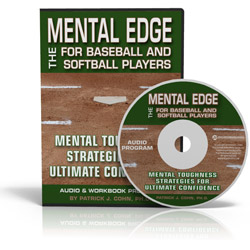 Do you (or your athletes) lack full confidence in your skills when you step on the field as if your game disappears at game time?
Do you lose composure easily after you make your first error of time game?
Do you feel embarrassed after striking out and carry this with you for longer than one inning?
If you answered yes to any of these questions, check out The Mental Edge For Baseball And Softball Players!
Boost your (or your athletes mental) toughness! Learn 8 mental toughness lessons to help ball players improve confidence, focus and composure.
The Mental Edge For Baseball And Softball Players: Mental Toughness Strategies For Ultimate Confidence
Download your copy TODAY and start boosting your mental toughness!

What are baseball mental game customers saying?
"A systematic approach to the mental game…"
"Dr. Cohn has put together a program that has enabled myself and our players to approach the mental game in a systematic way that is easy to use and apply. Our awareness level has greatly increased."*
~Marty Hunter, Head Baseball Coach George Fox University
"Helps hundreds of youngsters…"
"As a college softball coach I experience great pleasure in helping youth league coaches develop their young players. As reversal of that process, I, as the student, look to experts like yourself to give me the "mechanics" of sports psychology so that I may better impart my knowledge to the players and coaches. Your contribution spreads like wildfire and helps hundreds of youngsters as well as us "oldies." Thanks for your contribution–it means a lot."*
~Tom Moore, College Softball Coach
"Thank you very much for taking the time to speak with our team. It was greatly appreciated and really helped a lot. I found myself implementing your teachings in our first practice right after you left. I really enjoyed the way you implemented already known ideas, but gave us a different way of viewing it. Thank you."
~Amber Prosser, Clark College Softball
---
Boost Your Self-Confidence And Focus With Expert Mental Game Coaching!
Master mental game coach Dr. Patrick Cohn can help you overcome your mental game issues with personal coaching.
You can work with Dr. Patrick Cohn himself in Orlando, Florida or via Skype, FaceTime, or telephone. Call us toll free at 888-742-7225 or contact us for more information about the different coaching programs we offer!
What are our mental coaching students saying?
"I've Been Tearing it Up Lately!"
"Dr. Cohn, I've been tearing it up lately!!! Every single thing you taught me works perfectly in every situation I've been in. I've been so into every game and focusing on the process and not the outcomes and everything falls right into place . In the playoffs I'm 5-7 with 2 run home runs and 5 RBIs. I feel great at the plate and focusing is a breeze now. I just wanted to thank you for everything and keep you posted with how everything was going."*
~Jalen Phillips, College Baseball Player
"I Can Deal With Stress and Pressure"
"With your help, I have been able to deal with stress and pressure of the game of baseball more efficiently. I have learned to help me keep my focus and disregard negative thoughts and energies. This process focus will keep me from getting my head in the way of my performance, from working against myself. Thanks for your help. I look forward to speaking with you again."*
~Keith Donnell, college baseball player
"I'm Amazed at the Change in His Mental Game"
"Ty has started nine games this season, and he is 6-0, with a 2.6 ERA. Two weeks ago he pitched a 9-inning shutout, breaking his school's record with 17 strikeouts. For his efforts he was named NJCAA Division I National Pitcher of the Week. He's in a real good place mentally. The mental game skills you taught him about mental preparation, eliminating expectation, and staying in the moment have been the keys to his success. The thing I have noticed most is his improved consistency. I have been amazed at the change in his mental game. I should have called you earlier to thank you personally."*
~Randy Sullivan, Ty's Father