Focusing on What You Can Control in Games
Is it frustrating when you're doing all you can to help the team, but your teammates don't seem to be producing?
Is it challenging for you to stay composed and continue to be positive and uplifting in those situations?
Orioles' pitcher, Andrew Cashner has been outstandingly optimistic despite having the lowest run support of any pitcher in the Orioles' starting rotation.
Cashner has recorded five straight quality starts, and 9 of 17 so far this season. He's emphasized that his team winning is more important than his pitching.
Cashner has held up his end of the deal in that regard, though, his teammates have struggled to score while he's on the mound.
The Orioles' offense has produced only 1.64 runs per start for Cashner.
Orioles' second baseman, Jonathan Schoop said:
"He threw strikes. He kept the hitters off balance and we didn't score much for him. It's a little bit of frustration but everybody wants to do good. It's not like we didn't want to score for him, so I hope things start changing."
The Orioles have been 4-13 in Cashner's starts. However, he's adamant about remaining positive, even on the trying nights.
Cashner commented:
"Yea, these guys do want to score runs. It's more about picking those guys up in spots. We hit the ball hard today. They made some great plays. It's more from a team aspect of picking guys up and constantly staying positive and not really focusing on the negative. I'm a big positive guy, so when I'm not pitching I try to pick these guys up because it's just as hard for them as it is for me."
Many baseball players and athletes overall get irritated if their teammates aren't performing the way they want them to; or up to the standards in their mind.
Your teammates aren't intentionally sabotaging their performance or the game. They want to do well and execute, just like you do.
Make sure you approach a game with zero expectations, for yourself and your teammates.
Expectations lead you to judge, fairly harshly, and that results in frustration.
Also, like Cashner, continue being positive and encouraging with your teammates during tough outings.
When your teammates are struggling, getting angry and annoyed does nothing to help the situation. It makes it worse.
Focus on the things you can control, such as your preparation and composure.
Your teammates are doing the best they can for that day.
Remember, it's not like they WANT to be playing poorly.
For more information on composure, please check out "The Mental Edge For Baseball and Softball Players" audio and workbook program:
---
Get The Mental Edge For Baseball and Softball Players!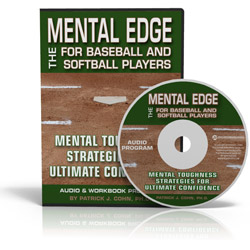 Do you (or your athletes) lack full confidence in your skills when you step on the field as if your game disappears at game time?
Do you lose composure easily after you make your first error of time game?
Do you feel embarrassed after striking out and carry this with you for longer than one inning?
If you answered yes to any of these questions, check out The Mental Edge For Baseball And Softball Players!
Boost your (or your athletes mental) toughness! Learn 8 mental toughness lessons to help ball players improve confidence, focus and composure.
The Mental Edge For Baseball And Softball Players: Mental Toughness Strategies For Ultimate Confidence
Download your copy TODAY and start boosting your mental toughness!

What are baseball mental game customers saying?
"With your help, I have been able to deal with stress and pressure of the game of baseball more efficiently. I have learned what it means to focus on the process to help me keep my focus and disregard negative thoughts and energies. Thanks for your help. I look forward to speaking with you again."
~Keith Donnell, College Baseball Player
"The mental game lessons really helped me focus on the process of my performance and not the outcome. I now realize the difference between confidence and trust, in that confidence comes before competition. Your coaching is really going to help me improve my mental game this fall."
~Trey Mancini, Collegiate Baseball Player