How to Stay Confident During Performance Changes
Have you ever had to switch positions?
Maybe you like playing shortstop, but your team needs you as a first baseman.
Do you struggle with being a utility player and not having a "spot?"
Having to share time with others, depending on who's producing.
This can be a hard position…
The Yankees have had trouble filling their first-base position this season. The major factor in this situation is that none of their first base candidates are being productive at the plate.
Greg Bird and Neil Walker have been alternating in the position for the Yankees, but neither are helping offensively.
Aaron Boone, manager of the Yankees, is thinking about pulling up a first baseman. However, he really wants to get Bird and Walker going because they "add length and balance to the lineup."
This season, Walker also transitioned to a utility player, which he says has been difficult for him.
Walker stated:
"I haven't' had much to show for it… This whole situation is new for me. There are a lot of new things I'm learning to navigate through while playing a little less and seeing what works. It's a tough stretch personally, but nobody feels sorry for me. My job is to bounce around the infield. I know I'll get back on track."
Additionally, Walker also said:
"It's all about the mindset and being positive."
The Yankees other first base option, Bird, recently returned from a procedure on his ankle. Like Walker, Bird has especially been struggling at the plate, going 2-for-23 and striking out 10 times in his latest at-bats.
Bird commented:
"You go through ups and downs. That's part of it. You've got to keep your head up and keep going."
Walker and Bird are exactly right.
Sometimes you're in a slump or just not hitting, and sometimes you might struggle with a position change and less playing time.
Regardless of the situation, you have to stay positive and keep pushing.
Mistakes, slumps, errors, frustration… it's all part of the game. It's also the part that makes the game great.
As Tom Hanks said in A League of Their Own:
"It's supposed to be hard. If it were easy, everyone would do it. The hard is what makes it great."
It's unfair for you to think or expect that difficult situations, such as changing positions or being in a slump, aren't going to happen. They are, understand and accept that.
What's most important is that you remind yourself why you're playing and that you're a good player.
If you put your head down and respond negatively, your performance will be a reflection.
If you stay positive, talk confidently to yourself, and keep your head up like Bird and Walker discuss, your performance will follow.
As you can see, even the pros battle tough performance situations. Keep playing, keep working hard, keep your head up, and results will come.
Improve your mental game this summer…. Check out our audio and workbook program, "The Mental Edge For Baseball and Softball Players":
---
Get The Mental Edge For Baseball and Softball Players!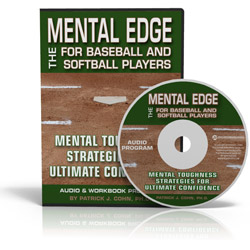 Do you (or your athletes) lack full confidence in your skills when you step on the field as if your game disappears at game time?
Do you lose composure easily after you make your first error of time game?
Do you feel embarrassed after striking out and carry this with you for longer than one inning?
If you answered yes to any of these questions, check out The Mental Edge For Baseball And Softball Players!
Boost your (or your athletes mental) toughness! Learn 8 mental toughness lessons to help ball players improve confidence, focus and composure.
The Mental Edge For Baseball And Softball Players: Mental Toughness Strategies For Ultimate Confidence
Download your copy TODAY and start boosting your mental toughness!

What are baseball mental game customers saying?
"The mental game lessons really helped me focus on the process of my performance and not the outcome. I now realize the difference between confidence and trust, in that confidence comes before competition. Your coaching is really going to help me improve my mental game this fall."
~Trey Mancini, Collegiate Baseball Player
"With your help, I have been able to deal with stress and pressure of the game of baseball more efficiently. I have learned what it means to focus on the process to help me keep my focus and disregard negative thoughts and energies. Thanks for your help. I look forward to speaking with you again."
~Keith Donnell, College Baseball Player