When You Bring Your Ghosts to the Field
Have you ever been distracted in a game by outside sources, such as personal life factors?
Has it resulted in a bad performance?
Have you even blamed external sources for a poor performance?
St. Louis pitcher, Carlos Martinez, struggled on Thursday night in the Cardinals 11-3 loss to the Brewers.
He pitched only four innings and gave up five earned runs.
Martinez had one of the wildest, wild pitches ever in the third inning. It nearly went diagonal, crossing the third base line.
Martinez expressed that a ghost appeared in his room at the hotel in Milwaukee on Wednesday night.
Whatever the situation, Martinez was obviously shook in his performance on Thursday night. He brought the ghost with him to the ballpark.
Baseball players, like everyone, have a life outside of baseball.
They may have struggles at home, in school, in relationships, with their health, in their personal life, or anything else.
These challenges can often come with players to the field.
I started driving my junior year in high school… My dad was fairly particular about my car, and really anything he owned.
It was raining on the way to school one morning during softball season.
Logically, I had my lights on. I must have been in a hurry when I got out that morning, because I forgot to turn my lights off.
When school was over, a couple of my teammates and I were going to grab some food before our game.
I got to the parking lot and my car wouldn't start.
I was so concerned and couldn't really figure out why…
A friend of mine checked my car out and noticed I had left my lights on.
I felt sick to my stomach because I knew I had to tell my dad and I knew he probably wouldn't like it.
So, I thought I'd turn my lights out and let the battery try to build back up on its own. We had a night game, there was plenty of time.
Throughout the game, I was constantly distracted with the thought of my car and whether or not it would start after the game.
I was so distracted that I over threw the first baseman from shortstop twice.
It was almost like I was trying to rush through the game, anxious to see if my car would start or I'd have to tell my dad.
Similar to Martinez, I carried my personal life onto the field and it resulted in a lack of focus and performance.
Many times, baseball players bring their outside world into baseball or softball.
Naturally, when they aren't focused on their task at hand, they often struggle to execute.
If you bring your outside issues to the diamond or have trouble maintaining your focus, you want to cue yourself to refocus on the game…
For example, when you're at-bat, you may use something like, "See ball, hit ball."
Additionally, commit to leaving your issues outside of baseball in the locker room or parking lot.
You could write all your worries on paper before a game and leave it in your bag.
You can review it after the game.
This allows you to remember all that's going on in your life, while also permitting yourself to give full attention to the game, or task at hand.
For information on how to focus well in games, please check out our audio and workbook program, "The Mental Edge For Baseball and Softball Players":
---
Get The Mental Edge For Baseball and Softball Players!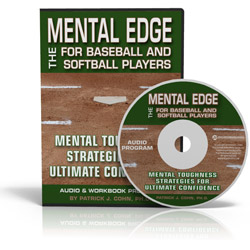 Do you (or your athletes) lack full confidence in your skills when you step on the field as if your game disappears at game time?
Do you lose composure easily after you make your first error of time game?
Do you feel embarrassed after striking out and carry this with you for longer than one inning?
If you answered yes to any of these questions, check out The Mental Edge For Baseball And Softball Players!
Boost your (or your athletes mental) toughness! Learn 8 mental toughness lessons to help ball players improve confidence, focus and composure.
The Mental Edge For Baseball And Softball Players: Mental Toughness Strategies For Ultimate Confidence
Download your copy TODAY and start boosting your mental toughness!

What are baseball mental game customers saying?
"The mental game lessons really helped me focus on the process of my performance and not the outcome. I now realize the difference between confidence and trust, in that confidence comes before competition. Your coaching is really going to help me improve my mental game this fall."
~Trey Mancini, Collegiate Baseball Player
"With your help, I have been able to deal with stress and pressure of the game of baseball more efficiently. I have learned what it means to focus on the process to help me keep my focus and disregard negative thoughts and energies. Thanks for your help. I look forward to speaking with you again."
~Keith Donnell, College Baseball Player
"Dr. Cohn has put together a program that has enabled myself and our players to approach the mental game in a systematic way that is easy to use and apply. Our awareness level has greatly increased."
~Marty Hunter, Head Baseball Coach, George Fox University
"I want to thank you for the great work you are doing with Ty. He seems to be soaring with confidence right now. We are flying out to see him pitch next weekend. He threw well Friday night and is drawing a lot of interest from several Division 1 schools. I'll let you know how he looks."
~Randy Sullivan, Ty's Father