How Crabtree Led Duke to its 1st NCAA Regional Title
"He was always ready."
~Conine
Do you (or your athletes) get frustrated with playing time?
Do you mentally "check-out" if you aren't getting the playing time you want?
Do you continue to work on your skills and the process, or do you throw in the towel thinking it's no good?
Duke University baseball player, freshman Chris Crabtree showed everyone the importance of working in the "dark" this past week when he drove Duke out of the loser's bracket to win an NCAA regional title for the first time.
This story is close to my heart, as I grew up with Chris and saw him grow and develop over many years. The youngest of 4 boys, Chris was a scrawny little kid, with an unmatched motivation.
Now at 6'4″ and 220 lbs., the young Crabtree, with only 4 hits (all singles) throughout the season delivered this past weekend.
On Saturday night, he entered as a pinch hitter in the 9th inning of an elimination game and provided a three-run double to clinch the win.
Additionally, in Sunday's 15-6 elimination win over Troy, Crabtree added 4 hits–2 homeruns and 5 RBI's.
The grit continued for Crabtree on Monday, going 3 for 5 at the plate in Duke's 8-5 and 8-4 victories over No. 8 national seed, Georgia.
Defeating Georgia twice resulted in Duke winning the regional title for the first time.
At one point, Crabtree was intentionally walked. The same freshman who had only 4 hits prior to the tournament was put on intentionally, in order to prevent any further destruction at the plate.
How did Crabtree do it?
Between the ACC and NCAA tournaments, Chris headed back to Durham, NC and his high school, Riverside, to get in some work.
Crabtree commented:
"Just going back to your roots a little bit. That's always a good time. Going back to Riverside, that was just revisiting where I came from. I love Duke and normally I train here. But sometimes going back to your high school field, reliving those memories, is always nice."
When Chris stepped onto the field at Riverside, his high school coach, Doug Simmons met him.
With a frustrating freshman season thus far, Simmons said, "He was a little bit down in the dumps about it."
Going back to his roots, reminiscing on those high school memories reminded Chris of why he does what he does; why he plays.
Crabtree worked hard, continued to train when no one was watching, even when he wasn't seeing a bit of the field in games.
Many freshmen, or players in general start to check out mentally towards the end of a long season, especially if they aren't getting playing time.
But not Crabtree.
The freshman commented:
"Just sticking to my process, training every day. When you get the reps on your own, you tend to build up confidence in your swing. You feel good about everything. Even if it's not live reps in a game, you continue to get your work in and figure out how to hit baseballs."
Duke coach, Pollard stated:
"He is a guy who was really consistent with his approach and really worked at making adjustments as we went through the season."
Griffin Conine, Duke junior right fielder said of Crabtree:
"He was always ready, I know he was. He was always ready to hear his name called to step up."
What you do in the dark shines in the light.
Your success comes when no one is watching.
You'll get an opportunity, just like Crabtree did. Will you be ready?
You never know when your name will be called. Though, you want to be prepared.
To ensure you're ready, be consistent with your training.
Practice like you play or want to play. Put in the work when no one is around.
Be present, mentally. And trust your skills and the reps you've contributed when it's your time.
To learn more about staying mentally prepared, check out our audio and workbook program, "The Mental Edge For Baseball and Softball Players:"
---
Get The Mental Edge For Baseball and Softball Players!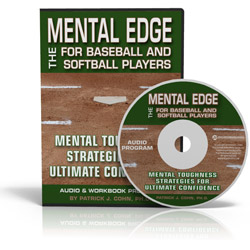 Do you (or your athletes) lack full confidence in your skills when you step on the field as if your game disappears at game time?
Do you lose composure easily after you make your first error of time game?
Do you feel embarrassed after striking out and carry this with you for longer than one inning?
If you answered yes to any of these questions, check out The Mental Edge For Baseball And Softball Players!
Boost your (or your athletes mental) toughness! Learn 8 mental toughness lessons to help ball players improve confidence, focus and composure.
The Mental Edge For Baseball And Softball Players: Mental Toughness Strategies For Ultimate Confidence
Download your copy TODAY and start boosting your mental toughness!

What are baseball mental game customers saying?
"The mental game lessons really helped me focus on the process of my performance and not the outcome. I now realize the difference between confidence and trust, in that confidence comes before competition. Your coaching is really going to help me improve my mental game this fall."
~Trey Mancini, Collegiate Baseball Player
"I want to thank you for the great work you are doing with Ty. He seems to be soaring with confidence right now. We are flying out to see him pitch next weekend. He threw well Friday night and is drawing a lot of interest from several Division 1 schools. I'll let you know how he looks."
~Randy Sullivan, Ty's Father
"With your help, I have been able to deal with stress and pressure of the game of baseball more efficiently. I have learned what it means to focus on the process to help me keep my focus and disregard negative thoughts and energies. Thanks for your help. I look forward to speaking with you again."
~Keith Donnell, College Baseball Player
"Dr. Cohn has put together a program that has enabled myself and our players to approach the mental game in a systematic way that is easy to use and apply. Our awareness level has greatly increased."
~Marty Hunter, Head Baseball Coach, George Fox University