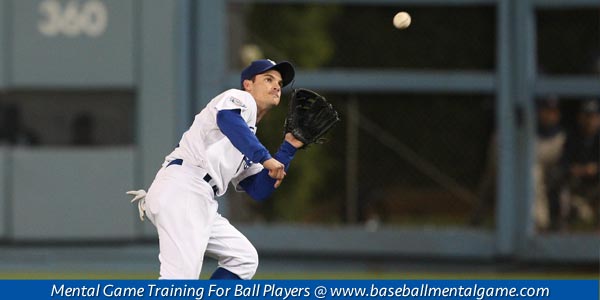 How High Expectations Decrease Production in Baseball and Softball
Have you ever played a season where you didn't experience any lows?
Probably not. You see, all athletes experience highs and lows during long competitive seasons. Many ballplayers believe lulls in performance indicate a problem causing an even more significant issue.
When you are not mentally prepared to handle the highs and lows that occur throughout a season, the lows will last longer. Here is the reason why… You will start expecting the bottom to drop when you are playing well. That mentality causes good performances to become infrequent.
When you are playing poorly, you will expect to continue. Expecting the poor play in the field, at the plate, or on the mound will result in inconsistent play.
In our Softball and Baseball Mental Toughness Survey, a baseball player asked the following:
"Why can't I hit consistently? I have two or three great games, and then I go hitless for two or three games. It's so frustrating."
The answer lies in your expectations. After a couple of great games, you start expecting a performance dip, "I can't keep this streak alive; I will probably have a bad game today." The anxiety from that thought process causes you to tighten up and interferes with your mental and physical games.
Let's look at an example from Major league Baseball. Los Angeles Dodgers infielder Gavin Lux had a roller-coaster start to his big-league career. Lux was selected 20th overall in the 2016 MLB draft. Many considered him a can't miss top-five prospect in baseball. Lux was highly productive in the minors, hitting .304 with 49 home runs and 203 RBIs in five years.
In 2019, the Dodgers called up Lux, and he batted .240 in 23 games. The following year, Lux hit .175 in 19 games, and, in 2021, he batted .242 in 102 games.
Since the start of the 2022 season, Lux has been one of the Dodgers' more productive players. In 22 games, Lux has a .273 batting average and a .364 On-Base Percentage while playing solid defense.
Lux's high expectations hurt his production at the plate early in his major league career with the Dodgers.
LUX: "When I first got here [in the major], I was like, 'I've got to hit .340 with 30 home runs. It's just not realistic."
Lux's improved production in the batter's box is due to his shift in mentality, as Dodgers' manager Dave Roberts pointed out.
ROBERTS: "He's not just chasing hits and chasing results. [He's] staying in the moment … and not worrying about the unexpected, what hasn't happened yet, future or past results."
Managing your expectations is the key to consistent production.
Tip for Managing Expectations throughout the Season:
An effective strategy for improving production is maintaining a consistent approach on the mound, in the field, and at the plate.
For example, focusing on high-quality at-bats, immersing yourself at the moment, being consistent in your preparation, staying poised when you feel increased pressure, or concentrating on helping the team win instead of personal stats.
Related Sports Psychology Articles
*Subscribe to The Sports Psychology Podcast on iTunes
*Subscribe to The Sports Psychology Podcast on Spotify
---
Get the Mental Edge – With Mental Toughness Coaching
Mental toughness coaching helps serious athletes like you to uncover the beliefs and attitudes that keep you from performing to your potential. You'll learn mental game strategies to perform confidently in competition and how to overcome performance barriers.
You can improve your mental game with Mental Game Coaches, Dr. Patrick Cohn and Jaclyn Ellis, M.S. You can opt for one-on-one sessions with Dr. Cohn in Orlando, Florida, or you can stay where you are and get coaching from anywhere in the world via telephone, Skype, Zoom, or FaceTime.
One-on-one mental coaching is the fastest and most effective method to improve your mental game, boost your performance, and make lasting changes. We have a variety of mental coaching programs to choose from. Please call us at 888-742-7225 with your questions.