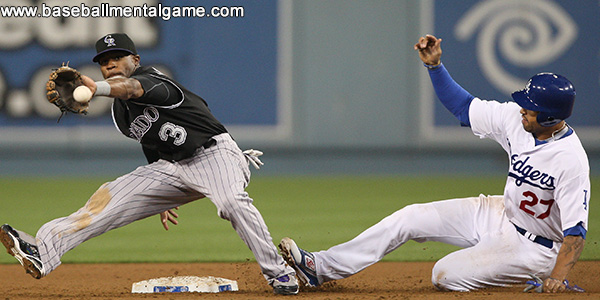 Be Patient with Learning New Skills
Do you quickly become frustrated when learning new pitches or tweaking your hitting mechanics?
Learning new skills is a process that can take a lot of time and emotional energy.
When players expect immediate results, progress comes to a screeching halt. Too many players set a deadline for results, "If I work on my new stance in the batter's box, I should be able to raise my batting average within a couple of weeks."
Other players expect similar improvement results from their teammates, "My teammate learned to throw a split-finger in two months. I am a much better pitcher. It will take me less time to learn a split-finger."
When these players don't see visible results by their deadline or don't achieve the same rate of improvement as a teammate, frustration results. Learning is a process, and the length of time for developing a new skill is individually-based.
4 Mental Skills Necessary for Learning:
Focus – Focusing on the minor aspects of a new technique helps learn the skill quicker.
Expectations – Expecting perfection negatively affects learning. You can push through the rough days and keep moving forward when you understand the improvement process.
Visualization – Repetition is critical, whether it is physical or mental. Visualization allows you to practice the skill away from the field and with less performance pressure.
Patience – Many players give up on learning a skill just before seeing results. Improvement is a process and often a rocky one. Often, learning is two steps forward and one step back in the beginning.
Skill development is not a linear process. Messing up is part of the process. When you know what you did wrong, you gain valuable insight. Feedback is necessary to develop new skills.
However, it would help if you tempered your expectations. Just because you didn't nail the technique the first time or the 15th time doesn't mean you are not moving in the right direction.
The Chicago Cubs drafted pitcher Scott Effross in the 15th round of the 2015 MLB Draft. After an up-and-down minor league career, Effross's pitching coach, Ron Villone, suggested adding a new technique, throwing a few sidearm pitches.
Effross' efforts paid off, and he made his major league debut for the Cubs in August of 2021.
EFFROSS: "The [Cub's staff] approached me about [throwing sidearmed], giving them a different look and a look they didn't have in the organization. I jumped in with both feet, went to Arizona to re-learn how to throw, and took baby steps — throwing BP, getting in games down there, and then going into the Minor Leagues to try and compete with it."
Effross remained patient through the process and eventually saw positive results. During the 2022 season, the 28-year-old Effross had a 2.66 ERA in 47 appearances for the Cubs, striking out 50 batters against just 11 walks in 44 innings.
To be your best, you must be committed to developing new skills. When you understand the improvement process, you will maintain the motivation necessary to become the best ballplayer you can be.
Commit to being a student of the game. This mentality not only builds confidence but sets you forth on the pursuit of daily improvement.
---
Related Sports Psychology Articles
*Subscribe to The Sports Psychology Podcast on iTunes
*Subscribe to The Sports Psychology Podcast on Spotify
---
Get the Mental Edge – With Mental Toughness Coaching
Mental toughness coaching helps serious athletes like you uncover the beliefs and attitudes that keep you from performing to your potential. You'll learn mental game strategies to perform confidently in competition and how to overcome performance barriers.
You can improve your mental game with Mental Game Coaches, Dr. Patrick Cohn and Jaclyn Ellis, M.S. You can opt for one-on-one sessions with Dr. Cohn in Orlando, Florida, or you can stay where you are and get coaching from anywhere in the world via telephone, Skype, Zoom, or FaceTime.
One-on-one mental coaching is the fastest and most effective method to improve your mental game, boost your performance, and make lasting changes. We have a variety of mental coaching programs to choose from. Please call us at 888-742-7225 with your questions.