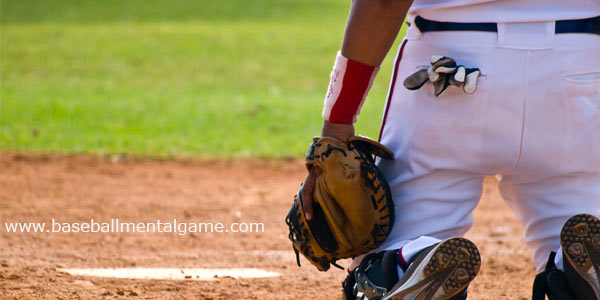 How to Get Out of a Slump in Baseball
How many times have you found yourself stuck in a slump?
Slumps are the worst, but part of the game of baseball. Standing in the batter's box knowing that you have not gotten on base in a long string of games wears on you mentally, and not just during games.
Slumps generate negative thinking that can permeate other areas of life such as school, work, and family.
In our Softball and Baseball Mental Toughness Survey, a player left the following comment:
"I have no idea how to break out of my slump. I haven't gotten on base in the past five games. Not even a walk! I swing at every pitch out of the zone and freeze on pitches over the heart of the plate. I don't even want to go to practice anymore and I'm miserable for hours after a game. Any suggestions?"
Your frustration is understandable. When you have a bad game, negative emotions and thoughts increase in intensity and marinate in your mind. You are constantly watching your batting average getting lower.
You feel defeated and hopeless every time you step in the batter's box, even if you are just taking swings in the batting cages. You are obsessed with looking at your stat line.
The feeling that you must get a hit for your team adds even more pressure.
When you focus on failing to hit the ball in the past, you won't be able to lock in your focus on the current pitch.
Breaking out of a slump is more mental than physical, but many players overlook developing their mental skills. Slumps require overcoming mental hurdles by developing specific mental skills:
* Confidence is a mental skill that contributes to productive at-bats.
* Focus is a mental skill that helps you see the ball better while minimizing distractions.
* Trust is a mental skill that leads to a smooth, free swing and stops you from pressing.
* Poise is a mental skill that relaxes your mind and body.
* Management of emotions is a mental skill that minimizes frustration and anxiety to help you with decision making and not chasing pitches out of the zone.
When you work on your mental game, you will improve your production in the batter's box.
New York Yankees catcher Gary Sanchez has been struggling at the plate throughout the 2020 season. In 34 games, Sanchez has a .120 batting average with 50 strikeouts. Sanchez admits he can get caught up in the numbers game or on the slump itself.
SANCHEZ: "Yeah, I try to stay away from seeing stats and things like that. From time to time you look at the board, but the honest reason is I know I'm not producing the way I would like to. I don't need anybody to tell me that. I feel it. I see it, I feel it and I'm going through it. Try to stay away from looking at it and making the adjustment."
Watching your stat line is a big reason why slumps continue. When you think, "I have to get a hit," you put more pressure on yourself and with that pressure comes pressing, chasing balls out of the strike zone, and freezing at pitches right over the plate.
Ironically, the best way to work your way out of a slump is to stop over thinking it and do what comes naturally, just swinging the bat and trusting in your skills.
How to Work Your Way Out of a Slump:
First, stop searching and listening to everyone who has the key to hitting. You want to simplify and go back to the basics.
Think about seeing the ball early and being more committed to your pitch. Get the focus away from your swing plane, load, and hit movement.
Above all else, you want to stop pressing and trying too hard. Let go of the outcome and avoid the need to get a hit or drive in the runners.
---
Get The Mental Edge For Baseball and Softball Players!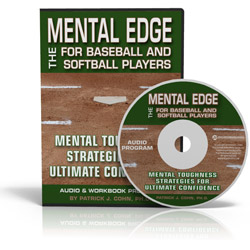 Do you (or your athletes) lack full confidence in your skills when you step on the field as if your game disappears at game time?
Do you lose composure easily after you make your first error of time game?
Do you feel embarrassed after striking out and carry this with you for longer than one inning?
If you answered yes to any of these questions, check out The Mental Edge For Baseball And Softball Players!
Boost your (or your athletes mental) toughness! Learn 8 mental toughness lessons to help ball players improve confidence, focus and composure.
The Mental Edge For Baseball And Softball Players: Mental Toughness Strategies For Ultimate Confidence
Download your copy TODAY and start boosting your mental toughness!

---
What are baseball mental game customers saying?
"Dr. Cohn, I've been tearing it up lately!!! Every single thing you taught me works perfectly in every situation I've been in. I've been so into every game and focusing on the process and not the outcomes and everything falls right into place . In the playoffs I'm 5-7 with 2 run home runs and 5 RBIs. I feel great at the plate and focusing is a breeze now. I just wanted to thank you for everything and keep you posted with how everything was going."
~Jalen Phillips, College Baseball Player
"With your help, I have been able to deal with stress and pressure of the game of baseball more efficiently. I have learned to help me keep my focus and disregard negative thoughts and energies. This process focus will keep me from getting my head in the way of my performance, from working against myself. Thanks for your help. I look forward to speaking with you again."
~Keith Donnell, college baseball player
"Thank you very much for taking the time to speak with our team. It was greatly appreciated and really helped a lot. I found myself implementing your teachings in our first practice right after you left. I really enjoyed the way you implemented already known ideas, but gave us a different way of viewing it. Thank you."
~Amber Prosser, Clark College Softball