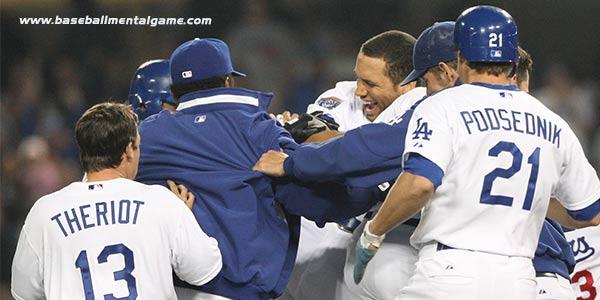 Can You Repeat "Once-in-a-Lifetime" Games
Is a once-in-a-lifetime performance truly a performance that only occurs once in a lifetime?
This may sound like a dumb question. Once means only one time, so a once-in-a-lifetime performance can only happen once, right?
Let's rephrase the question and see if you feel the same way, "After having the best game in your life, is it possible to repeat or even surpass that high-level performance in the future?"
This is an important question to ask yourself. The answer to this question will impact your future effort, preparation, and play.
When you see a career-defining game as a breakout game instead of a once-in-a-lifetime performance, your attitude will be "the best is yet to come" and you will be inspired to work harder to keep raising the bar.
When you view a game as something that will only happen once, your attitude will be that it won't happen again, or that this is as good as it will get. This mentality is uninspiring and unproductive.
Let's examine the issue through the eyes of a softball player who responded to our Softball and Baseball Mental Toughness Survey:
"Last year in the playoffs, I had the best game of my life. Ever since then, I haven't played well at all. How can I get back on track to play consistently at a high level?"
Imagine having a once-in-a-lifetime game where you had four extra base hits… You felt euphoric and proud.
You continued to have these feelings throughout the next several practices. As the next game approached, you questioned your ability to pull off a repeat performance. Instead of feeling confident in the batter's box, you felt anxious.
During your best game, you weren't thinking about anything, but in the next game, you overthought everything and your mind was bombarded with doubt: "I knew I would never be able to have a 4-hit game again. I'm not that good." Instead of playing, you were wrapped up in your thinking and labeled yourself as "not that good."
Is it really true that you are not "that good?" Your ability didn't change. It's your mindset that changed.
If you once hit two homeruns in a game, you can do it again. You didn't lose your ability to hit the ball. You still have the physical and technical skills to make contact with the ball and drive it a long distance.
If you struck out the side to give your team the win, you can do it again. You still have the ability to control your pitches and throw strikes. You still have your same arsenal of weapons to make hitters miss.
Ultimately, if you did it once, you can do it again.
San Francisco Giants 30-year old outfielder Alex Dickerson had the best game of his career leading the Giants to a 23-5 rout over the Colorado Rockies.
Dickerson drove in six runs with three homers and two doubles. Dickerson tied a team record of 16 total bases, tying Hall of Famer Willie Mays for the most in a game in franchise history.
DICKERSON: "That's by far the best game I've had in my life… Sometimes when it clicks, it clicks, and you just get in there and try to ride it out."
Do you really think Dickerson will never have another game like this?
The key to Dickerson's success was not consciously thinking, not analyzing his game or questioning his ability. When it clicks, you are not paying close attention to conscious thoughts.
Dickerson just stepped in the batter's box and freely swung the bat. If Dickerson keeps the same mentality, he can have a repeat performance in the future.
Like Dickerson, top-level or career-defining play can happen again if you approach the game with a similar mentality that fostered breakout play.
How to Have Repeat Performances:
Instead of writing off a game as a once-in-a-lifetime performance, make a note of the mindset that contributed to your peak performance.
Were you relaxed? Did you see the ball well? Did you trust your swing? Did you feel confident in your approach to the at-bat?
You can't force yourself into the zone every game, but you can set the conditions with the right mindset!
---
Get The Mental Edge For Baseball and Softball Players!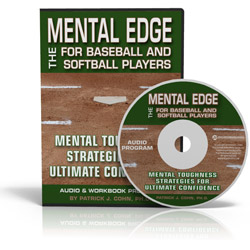 Do you (or your athletes) lack full confidence in your skills when you step on the field as if your game disappears at game time?
Do you lose composure easily after you make your first error of time game?
Do you feel embarrassed after striking out and carry this with you for longer than one inning?
If you answered yes to any of these questions, check out The Mental Edge For Baseball And Softball Players!
Boost your (or your athletes mental) toughness! Learn 8 mental toughness lessons to help ball players improve confidence, focus and composure.
Download your copy TODAY and start boosting your mental toughness!
---
What are baseball mental game customers saying?
"Dr. Cohn, I've been tearing it up lately!!! Every single thing you taught me works perfectly in every situation I've been in. I've been so into every game and focusing on the process and not the outcomes and everything falls right into place . In the playoffs I'm 5-7 with 2 run home runs and 5 RBIs. I feel great at the plate and focusing is a breeze now. I just wanted to thank you for everything and keep you posted with how everything was going."
~Jalen Phillips, College Baseball Player
"With your help, I have been able to deal with stress and pressure of the game of baseball more efficiently. I have learned to help me keep my focus and disregard negative thoughts and energies. This process focus will keep me from getting my head in the way of my performance, from working against myself. Thanks for your help. I look forward to speaking with you again."
~Keith Donnell, college baseball player
"Thank you very much for taking the time to speak with our team. It was greatly appreciated and really helped a lot. I found myself implementing your teachings in our first practice right after you left. I really enjoyed the way you implemented already known ideas, but gave us a different way of viewing it. Thank you."
~Amber Prosser, Clark College Softball