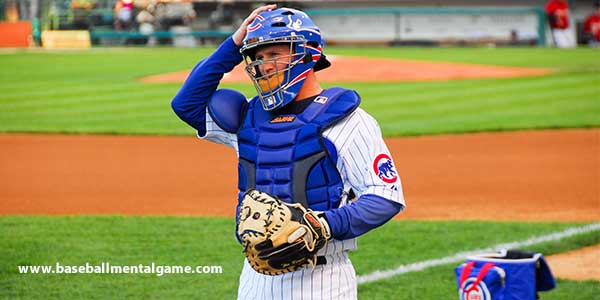 Focusing on Things You Can Control in Baseball
What is your mindset during a slump or in the middle of a bad game? Some baseball players tend to give up or give in while having a bad game. In other words, these players lose their focus or give less effort.
Imagine this scenario; you are a starting pitcher and gave up five runs in three innings. You feel frustrated and angry. Every pitch seems to fly off the bat for a hit. You feel you cannot get an out.
You want the manager to pull you from the game as quickly as possible. Instead of focusing on getting the next hitter out or holding the runner on third base, your thoughts are scattered. You are standing on the mound with your head down, feeling lost.
Suddenly, you notice the runner is only a few feet from home and has taken advantage of your loss of focus. Not only does the runner steal home, but your mental mistake caused another run to score.
When you are not having your best outing or do not have command of all your pitches, you are still in control of your effort and focus.
When you have a negative mindset, you lose focus and give less effort when things are not going your way. Not only do you quit on yourself, but you quit on your team too.
Conversely, when you have a positive mindset, you are focused on one pitch at a time. You still hustle and look for ways to impact the game. Focusing and hustling are choices, a mentality that influences your actions during a game.
During the last month of the 2021 MLB season, Yankees infielder Gleyber Torres received a lot of criticism for his lack of focus and effort. Torres was in a 4-for-32 slump heading into a game with playoff implications.
During that game, Torres hit a check-swing chopper to the mound, barely moved out of the batter's box, and was thrown out easily. Torres lost his focus and lacked effort.
TORRES: "It was a checked swing, and in that moment, really, I didn't know if it was fair or foul. I didn't see the ball really well, and I feel like I started running late. But I feel like I can put a little more effort in running to first base."
Mental mistakes are the result of choices. Hustling is a choice. Focusing is a choice.You can't control how well the opposing team plays, but you always control your choices.
Tip for Developing the Mindset of Hustling:
Choosing to hustle is independent of ability or playing circumstances. Developing a hustling mindset every play is a choice you make.
To make hustling a habit, you want to set that as an objective in practices and games and make sure you know what that looks and feels like.
---
Related Sports Psychology Articles
*Subscribe to The Sports Psychology Podcast on iTunes
*Subscribe to The Sports Psychology Podcast on Spotify
---
Get the Mental Edge – With Mental Toughness Coaching
Mental toughness coaching helps serious athletes like you to uncover the beliefs and attitudes that keep you from performing to your potential. You'll learn mental game strategies to perform confidently in competition and how to overcome performance barriers.
You can improve your mental game with Mental Game Coaches, Dr. Patrick Cohn and Jaclyn Ellis, M.S. You can opt for one-on-one sessions with Dr. Cohn in Orlando, Florida, or you can stay where you are and get coaching from anywhere in the world via telephone, Skype, or video-conferencing.
All sports psychology coaching programs include:
One-on-one mental coaching is the fastest and most effective method to improve your mental game, boost your performance, and make lasting changes. We have a variety of mental coaching programs to choose from. Please call us at 888-742-7225 with your questions.