How to Focus on The Process Rather Than Outcome
Do you feel prepared every day you play but aren't getting any results?
Do you get locked in with each at-bat, but the hits aren't coming?
Cubs first baseman, Anthony Rizzo, has been struggling at the plate lately.
He's in an 0-14 slump and his production is the worst it's been this late into the season in his whole career.
Rizzo admitted that he started looking at his stats on the scoreboard before each at-bat, and that may have caused him more pressure.
He also stated:
"I'm very, very, very confident that on Sept. 30 the numbers will be where they need to be."
Rizzo expects his statistics to be where they have been in the past couple of seasons, and where others expect him to be.
Additionally, the Cubs manager said:
"With guys like Anthony who are really good, the biggest thing is to make him not try to do anything differently. Just permit the process to work its course. 'You're good; you're really good. You're going to get hot, and that number is going to balance out.'"
Rizzo obviously feels added pressure via his own expectations, his team's expectations, and his fans' expectations for his performance.
He also seems to be thinking about outcome and results, as he looks at his numbers on the scoreboard before each at-bat.
Focusing on expectations or the outcome can be a recipe for disaster.
I (Dr. Megan) was a big hitter, a homerun hitter, all throughout my softball career. I hit a walk-off so hard once that I dented the metal bat.
I hit double-digit homeruns each year of my high school career. Going into my senior year, I needed only 4 to have the State 4-A homerun record.
Piece of cake, right?
Well, I only hit 2 homers that season… I expected to hit a homerun just about each game like I did the previous three seasons.
Others expected me to hit and have the state record. My coaches, teammates, friends, and especially my parents/family expected that season to be my best and thought there was no doubt I would hold the record.
With those high expectations of myself and the ones I felt from others, I started to feel a lot of pressure.
I looked to the outcome… hitting homeruns, instead of focusing on the process and what it takes to hit a homerun.
Similar to Rizzo right now, others expect a lot from him and he expects a lot from himself.
Though, Maddon understands and spoke some wise words:
"Just permit the process to work its course."
When you focus too much on the outcome, you rarely get the outcome.
When you think process, it will reward you.
If you're in a position like Rizzo and not hitting, think more about working the process rather than the outcome.
Think about the things you're doing when you're hitting well and focus on that. For example, seeing the ball, your contact point, timing the pitcher when on deck, etc.
Also, make sure you park your expectations before stepping onto the field.
When you have high expectations for yourself or think that others have high expectations for you, you tend to judge yourself harshly after your performance.
The tough judgements can then hit your confidence and trust pretty hard.
Replace your expectations with small objectives, the things that help you focus on the process.
For more information on focusing on the process, check out our audio and workbook program, "The Mental Edge For Baseball and Softball Players:"
---
Get The Mental Edge For Baseball and Softball Players!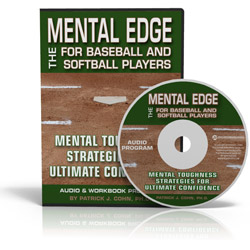 Do you (or your athletes) lack full confidence in your skills when you step on the field as if your game disappears at game time?
Do you lose composure easily after you make your first error of time game?
Do you feel embarrassed after striking out and carry this with you for longer than one inning?
If you answered yes to any of these questions, check out The Mental Edge For Baseball And Softball Players!
Boost your (or your athletes mental) toughness! Learn 8 mental toughness lessons to help ball players improve confidence, focus and composure.
The Mental Edge For Baseball And Softball Players: Mental Toughness Strategies For Ultimate Confidence
Download your copy TODAY and start boosting your mental toughness!

What are baseball mental game customers saying?
"The mental game lessons really helped me focus on the process of my performance and not the outcome. I now realize the difference between confidence and trust, in that confidence comes before competition. Your coaching is really going to help me improve my mental game this fall."
~Trey Mancini, Collegiate Baseball Player
"I want to thank you for the great work you are doing with Ty. He seems to be soaring with confidence right now. We are flying out to see him pitch next weekend. He threw well Friday night and is drawing a lot of interest from several Division 1 schools. I'll let you know how he looks."
~Randy Sullivan, Ty's Father
"With your help, I have been able to deal with stress and pressure of the game of baseball more efficiently. I have learned what it means to focus on the process to help me keep my focus and disregard negative thoughts and energies. Thanks for your help. I look forward to speaking with you again."
~Keith Donnell, College Baseball Player
"Dr. Cohn has put together a program that has enabled myself and our players to approach the mental game in a systematic way that is easy to use and apply. Our awareness level has greatly increased."
~Marty Hunter, Head Baseball Coach, George Fox University