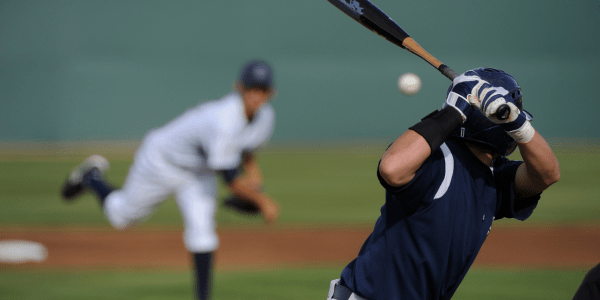 Do you struggle to maintain consistency as a hitter?
Any ball player will tell you the key to success is consistency, but many of those players aren't able to identify how to achieve consistent results.
In our Softball and Baseball Mental Toughness Survey, a player sent us the following question about consistency:
"After two or three multi-hit games, I go through a string of hitless games.
Just when I expect to get on a roll, I seem to play worse. How can I play more consistently throughout the season?"
Consistency is often misunderstood. Consistency is not achieving positive results every time. It's unrealistic to think a baseball team can win every game or that you should get a hit every time you step up to bat.
The enemy of consistency is expectation. When you expect you should get a hit today because you had several hits the previous game, you place undue pressure on yourself.
Expectations cause you to focus on future results. Focusing on the future is what creates stress levels to soar.
For example, if you are on a five-game hitting streak, you may feel more pressure to continue the streak. As the game progresses into the later innings, the "need" to get a hit increases your stress level.
Consistent production results from a consistent approach to each game and each at-bat.
A consistent approach includes:
Having the same positive mindset before each game.
Preparing for each game in the same manner.
Using the same at-bat routine during every plate appearance.
Maintaining a focus on quality at-bats.
Focusing on the process and not the results.
With a consistent approach, you have less mental interference and increased production at the plate.

During the 2023 MLB season, Philadelphia Phillies outfielder Bryce Harper battled through the longest homerless streak of his major league career.
Harper's homerless streak extended over 38 games. In his previous four seasons with the Phillies, Harper hit 101 home runs. Despite his lack of production, Harper has maintained a consistent approach to his game.
HARPER: "Everyone keeps talking about it, but it is what it is. For me, personally, keep hitting the baseball. Keep hitting it hard. I don't go out there to hit homers. I don't really try to hit homers. If you try to hit homers, it's just not good. Put a really good swing on the ball tonight, and it was able to get out of there. Keep swinging and keep doing my thing."
Harper had his share of ups and downs throughout his career, just like every other player in major league baseball. However, Harper has been consistent and dependable throughout his 12 years in the league.
Harper summed up his mindset in the last line of his quote, "Keep swinging and keep doing my thing."
Your approach to the game and each at-bat matters. The key to success starts well before the bat hits the ball.
It is essential for you to know how you approach each game and at-bat. Spend some time developing your approach and consistency.
Use your at-bat routine to help you have a consistent approach to each pitch. For example, clear your mind to focus on the ball only and let go of how to make a good swing. Focus on seeing the ball and timing up the pitch.
---
Related Sports Psychology Articles
*Subscribe to The Sports Psychology Podcast on iTunes
*Subscribe to The Sports Psychology Podcast on Spotify
---
Get the Mental Edge – With Mental Toughness Coaching
Mental toughness coaching helps serious athletes like you uncover the beliefs and attitudes that keep you from performing to your potential. You'll learn mental game strategies to perform confidently in competition and how to overcome performance barriers.
You can improve your mental game with Mental Game Coaches, Dr. Patrick Cohn and Jaclyn Ellis, M.S. You can opt for one-on-one sessions with Dr. Cohn in Orlando, Florida, or you can stay where you are and get coaching from anywhere in the world via telephone, Skype, Zoom, or FaceTime.
One-on-one mental coaching is the fastest and most effective method to improve your mental game, boost your performance, and make lasting changes. We have a variety of mental coaching programs to choose from. Please call us at 888-742-7225 with your questions.