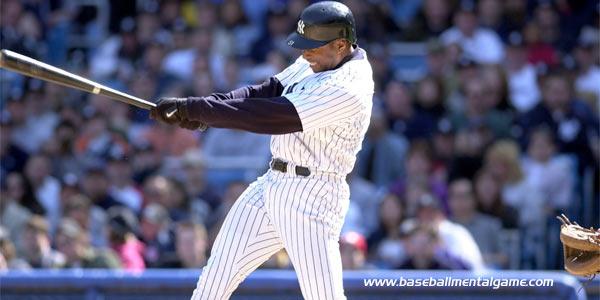 How to Have Stable Confidence
Are you a consistent performer? What is consistency? What contributes to consistency?
When you believe consistency is pitching a shutout each game, giving up a run during a game will feel like a letdown and will hurt your performance.
When you believe consistency is getting two or more base hits every game, your expectations will put more pressure on you.
A high school baseball player posted his concerns about performing consistent throughout the season:
"I want to hit consistently and when I don't, I feel there is a mental block. Sometimes, after a great game, I expect to do the same in the next game, but usually I play worse."
If your belief is that consistency is having a great game every game, you are setting the bar extremely high.
For example, after a 3-hit game, you expect every game to be a 3-hit game. Even when an infielder makes a great play and throws you out at first, you will still feel you fell short because you didn't get three hits.
This causes you to feel like you under performed, and start doubting your abilities. You see under performance as a slump, making consistent play even more challenging.
Your confidence will go up when you're playing well, and down when you under-perform.
Consistent play requires stable confidence, consistent preparation, and a consistent approach to the game. When you focus on these three aspects of consistency, the results will take care of themselves.
Outfielder Demi is working hard to improve his consistency on the field.
Orimoloye was selected by the Milwaukee Brewers in the 2015 Major League Baseball Draft. Three years later, Orimoloye was traded to the Toronto Blue Jays. Orimoloye has yet to play in the big leagues but his circumstances have not deterred Orimoloye from putting in the work to become a consistent performer.
ORIMOLOYE: "There are obviously certain goals and numbers I'd like to hit but for me it's getting better every day to be the most consistent player I can be. When I get to that point, all the numbers will fall into place. Performing consistently every game for a whole season, not just for a month, then being cold for a week. Being able to produce consistently, is the difference between guys who are in double-A and triple-A versus everyday big-leaguers. It's the same talent level, same pool, but the guys in the big leagues have more consistency. I'm going to keep working."
Consistency on the field requires consistency in how you prepare, consistency in how you practice, and consistency in how you approach the game.
How to Improve Your Consistency:
To be consistent, you need to be consistent in your approach day in and day out. Instead of judging your consistency by the numbers, focus on making each practice and training session count.
In addition, consistent performance flows from consistent mental preparation. Be sure to manage your intensity level, focus, and confidence level for each game. When you come to the game feeling fully prepared, you'll feel more confident.
---
Get The Mental Edge For Baseball and Softball Players!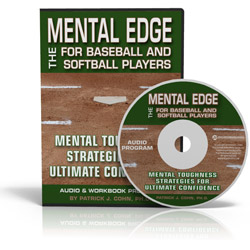 Do you (or your athletes) lack full confidence in your skills when you step on the field as if your game disappears at game time?
Do you lose composure easily after you make your first error of time game?
Do you feel embarrassed after striking out and carry this with you for longer than one inning?
If you answered yes to any of these questions, check out The Mental Edge For Baseball And Softball Players!
Boost your (or your athletes mental) toughness! Learn 8 mental toughness lessons to help ball players improve confidence, focus and composure.
The Mental Edge For Baseball And Softball Players: Mental Toughness Strategies For Ultimate Confidence
Download your copy TODAY and start boosting your mental toughness!
What are baseball mental game customers saying?
"Dr. Cohn, I've been tearing it up lately!!! Every single thing you taught me works perfectly in every situation I've been in. I've been so into every game and focusing on the process and not the outcomes and everything falls right into place . In the playoffs I'm 5-7 with 2 run home runs and 5 RBIs. I feel great at the plate and focusing is a breeze now. I just wanted to thank you for everything and keep you posted with how everything was going."
~Jalen Phillips, College Baseball Player
"With your help, I have been able to deal with stress and pressure of the game of baseball more efficiently. I have learned to help me keep my focus and disregard negative thoughts and energies. This process focus will keep me from getting my head in the way of my performance, from working against myself. Thanks for your help. I look forward to speaking with you again."
~Keith Donnell, college baseball player
"Thank you very much for taking the time to speak with our team. It was greatly appreciated and really helped a lot. I found myself implementing your teachings in our first practice right after you left. I really enjoyed the way you implemented already known ideas, but gave us a different way of viewing it. Thank you."
~Amber Prosser, Clark College Softball