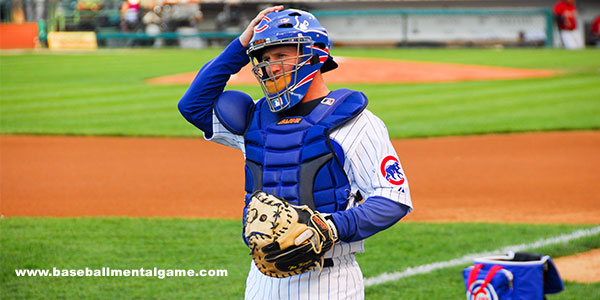 The Solution to a Slump is Mental, not Physical
What is the main cause of slumps? If you were to look back at your past slumps or performance ruts, you would probably identify the inability to focus as the primary cause of staying stuck.
Yet, when most ballplayers are in the middle of a slump, they look for a physical or mechanical solution. Many players will take additional batting practice, work with their hitting coach, change up their mechanics, and even switch bats trying to get back on track.
But do any of these physical strategies improve your focus when you are in the batter's box?
In our Softball and Baseball Mental Toughness Survey, a player asked about improving her ability to focus while in a slump:
"Assuming my mechanics are good, how do I focus on seeing and hitting the ball well during a slump?"
Slumps become a mental challenge that interfere with your ability to focus on the ball and react quickly.
When you ruminate and replay strikeouts, failure to move runners, missed opportunities to drive in runs, and difficulty making contact with the ball, strong negative emotions arise and battle for your attention.
When you pay attention to all the distractions during an at-bat, your body tenses up and throws off your timing.
Breaking out of a slump requires you to change your thinking or what you focus on. For example, a mental cue is a verbal or visual reminder to narrow your focus on what you want to happen.
Chicago Cubs left fielder Joc Pederson utilized a mental cue to break out of his early season slump in 2021. Pederson had one of the best pre-seasons in the Major Leagues, hitting .372, 11 extra base hits and 7 homeruns in 17 games for the Cubs.
Unfortunately, Pederson started the regular season with a bit of a slump going 0-15 at the plate in his first few games. Pederson ended his little slump by hitting a solo home run in the eighth inning of a game against the Milwaukee Brewers.
After the homerun, Pederson was awarded a waffle maker in the dugout by teammate Ian Happ. After the game, Pederson explained the meaning of the waffle maker.
PEDERSON: "We haven't really been getting too many hits as a team. So I texted him and a couple of (other teammates) last night. He said, 'Yeah, I'm bringing the waffle maker.' You know, going to waffle some balls. It was pretty funny."
The mental cue of a "waffle maker" kept Pederson focused in the present on what he wanted to do, "waffle some balls," and not on the slump itself.
The use of mental cues allow you to to keep your hitting simple and relax your mind and body, so you can see the ball more clearly and make contact with the ball more consistently.
The key is working on your mental game instead of changing your mechanics when you are in a slump.
Use Your Mind to Break Out of a Slump:
First, understand that slumps are usually mental and not physical. Start by simplifying your at-bats and focusing on one image.
Create a mental cue for yourself to remind you of how you want to play. See the ball–hit the ball is an example of a simple cue–or just put the ball on the ball.
Most ball players make it too complex when hitting because they are in a "fix and fiddle" mindset. Instead, do all your work during BP and then trust your skills when you're in the game. Get back to playing athletically.
---
Get The Mental Edge For Baseball and Softball Players!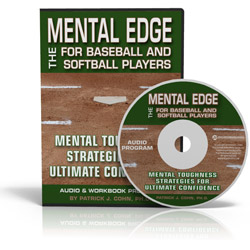 Do you (or your athletes) lack full confidence in your skills when you step on the field as if your game disappears at game time?
Do you lose composure easily after you make your first error of time game?
Do you feel embarrassed after striking out and carry this with you for longer than one inning?
If you answered yes to any of these questions, check out The Mental Edge For Baseball And Softball Players!
Boost your (or your athletes mental) toughness! Learn 8 mental toughness lessons to help ball players improve confidence, focus and composure.
The Mental Edge For Baseball And Softball Players: Mental Toughness Strategies For Ultimate Confidence
Download your copy TODAY and start boosting your mental toughness!
What are baseball mental game customers saying?
"Dr. Cohn, I've been tearing it up lately!!! Every single thing you taught me works perfectly in every situation I've been in. I've been so into every game and focusing on the process and not the outcomes and everything falls right into place . In the playoffs I'm 5-7 with 2 run home runs and 5 RBIs. I feel great at the plate and focusing is a breeze now. I just wanted to thank you for everything and keep you posted with how everything was going."
~Jalen Phillips, College Baseball Player
"With your help, I have been able to deal with stress and pressure of the game of baseball more efficiently. I have learned to help me keep my focus and disregard negative thoughts and energies. This process focus will keep me from getting my head in the way of my performance, from working against myself. Thanks for your help. I look forward to speaking with you again."
~Keith Donnell, college baseball player
"Thank you very much for taking the time to speak with our team. It was greatly appreciated and really helped a lot. I found myself implementing your teachings in our first practice right after you left. I really enjoyed the way you implemented already known ideas, but gave us a different way of viewing it. Thank you."
~Amber Prosser, Clark College Softball