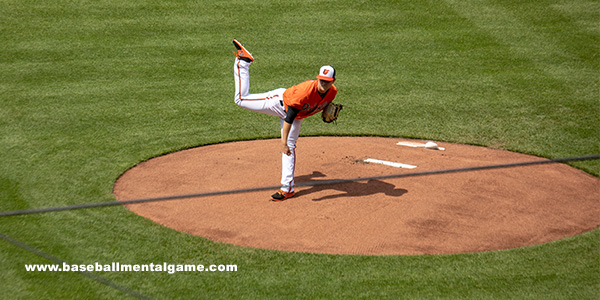 How to Cope with The Pressure of Pitching
Pressure and baseball or softball go hand-in-hand. From your first at-bat to your last at-bat, there is some degree of pressure.
From the first pitch to the last pitch, you will experience pressure–it's just part of the game. However, every player feels pressure differently.
Pressure can help you narrow your focus, improve reaction time, energize your body and activate your mind to perform well in a game.
So why do so many people talk about pressure in negative terms?
The type of pressure that hurts performance is excessive pressure. Pressure is positive but only to a point. If you can harness pressure, you'll be better prepared mentally and physically to play your best ball.
When pressure mounts and you're feeling it, this can lead to mistakes, errors, under-performance, and in extreme cases the yips.
For example, in our Softball and Baseball Mental Toughness Survey, a collegiate pitcher commented on how pressure affected his control during games:
"I have been pitching most of my life but, now that I'm in college, I can't seem to throw the ball over the plate. When I play against teams in our conference or must-win games, I'm even worse walking in runs and throwing wild pitches. I'm afraid I might have the yips. How can I learn to pitch better under pressure?"
The yips happen due to excessive pressure. When you see games as must-win, you ratchet up the pressure even more. When you are afraid to throw wild pitches, you experience more pressure. When you lose trust in your ability to throw strikes, the pressure can feel overwhelming.
All these factors have contributed to the yips you are going through so it is important for you to bring pressure down to manageable levels or within a range that helps you pitch at your peak.
Excessive pressure and the yips knocked pitcher Daniel Bard right out of the MLB and into retirement in 2017. Bard was a Round 1 draft pick for the Boston Red Sox in 2006.
In 2010, Bard appeared in 73 games, with a 1.93 ERA and 76 strikeouts. In 2011, Bard continued to impress and set a Red Sox record with 25 consecutive scoreless appearances.
Then the pressure started to increase, and Bard finished out the season 0–4 with a 10.64 ERA. In 2012, the yips took hold of Bard and he bounced from team to team until he retired after only five Major League seasons.
Now, after two years working as a mental skills coach with the Arizona Diamondbacks, Bard is attempting a comeback with the Colorado Rockies.
How did Bard make such a dramatic turnaround? Well it all started with just playing catch with some Arizona players without any pressure.
Bard slowly worked his way to throwing off the mound still with minimal pressure and now Bard feels ready to take the next step.
BARD: "The way I feel now trumps anything I felt from 2012 to 2017 when I retired. It's hard to describe. It just feels — throwing and pitching feels natural. It feels fun. Body feels free and easy. That's not to say there's not still challenges. I have some good days and some not-so-good days. But at the same time, the overall feeling is just like, 'This is what throwing a baseball is meant to feel like.' It's the way I felt for my first three years in Boston. It's the way I felt in college and coming up through the minor leagues for the first part. When I stumbled onto that feeling, I couldn't deny it."
When you cope better with pressure, you no longer obsess about your mechanics, results or outcomes. You feel free to be in the moment, throw the ball and trust your stuff just like did when you were at your best in the past.
Throwing Freely During Games
Have a catch with a teammate before the warm up. Talk with your teammate as you throw the ball. Don't think about your arm position or how good it feels.
On your next set of throws in the warm up say, "let it go." Continue this routine in the warm up or bullpen.
Most importantly, focus on hitting your target instead of avoiding a bad pitch or throw!
---
Get The Mental Edge For Baseball and Softball Players!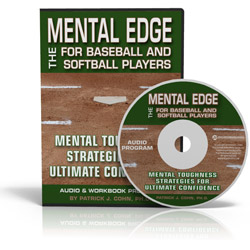 Do you (or your athletes) lack full confidence in your skills when you step on the field as if your game disappears at game time?
Do you lose composure easily after you make your first error of time game?
Do you feel embarrassed after striking out and carry this with you for longer than one inning?
If you answered yes to any of these questions, check out The Mental Edge For Baseball And Softball Players!
Boost your (or your athletes mental) toughness! Learn 8 mental toughness lessons to help ball players improve confidence, focus and composure.
The Mental Edge For Baseball And Softball Players: Mental Toughness Strategies For Ultimate Confidence
Download your copy TODAY and start boosting your mental toughness!

What are baseball mental game customers saying?
"Dr. Cohn, I've been tearing it up lately!!! Every single thing you taught me works perfectly in every situation I've been in. I've been so into every game and focusing on the process and not the outcomes and everything falls right into place . In the playoffs I'm 5-7 with 2 run home runs and 5 RBIs. I feel great at the plate and focusing is a breeze now. I just wanted to thank you for everything and keep you posted with how everything was going."
~Jalen Phillips, College Baseball Player
"With your help, I have been able to deal with stress and pressure of the game of baseball more efficiently. I have learned to help me keep my focus and disregard negative thoughts and energies. This process focus will keep me from getting my head in the way of my performance, from working against myself. Thanks for your help. I look forward to speaking with you again."
~Keith Donnell, college baseball player
"Thank you very much for taking the time to speak with our team. It was greatly appreciated and really helped a lot. I found myself implementing your teachings in our first practice right after you left. I really enjoyed the way you implemented already known ideas, but gave us a different way of viewing it. Thank you."
~Amber Prosser, Clark College Softball