Minimizing Pressure by Staying Focused
Pressure is to baseball as gas is to a car. Without gas, a car won't go.
Pressure is necessary for peak performance. That's right, pressure is needed to be at your best on the field.
Problems arise when pressure becomes uncomfortable and overwhelming.
Too much pressure causes you feel anxious and tight.
Conversely, not enough pressure makes you feel sluggish and not "up for the game."
When you have just the right amount of pressure, you feel excited and ready to go.
For example, Tony G. is a Division I collegiate outfielder…
Tony was having trouble at the plate during the middle of the season and was hitting well-below his average.
Tony was anxious as he stepped to the plate thinking, "I gotta get a hit and have to break out of this slump."
Tony started pressing at the plate, so his coach decided to have a talk with him.
Tony admitted he felt a lot of pressure to up his production.
The coach talked about pressure in positive terms.
The coach told Tony that there is an optimal range of pressure that is helpful for performance and it is a matter of just finding that personal optimal range.
Tony's coach helped him settle down at the plate and, soon enough, Tony found his swing again.
There is an optimal range that helps you perform at your peak and all players can learn how to move into that optimal range of pressure.
I'm sure you have heard someone say, "He puts too much pressure on himself."
Well, pressure is something we do to ourselves. If you can put too much pressure on yourself, then you also have the ability to lessen the pressure you put on yourself.
Managing pressure is similar to a thermostat that regulates temperature. Each person has a range where the temperature of a room feels comfortable.
If a room is too cold or too hot, you can adjust the thermostat accordingly.
Similarly, you have the ability to increase or decrease the amount of pressure in competitive situations.
Preparing your mind to cope with pressure is the act of you taking back the reins and controlling the amount of pressure you experience in competitive situations.
There may be no greater pressure for some players than playing for the New York Yankees….
Yankees outfielder and newcomer, Giancarlo Stanton, may be experiencing above average levels of pressure early this season. Stanton, the reigning National League Most Valuable Player, was the centerpiece in a blockbuster trade with the Florida Marlins during the off-season.
In 21 games, Stanton has a .224 batting average, well below his .281 average last season. In his first 66 at-bats with the Yankees, Stanton struck out 29 times.
It is not easy playing at Yankee Stadium and to add to the pressure, Stanton has received a steady dose of boos.
Stanton has a strategy to minimize the pressure by focusing on the positive aspects of his game and the things he can control.
STANTON: "Very simple. [Focus on] the positive things, even if it's not very many things. That's all you can do. Worry about [the booing], you're going to keep twirling down."
Stanton stays focused on his performance, such as:
Good contact
Working the count
Feeling comfortable in the batter's box
Trusting his swing
His play in the field
How much added pressure helps you focus and perform well? And when you do you feel overwhelmed by pressure to the point you can't perform freely.
A Tip for Staying on Top of Pressure Rather than Under Pressure
In order to manage pressure, you want to note a few things:
Too much pressure is common for many baseball players.
Pressure is something you do to yourself.
Some pressure is needed to play your best.
You have the ability to manage pressure.
Preparing your mind to deal with added pressure helps you.
Learn all my mental game strategies for ball players today:
---
Get The Mental Edge For Baseball and Softball Players!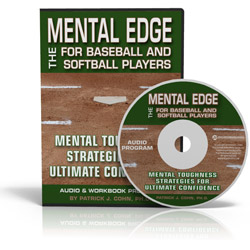 Do you (or your athletes) lack full confidence in your skills when you step on the field as if your game disappears at game time?
Do you lose composure easily after you make your first error of time game?
Do you feel embarrassed after striking out and carry this with you for longer than one inning?
If you answered yes to any of these questions, check out The Mental Edge For Baseball And Softball Players!
Boost your (or your athletes mental) toughness! Learn 8 mental toughness lessons to help ball players improve confidence, focus and composure.
The Mental Edge For Baseball And Softball Players: Mental Toughness Strategies For Ultimate Confidence
Download your copy TODAY and start boosting your mental toughness!

What are baseball mental game customers saying?
"After completing 'The Confident Athlete' series, I noticed a dramatic improvement in my level of play or should I say consistency. I play NCAA Division I baseball for Lamar University, and even my coaches have noticed a change in the way that I approach the game – my attitude and confidence at the plate. It has also helped me reach a new level of focus. I am able to get into that zone where I am able to narrow my focus on to the task. Thank you for helping in my continuing goal to mental toughness."
~Tylor Prudhomm
"Dr. Cohn has put together a program that has enabled myself and our players to approach the mental game in a systematic way that is easy to use and apply. Our awareness level has greatly increased."
~Marty Hunter, Head Baseball Coach, George Fox University
---
Boost Your Self-Confidence And Focus With Expert Mental Game Coaching!
Our expert mental game coaches, Dr. Patrick Cohn and Dr. Megan Melchiorre, can help you overcome your mental game issues with personal coaching!
You can work with Dr. Patrick Cohn or Dr. Megan Melchiorre in Orlando, Florida or via Skype, FaceTime, or telephone.
Call us toll free at 888-742-7225 or contact us for more information about the different coaching programs we offer!
What are our mental coaching students, parents and coaches saying?
"Thank you very much for taking the time to speak with our team. It was greatly appreciated and really helped a lot. I found myself implementing your teachings in our first practice right after you left. I really enjoyed the way you implemented already known ideas, but gave us a different way of viewing it. Thank you."
~Amber Prosser, Clark College Softball
"Thank you so much for talking with our team. You are a great influence. The confidence material really helped me, and I will be working on that as long as I play and after. I can now step out there and just relax and play."
~Melissa Riesberg, Clarke College Softball