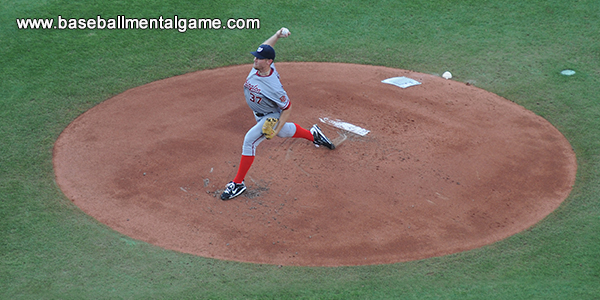 The Top Two Mental Skills for Ballplayers
How many times have you heard "focus on one pitch as a time" or "control what you can control"?
These two phrases are used with such frequency that they seem cliché and dismissed by many ballplayers.
Athletes, ballplayers, coaches and general managers herald the value of "focusing on the process" and "controlling what you can control" because those two mental skills are essential elements for peak performance.
"Focusing on the process" and "controlling what you can control" are skills that go hand-in-hand. These mental skills are proven to minimize distractions. They are not reserved for Hall of Fame baseball players or Olympic softball players.
You can develop the ability to focus on the process and control what you can control with some coaching, practice and repetition.
When you focus on the process, you produce better results than when you focus on the outcome of a pitch, your statistics, the score, wins or losses, and the standings in your division.
Focusing on the process is thinking about the present moment and what is happening in the now. Small successes, such as good contact, being aware of game situations, relaxing on the mound, resetting after each pitch, pre-pitch routines, etc., produce positive outcomes.
Focusing on what you need to do in the moment does not mean detailing every component of technique or mechanics. Focusing on the process can be a simple reminder of strategy (what pitch you are going to throw) or cue words (for hitters, "see the ball early") then immersing yourself in the act of hitting, pitching or fielding without conscious thought.
Focusing on what you can control, otherwise known as the "controllables" is another component of minimizing distractions.
When you control the controllables, you are also focusing on the process. You don't focus on outcomes or irrelevant stuff, such as weather, field conditions, the opposing team, the opposing pitches, bad calls by the umpire, great defensive plays by the opposing team, spectators, pleasing others, broken equipment, injuries, etc.
Uncontrollables pull you away from focusing in the moment and interfere with your ability to play your best in the field, mound or batter's box.
"Focusing on the process" and "controlling what you can control" are the mental skills that have put former University of Illinois closer Joey Gerber in position to make the Seattle Mariners' major league roster.
Gerber was selected in the eighth round (238th overall) of the 2018 MLB Draft.
Over the past two years in the minor leagues, Gerber has pitched consistently with a 2.42 ERA in 74.1 innings earning him an invite to the Mariner's training camp.
Gerber is facing his opportunity with poise and excitement.
GERBER: "I just have been taking it in stride and enjoying the process."
GERBER: "My approach is always the same. You've got to control what you can control, so just focus on getting better every single day. I know it sounds cliché, but that's honestly all you can do. Especially in baseball, where there's so much that you can't control. You just have to focus on, as the pitcher, trying to execute at that moment."
When you cope well with distractions, you play at your peak and enjoy the game more.
Top Mental Skills for Ballplayers:
Learn to focus on process, not outcome. It's a simple mental skills to talk about, but harder to apply. Identify when you lose your focus, be aware when you do, and refocus.
Focus on the controllables. Define what's important to focus on for your position–for each pitch. Also understand what you can't control.
We help ball players simplify their games, focus on the process, and develop powerful mental game skills to improve consistency. Contact us for more details about our mental coaching programs.
---
Boost Your Self-Confidence And Focus With Expert Mental Game Coaching!
Master mental game coach Dr. Patrick Cohn can help you overcome your mental game issues with personal coaching.
You can work with Dr. Patrick Cohn himself in Orlando, Florida or via Skype, FaceTime, or telephone. Call us toll free at 888-742-7225 or contact us for more information about the different coaching programs we offer!
What are our mental coaching students saying?
"As a college softball coach I experience great pleasure in helping youth league coaches develop their young players. As reversal of that process, I, as the student, look to experts like yourself to give me the "mechanics" of sports psychology so that I may better impart my knowledge to the players and coaches. Your contribution spreads like wildfire and helps hundreds of youngsters as well as us "oldies." Thanks for your contribution–it means a lot."
~Tom Moore, College Softball Coach
"A quick note to let you know how effective your programs worked for my son who is 17 and plays varsity baseball in VA. In late 2009, I ordered the Relaxed Athlete program for my son because I saw he was pressing too hard at the plate and had disappointing results for the 2009 season. Thanks to your programs, my son now has a completely new approach to the game of baseball (and school) and it's more fun for him now. He made all-district player at his position and hit .443 this season. A complete 180 degree turn around from last year."
~Mark M., sports parent
"Dr. Cohn has put together a program that has enabled myself and our players to approach the mental game in a systematic way that is easy to use and apply. Our awareness level has greatly increased."
~Marty Hunter, Head Baseball Coach George Fox University
Disclaimer
*Testimonials found on this site are examples of what we have done for other clients, and what some of our clients have said about us. However, we cannot guarantee the results in any case. Your results may vary and every situation is different. No compensation was provided for these testimonials.