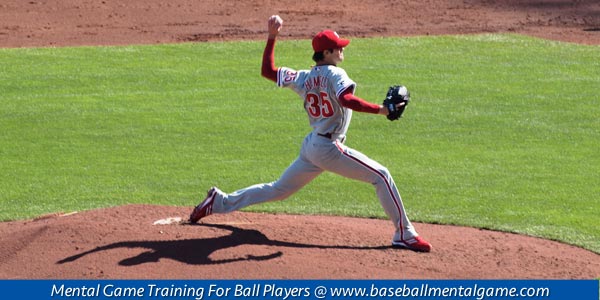 Velasquez's Mental Toughness
Getting to the next level for a baseball player takes hard work, staying at that level and playing your best at that level takes mental strength.
Many baseball players work hard to get to the next level but are overwhelmed by competing against talented players.
Some believe luck was the reason for advancement while others just don't think they are good enough to make an impact. It can be mentally difficult going from being the top dog to fighting for some playing time.
If you want to make an impact at the next level, you need to remember that you put in the work and ACHIEVED the next level by rising up to meet the physical and mental demands of baseball…
This, in a nutshell, is mental toughness!
Mental toughness gives you the confidence to keep putting in the work to meet and know that each challenge faced further advances your game.
Vince Velasquez, 23 year-old pitching prospect for the Philadelphia Phillies, understands the need for mental toughness to compete at the next level.
Velasquez was drafted by the Houston Astros in the second round of the 2010 Major League Baseball draft out of high school. The very next year, Velasquez underwent Tommy John surgery and missed the 2011 season.
Velasquez fought his way back, characteristic of all mentally tough athletes, and was named the 67th best prospect in baseball prior to the 2014 season.
In 2015, Velasquez was traded to the Philadelphia Phillies. Not only did he make the 2016 Phillies roster, he earned the final spot in the pitching rotation.
VELASQUEZ: "It's never easy. There are a lot of guys with talent in this room and everyone is fighting for a spot. It's a little journey I'm looking forward to experiencing and we'll see how it plays out."
Velasquez's hard work and mental toughness has paid off this season. In his first two starts, Velasquez has yet to allow a run and has had 25 strikeouts with only three walks.
Velasquez's mental toughness was on display in his second start when he struck out 16 in a three-hit shutout, 3-0, against the San Diego Padres. Velasquez threw in the 90's with impeccable control and walked no batters.
Velasquez is the third pitcher age 23 or younger since 1913 to strike out 16 and walk none in a shutout.
Velasquez has welcomed the competition and is totally focused on his honing his craft.
VELASQUEZ: "You have to be optimistic. I'm just here trying to help us win. Any way I can I'm going to try to make things happen… I'm going to go out there and do everything I can. Pitch, pitch, pitch."
As Velasquez has demonstrated so far… a little mental toughness can go a long way at the next level.
The mindset to make an impact at the next level:
Be a fact-finder. Fact-finders look for evidence to support their belief.
Ask yourself, "How did I advance to this level?" "What specifics things did I do?" "What mental skills propelled me forward?"
When you get knocked down by adversity or injury, how will you respond to meet the challenge?
---

Get The Mental Edge For Baseball and Softball Players!
Do you (or your athletes) lack full confidence in your skills when you step on the field as if your game disappears at game time?
Do you lose composure easily after you make your first error of time game?
Do you feel embarrassed after striking out and carry this with you for longer than one inning?
If you answered yes to any of these questions, check out The Mental Edge For Baseball And Softball Players!
Boost your (or your athletes mental) toughness! Learn 8 mental toughness lessons to help ball players improve confidence, focus and composure.
The Mental Edge For Baseball And Softball Players: Mental Toughness Strategies For Ultimate Confidence
Download your copy today!

What are mental game customers saying?
"With your help, I have been able to deal with stress and pressure of the game of baseball more efficiently. I have learned what it means to focus on the process to help me keep my focus and disregard negative thoughts and energies. This process focus will keep me from getting my head in the way of my performance, from working against myself. Thanks for your help. I look forward to speaking with you again."
~Keith Donnell, College Baseball Player
---
Get Our Weekly Mental Game Tips!
Learn 6 Costly Mental Game Mistakes Baseball
And Softball Players Make While Batting
Get instant access to a Mental Game of Baseball and Softball FREE report. Discover if you are making one or more of these "costly" mental game errors at the plate!
You'll discover:
How your mind can be your best or worst asset during batting.
If you are using your mind effectively to get a hit.
A critical mental error that can erase your confidence at the plate!
How to prepare your mind using an at-bat routine.
I'll also notify you when we have other baseball or softball mental game tips to boost your performance! Please enter your first name, primary email, and role in baseball/softball below to instantly receive your 100% FREE mental game report:
© 2016 Peak Performance Sports, LLC | 888-742-7225 | Baseball and Softball Confidence
Mental Game of Baseball Success Stories
"I currently play NCAA Division 1 Baseball, and even my coaches have noticed a change in the way that I approach the game; my attitude and confidence at the plate. Thank you for helping in my continuing goal to mental toughness."
~Tylor Prudhomme, College Baseball Player
"Thank you very much for taking the time to speak with our team. It was greatly appreciated and really helped a lot. I found myself implementing your teachings in our first practice right after you left. I really enjoyed the way you implemented already known ideas, but gave us a different way of viewing it. Thank you."
~Amber Prosser, Clark College Softball
---
Boost Your Self-Confidence And Focus With Expert Mental Game Coaching!
Master mental game coach Dr. Patrick Cohn can help you overcome your mental game issues with personal coaching.
You can work with Dr. Patrick Cohn himself in Orlando, Florida or via Skype, FaceTime, or telephone. Call us toll free at 888-742-7225 or contact us for more information about the different coaching programs we offer!
What are our mental coaching students, parents and coaches saying?
"Dr. Cohn has put together a program that has enabled myself and our players to approach the mental game in a systematic way that is easy to use and apply. Our awareness level has greatly increased."
~Marty Hunter, Head Baseball Coach George Fox University
---
Bring Your Practice Game To Competition Today!
The Confident Athlete CD program helps athletes learn powerful pregame routines to stay calm, focused, and poised in competition.
Learn more about one of our most popular CD programs in The Confident Athlete Series…
The Confident Athlete: A 14-Day Plan For Ultimate Self-Confidence