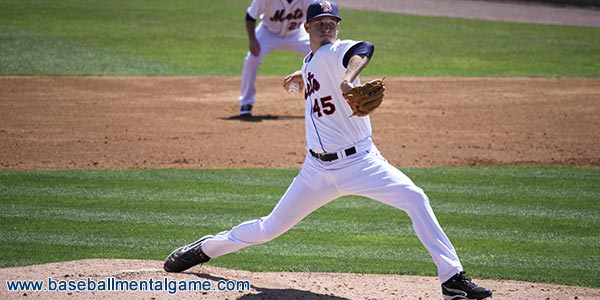 What it Takes to Become an Elite Baseball Player
How do you go from good to great as a ballplayer? Many players "want" to be better, but their "want" doesn't lead to action.
You could have the best coach in the world, surrounded by talented teammates, work out with the latest equipment, and dream big dreams, but mere desire never yields positive results alone.
You, of course, need some level of ability. Desire is also important; you need to be passionate about lifting your game. However, raising your game requires instruction, direction, action, and evaluation.
Unfortunately, many players stop at the "desire" stage. Words without actions keep you stuck in a rut.
The 6 Stages of Next Level Performance:
1. Passion – When you are passionate about becoming a better pitcher, making a college team, breaking into the starting lineup, or raising your batting average, you can stay motivated to see yourself through the ups and downs.
2. Goal – Passion is desire. However, a goal is a target, something specific you want to achieve. When your goal is clear and specific, you can determine if your plan or actions are on track for achieving your objective.
3. Instruction – You should have someone knowledgeable you can rely on for teaching, coaching, or advising you, such as a coach, elite player, or mental game coach.
4. Direction – You need a plan, plain and simple. A plan is a roadmap that directs you towards your goal.
5. Action – You must act on your plan, not just once in a while or when you feel like working. You must put into action your plan each day.
6. Evaluation – This step is often neglected. Some players give up before evaluating or adjusting their plans when necessary. When you objectively assess your progress, you are more apt to push through the struggle during the season.
When you put into play these six steps, you will accomplish more as an athlete.
Improvement in Action:
Veteran Joe Musgrove and rookie MacKenzie Gore are both pitchers for the San Diego Padres.
Musgrove is a contender for the 2022 NL Cy Young, while Gore is considered a contender for the 2022 National League Rookie of the Year. Gore started the season strong with 38 strikeouts in 35 innings with a 2.06 ERA.
According to Musgrove, Gore is raising his game due to his quest to improve by asking other players about what has made them successful.
MUSGROVE: "You get rookies that come up, and they ask questions sometimes just for the sake of asking them, and there's not really a point other than they want you to know that they're asking some [nonsense] question.
[Gore] has got good questions, man. He really is trying to adapt to the game fast. You see it in the results. The things we talk about, he takes it all to heart, and he incorporates it into his game and his game plan."
Knowing, though important, is not enough. You achieve next-level performance by working on your mental and physical skills and applying what you learned.
Raising your Game:
Watch, learn, and apply. Watch how successful players approach the game.
How do they prepare? What is their mindset? Don't be afraid to seek out advice.
Ask for help learning to improve mental and physical skills. What can you do in practice to help you grow as an athlete?
Lastly, apply those lessons. Put in the work. Be persistent.
Related Sports Psychology Articles
*Subscribe to The Sports Psychology Podcast on iTunes
*Subscribe to The Sports Psychology Podcast on Spotify
---
Get the Mental Edge – With Mental Toughness Coaching
Mental toughness coaching helps serious athletes like you to uncover the beliefs and attitudes that keep you from performing to your potential. You'll learn mental game strategies to perform confidently in competition and how to overcome performance barriers.
You can improve your mental game with Mental Game Coaches, Dr. Patrick Cohn and Jaclyn Ellis, M.S. You can opt for one-on-one sessions with Dr. Cohn in Orlando, Florida, or you can stay where you are and get coaching from anywhere in the world via telephone, Skype, Zoom, or FaceTime.
One-on-one mental coaching is the fastest and most effective method to improve your mental game, boost your performance, and make lasting changes. We have a variety of mental coaching programs to choose from. Please call us at 888-742-7225 with your questions.