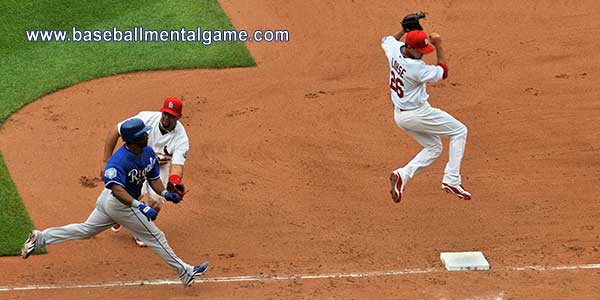 Statistics Are Great for Goal Setting but They Aren't Everything
How much do you think about your statistics? Baseball and softball players set seasonal goals in the pre-season, primarily based on statistics.
For example, pitchers may set the goal of lowering their ERA by a run, or a player who sets the goal of raising batting average by 30 points.
Numbers matter in baseball and softball. Those numbers translate into wins and losses, increased playing time, and potential collegiate scholarships.
Statistics can also translate into pressure and anxiety.
On the other hand, athletes are taught the importance of focusing on the process so they can lessen competitive stress.
How can you rectify the two seemingly opposite mindsets: improving personal statistics and focusing on the process?
Is it possible that these notions can be complementary or part of a singular mindset?
Let us examine this in further detail…
Goals are important. Goals direct your focus and action. For example, if your goal is to lower your ERA by a run, you would look to improve your pitching, such as adding some speed on your fastball, developing a new pitch, or improving accuracy.
This example shows what is meant by focusing on the process. You set a specific goal (usually based on statistics), then focus on what you need to do to achieve your goal.
When it's time to play, you immerse yourself in the game instead of computing your statistics.
After the game, you can assess your play or look at your stats, then re-focus on the process in practice.
In contrast, a statistic-based mindset has an over-emphasis on numbers. For example, if your goal is to hit .300, you focus on the NEED to get one hit every three at-bats.
If you are hitless in your first two plate appearances, you will feel more pressure to get a base hit.
Now, let's extend this over several games; if you are in a slump, pressure increases further. With each hitless game, your anxiety level builds.
Your mind obsesses over getting a hit instead of focusing on the pitch. As a result, you start pressing at the plate. In these instances, you are focused on outcomes, not the process.
With 15 games left in the 2022 MLB season, New York Yankee outfielder Aaron Judge is putting up historic numbers and is in contention for the Triple Crown.
In 2021, Judge hit .287 with 39 home runs and 98 RBI. In contrast, in 2022, Judge is batting .316 with 60 home runs and 128 RBI.
How has Judge dramatically improved his production? Judge succinctly and clearly stated his in-game mindset.
JUDGE: "I don't think about numbers."
Even though his stats are the talk of the league, Judge focuses on the process: His preparation, pre-game routines, and approach at the plate.
Judge understands that if he puts in the work, the numbers will take care of themselves.
Peak performance may start with a goal, but it is driven forward with a focus on the process.
Tip of Focusing on the Process:
The following steps will help you balance your goals and focus on the process:
Set your goals
Create a Plan
Put your plan into action
Trust your training
Just perform
Evaluate performance
Repeat!
---
Related Sports Psychology Articles
*Subscribe to The Sports Psychology Podcast on iTunes
*Subscribe to The Sports Psychology Podcast on Spotify
---
Get the Mental Edge – With Mental Toughness Coaching
Mental toughness coaching helps serious athletes like you uncover the beliefs and attitudes that keep you from performing to your potential. You'll learn mental game strategies to perform confidently in competition and how to overcome performance barriers.
You can improve your mental game with Mental Game Coaches, Dr. Patrick Cohn and Jaclyn Ellis, M.S. You can opt for one-on-one sessions with Dr. Cohn in Orlando, Florida, or you can stay where you are and get coaching from anywhere in the world via telephone, Skype, Zoom, or FaceTime.
One-on-one mental coaching is the fastest and most effective method to improve your mental game, boost your performance, and make lasting changes. We have a variety of mental coaching programs to choose from. Please call us at 888-742-7225 with your questions.