Strategies to Help Build Your Confidence
Glove? Check!…
Ball? Check!…
Bat? Check!…
Cleats? Check!…
CONFIDENCE???
Every time you head to practice or a game, you most likely go through a mental checklist of the essentials you need to play (uniform, equipment, water, snacks, etc).
In fact, you probably even double-check you have everything so you are best prepared for anything.
One little oversight, like forgetting your batting gloves, could impact how you play that day.
If bringing the right equipment is so important to be at your best, wouldn't it stand to reason that you should also make a conscious, concerted effort to be prepared mentally?
At the forefront of mental preparation is confidence.
Confidence is as essential as any other piece of equipment you take to the field.
Just as you take care of your equipment, you need to take care of your confidence so you can continue to master your game.
How can you take care of your confidence?
The answer is easy… Take control of it!
One of the best methods to feed your confidence is to look for ways to further your game on a consistent basis.
When your skills improve, confidence in those skills and your confidence in your ability to improve future skills will also improve.
This positive loop of skill improvement and confidence really helps build stable confidence that is less affected by ups and downs in performances.
Colorado Rockies pitcher German Marquez was known as a pure flamethrower when he entered the league in 2016.
Now, in just a few years, Marquez has emerged as a strong starter who is among the top statistical leaders in the National League.
The difference-maker for Marquez was in the development of his confidence.
Marquez knew his fastball was a tremendous weapon but he sought to improve his game even further.
Marquez shored up his mechanics, developed a strong arsenal of pitches (hard slider, two-seam and four-seam fastballs, curveball and a decent changeup) and created a more uniform release point across his repertoire to better disguise his pitches.
Marquez's repertoire of pitches gives him greater flexibility if he is having difficulty locating one of his pitches or getting the ball to break effectively.
MARQUEZ: "[My slider has] become really good and it's getting better every time. Between my curveball and my slider, I've got a lot of confidence. I can throw it for a strike or strike them out. So I've got a lot of confidence."
By continually looking to improve his skill set, Marquez has developed stable confidence.
That is, even though one part of his game may be off, Marquez still has the confidence in his abilities to get the job done no matter the circumstances.
Take responsibility for your confidence and your confidence will take care of your game.
How to Feed Your Confidence:
Commit to daily improvement. Small incremental steps help produce big boosts in confidence and performance.
Every time you hit the cages, take the field for practice or throw on the mound, look for small ways to build your game.
Ask yourself, "What can I do consistently to improve my game a little more today?"
When it's time to take the field for a game, remind yourself of why you deserve to feel confident and perform well. Focus on your preparation, abilities, and strengths of your game.
Learn more about how to mentally prepare for games with our audio and workbook program, "The Mental Edge for Ball Players":
---
Get The Mental Edge For Baseball and Softball Players!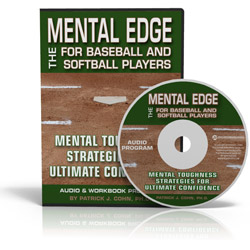 Do you (or your athletes) lack full confidence in your skills when you step on the field as if your game disappears at game time?
Do you lose composure easily after you make your first error of time game?
Do you feel embarrassed after striking out and carry this with you for longer than one inning?
If you answered yes to any of these questions, check out The Mental Edge For Baseball And Softball Players!
Boost your (or your athletes mental) toughness! Learn 8 mental toughness lessons to help ball players improve confidence, focus and composure.
The Mental Edge For Baseball And Softball Players: Mental Toughness Strategies For Ultimate Confidence
Download your copy TODAY and start boosting your mental toughness!

What are baseball mental game customers saying?
"Thank you so much for talking with our team. You are a great influence. The confidence material really helped me, and I will be working on that as long as I play and after. I can now step out there and just relax and play."
~Melissa Riesberg, Clarke College Softball
"I wanted to say that your program is one of the contributing factors that has helped Michelle improve her hitting. Last week she had the most relaxed, confident games at bat ever! The mental exercises have started to make things click. The mental program is something she can practice in other facets of life. I am pleased that we decided to invest in your program: the results are showing."
~Jim Ellis, Michelle's father
"I want to thank you for your attention with my son Keith, Jr. You helped him to focus his attention on the sequential steps necessary to make the most of his at-bats. Keith went on to have one of his best baseball seasons ever. He led his team in batting average, stolen bases, RBI, and runs scored. He ended the summer with serious interest from several Division I colleges and eventually signed a letter of intent to play for Pennsylvania State University. He received a partial baseball scholarship and is now on the roster. Thanks again for your help."
~Keith M. Donnell Sr.